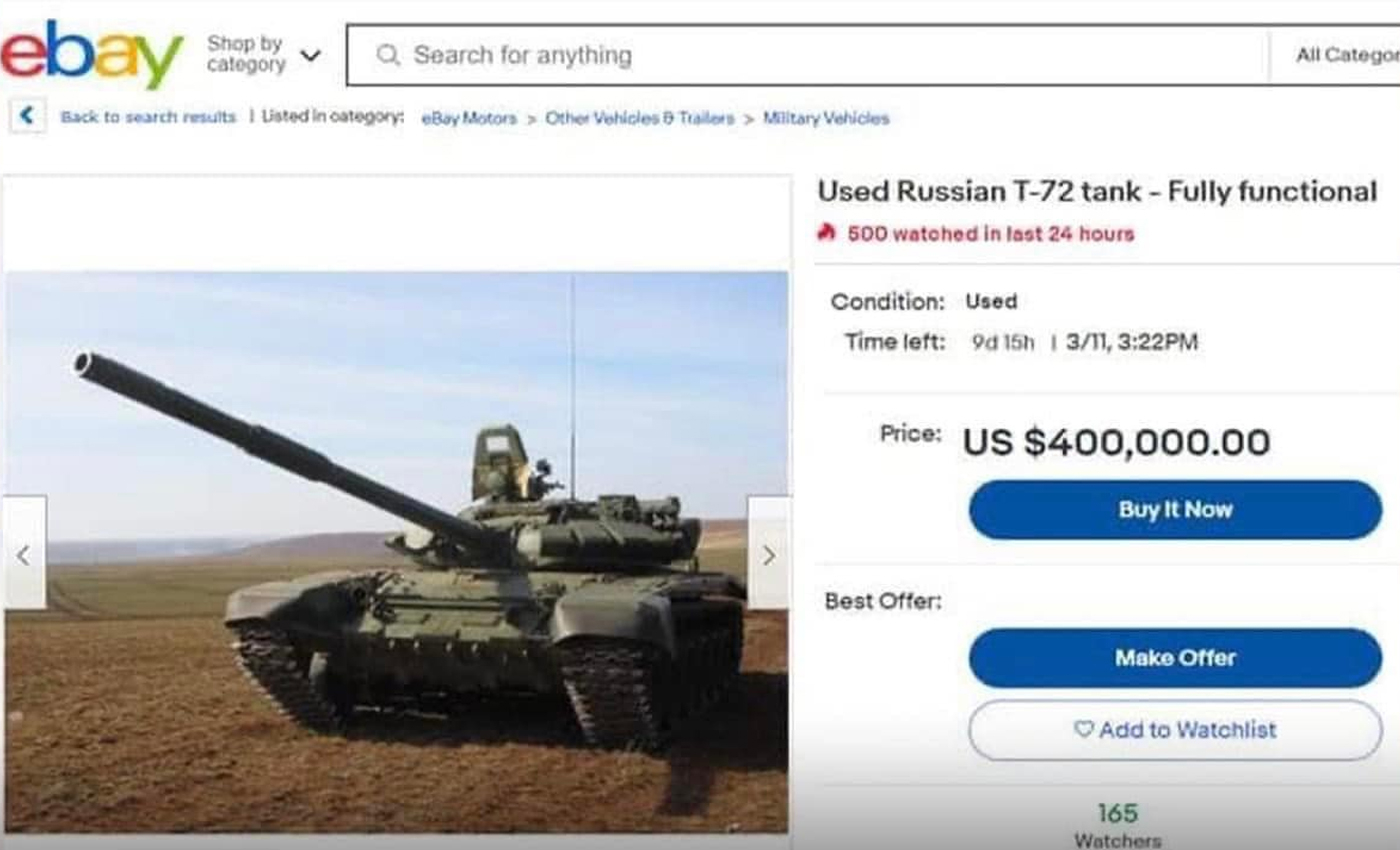 eBay's policy does not allow the sale of military items for both safety reasons and government regulations. The tank listing is satirical.
Social media enables any form of information to be posted. There are credible reports providing accurate information on the Russian invasion of Ukraine, as well as dubious reports, resulting in misinformation. A Facebook post claimed that Russian tanks are being sold on eBay. The post includes what appears to be a screenshot of a Russian T-72 tank listed on eBay for sale. The caption reads, "Used Russian Tank-T72 - Fully Functional," at the price of $400,000.
There are no listings available on eBay that are identical to the viral post. Moreover, there are none that have been listed and subsequently removed, suggesting these posts are likely to be satirical in nature. eBay's customer service policy regarding military items states that "For safety, the sale of military items is restricted. While military surplus items and body armor that follow our policy can be sold, explosives and military ordnance aren't allowed on eBay. Due to government regulations controlling the sale of items designed or modified for military or defense purposes (including parts/components, software and information), there are some items that can't be listed on eBay."
By conducting a reverse image search on the viral post, we traced the image of the tank back to articles from 2012. Top War, a Russian military review website, reported in September 2012 that Russia would present its "full-scale samples of the modernized tank T-72" at the Africa Aerospace & Defense international exhibition in the same year.
On February 28, 2022, the Independent reported footage of a Ukrainian farmer towing away a Russian tank with his tractor, which gained millions of views. The video's authenticity and its location are unclear. This could be the origin of the "tank for sale" narrative.
Additionally, on March 1, Ukraine's National Agency for the Protection against Corruption (NAPC) press service declared to the Interfax Ukraine news agency that "captured Russian tanks and other equipment are not subject to declaration." They also pleaded with people to "Keep calm and continue to defend the Motherland! There is no need to declare the captured Russian tanks and other equipment because the cost of this ... does not exceed 100 living wages (UAH 248,100)."
Furthermore, the NAPC stated that "enemy military equipment usually comes to you already destroyed and disabled, which makes it impossible to evaluate it in accordance with the law on the valuation of property, property rights and professional valuation activities in Ukraine. Therefore, it is also impossible to find out how much such property costs."
An old image of a Russian tank has been used to create a fake eBay listing. There is no credibility to this claim.
Reference links
eBay
Top War
Independent
Interfax-Ukraine