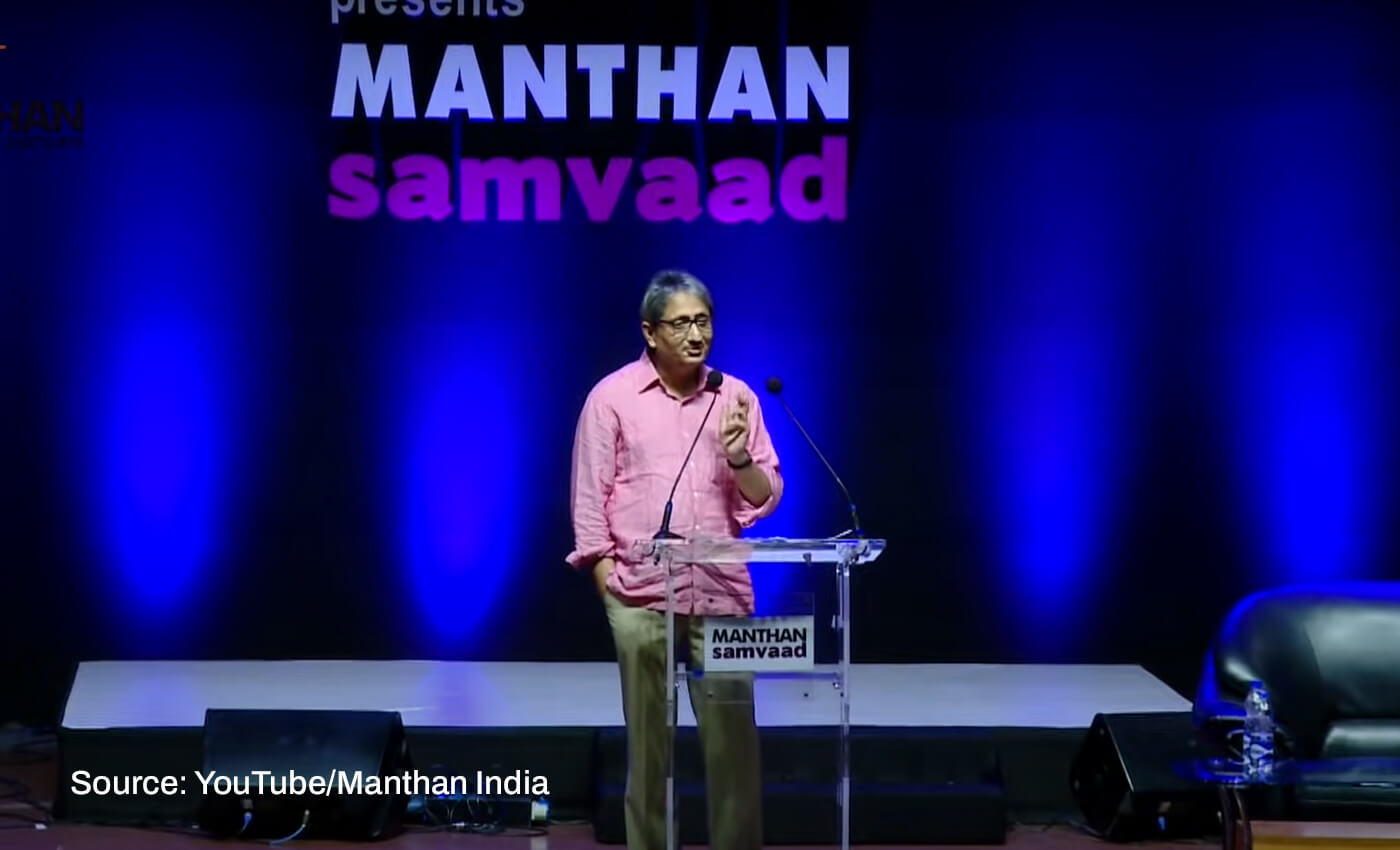 The video is from 2017, and is unrelated to the recent deal between the Adani Group and NDTV.
Context:
Indian multinational conglomerate Adani Group recently acquired a 29 percent stake in New Delhi Television Ltd. (NDTV). After the acquisition, a video of senior journalist Ravish Kumar, an Executive Editor at NDTV, was being shared on social media. In the nine-minute-long video, Kumar is seen giving a speech defending himself and criticizing those who troll him and threaten him for his journalistic stance. The video has been shared on a Facebook page called 'Young Bharat.' The video's caption reads, "Ravish Kumar spoke after NDTV was sold off. His pain and anger can be seen."
However, the claim is baseless. This video is from 2017, not 2022.
In fact:
On observing the video, we noticed a screen behind Kumar with "Dr. Reddy's presents MANTHAN SAMVAD" written on it.
Using the keyword 'Manthan Samvad,' we found a YouTube page called 'Manthan India,' which uploaded an elaborate version of the same video on October 8, 2017.
Manthan Samvaad is an event organized by Manthan India every year where prominent personalities from different professions share their opinions on a decided agenda. We found that in 2017, Kumar was invited to give a speech on "Gandhi & Dimensions of Truth." The journalist deliberated a one-hour-long speech. Besides speaking about himself, he talked about various issues, including journalism in India, social media, and Mahatma Gandhi.
On August 29, 2022, even Kumar clarified the claims made on social media. The journalist shared the YouTube link of his entire speech on his FB page. "This speech is from 2017. Late Ajay Gandhi organized it in Hyderabad. You can listen to the full speech here," Kumar wrote.
Earlier, another post went viral on social media, claiming that Ravish Kumar resigned from NDTV after the Adani Group acquired a significant stake in the company. The journalist made a social media post clarifying that the news of his resignation was entirely baseless.
The verdict:
A snippet from Ravish Kumar's 2017 speech has been shared with a false context. Therefore, we have marked this claim as false.
Reference links
Manthan India
Ravish Kumar
Ravish Kumar
Mint