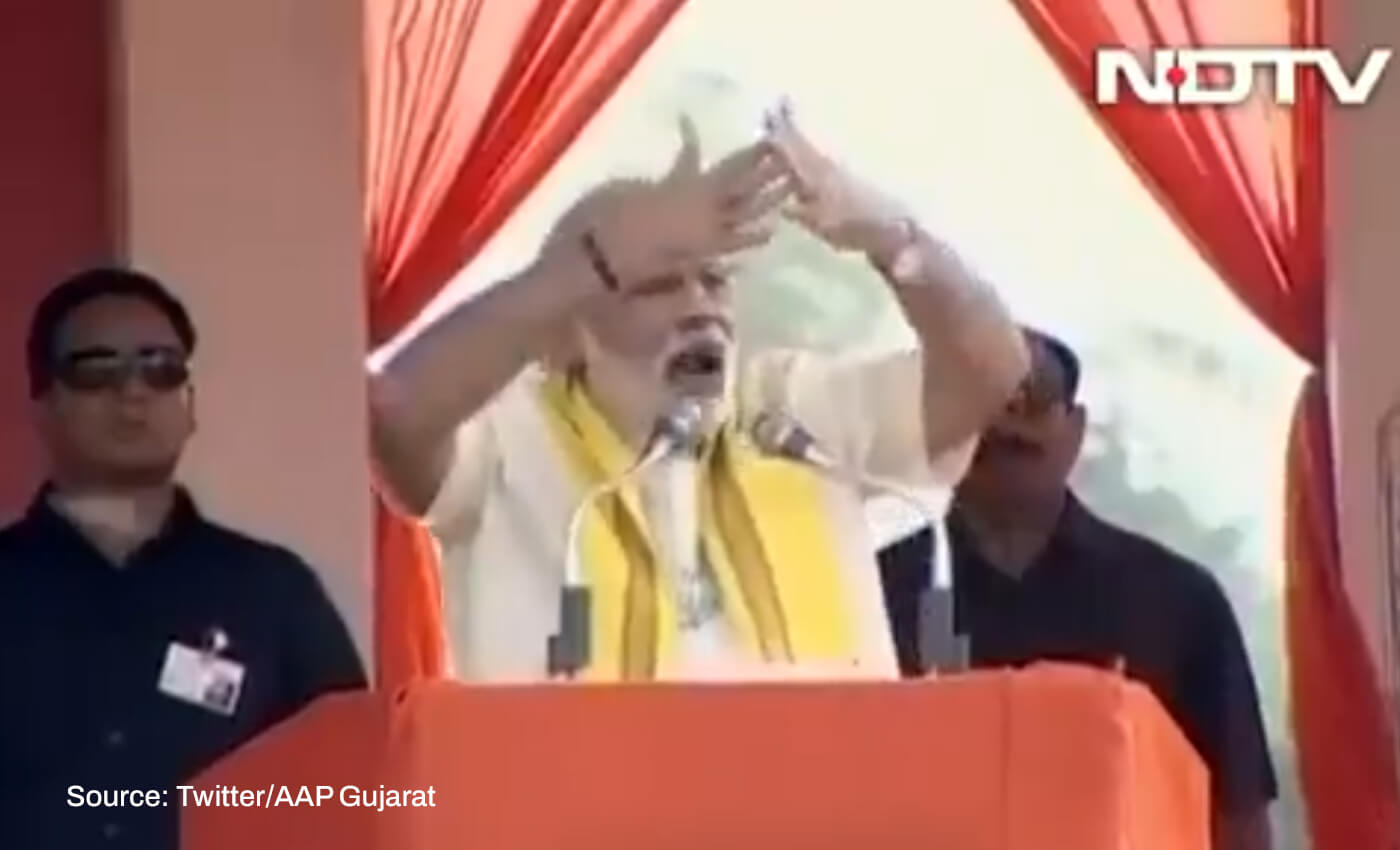 A 2016 video of PM Modi's remarks on the collapse of the Kolkata flyover has been misattributed to the recent incident on the Morbi bridge in Gujarat.
Context
On October 30 at around 6:30 pm, a suspension bridge on the Machchhu river in Gujarat's Morbi city collapsed, killing over 132 people. Subsequently, false narratives and misleading posts flooded social media platforms. One such post on Twitter featured a video claiming to show Prime Minister Narendra Modi's reaction to the bridge collapse incident. The tweet, having garnered 2,144 retweets and 6,524 likes, read, "Act of Fraud of BJP government is the reason behind bridge collapse in Morbi of Gujarat: Narendra Modi." In the video, PM Modi says that the bridge collapse incident during the election was an "act of fraud." He also adds that it happened to show people what the future would be like in the State of Bengal. However, the video in question is an old video unrelated to the collapse of Gujarat's Morbi suspension bridge.
In Fact
In the video, which dates back to 2016, PM Modi hits out at Bengal Chief Minister Mamata Banerjee. The viral tweet carried an NDTV report that stated that Modi was talking about the Kolkata flyover tragedy that occurred in 2016, killing at least 26 people. CM Banerjee called this incident an "act of god."
A reverse search on one of the keyframes of the video took us to the Bharatiya Janata Party's YouTube channel. We found that the video was uploaded to the channel on April 7, 2016. In the video, PM Modi was addressing a rally in Madarihat, Alipurduar district, West Bengal. During his speech, Modi slammed the TMC government over the Kolkata flyover collapse and said the bridge collapsed during the election, showing that it was an "act of fraud," not because of an "act of god."
In light of the recent event, Prime Minister Narendra Modi has expressed his condolences to the victims and said, "Relief and rescue operations are going on in full swing and all necessary assistance is being provided to the affected."
The Times of India reported that the century-old suspension bridge of Morbi city, located 300 km from Gujarat's capital Gandhinagar, was renovated just five days ago and reopened on October 26, 2022, Gujarat's New Year.
Verdict
A 2016 video of PM Modi addressing a rally in West Bengal has been erroneously shared as his response to the recent incident collapse Morbi bridge in Gujarat. Hence, we have marked the claim as false.