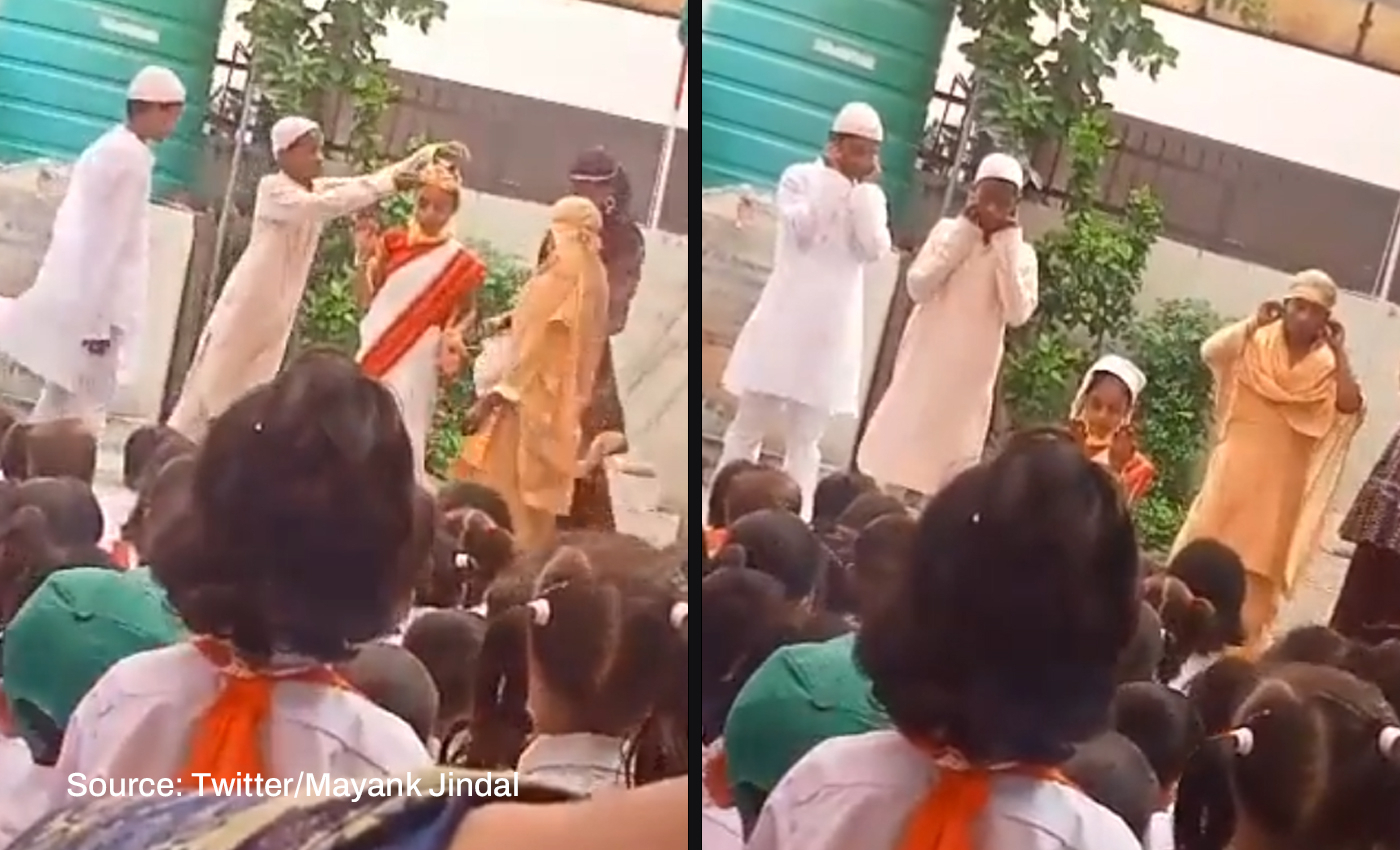 The video has been clipped to support the claim. The play depicted prayers being offered in various religious customs.
Context
A short clip of children performing at a school play is being circulated on social media with the claim that it depicts them removing the crown from the head of a student playing 'Bharat Mata,' replacing it with a hijab, and then forcing her to offer namaz. Several users shared the video with this claim, including media organization Sudarshan News, its editor-in-chief Suresh Chavhanke, and Rashtriya Swayamsevak Sangh (RSS) functionary Nagendra Kumar Samarth. Criticizing the school for such depiction, users on social media shared the video alleging a type of jihad and a "conspiracy against India and Hindutva." Many also tagged Uttar Pradesh (U.P.) Chief Minister Yogi Adityanath and U.P. Police demanding action against the incident.


In Fact
While the play was performed at Shishu Bharatiya Vidyalaya in U.P.'s Lucknow, the video on social media is clipped from a longer one. The act shows children depicting Hindu, Islamic, Sikh, and Christian ways of worship. In the play, children dressed according to each religious custom and offered prayers along with the central character of the girl dressed in the white saree.
The full video of the play was shared by Police Commissionerate Lucknow's account, addressing the matter. In a tweet, the police said that they had taken cognizance of the video, watched the full version, and found that school children had staged the play to promote the message of religious harmony and to rise above religious differences. The statement also mentioned that action was being taken against those spreading the video with false claims.
Additionally, Arvind Chauhan, a journalist at The Times of India, shared a video of Pragati Nigam, the school teacher who conceptualized the play, where she slammed people for sharing the clip with misleading claims and requested them to watch the full video. "You will see that I intended to show all four religions together in the play. I had no intentions to hurt any religious sentiments," Nigam said.
Chauhan also shared a video of S Chinappa, Deputy Commissioner of Police (DCP) (West), saying the police had spoken to the school in question and found that the play was performed to spread the message of communal harmony and unity.
The Verdict
The video circulated on social media has been clipped out of context and shared with a false communal narrative. The play does not show Bharat Mata being forced to offer namaz; instead, it attempts to portray various religions and promote a message of communal harmony in the country.