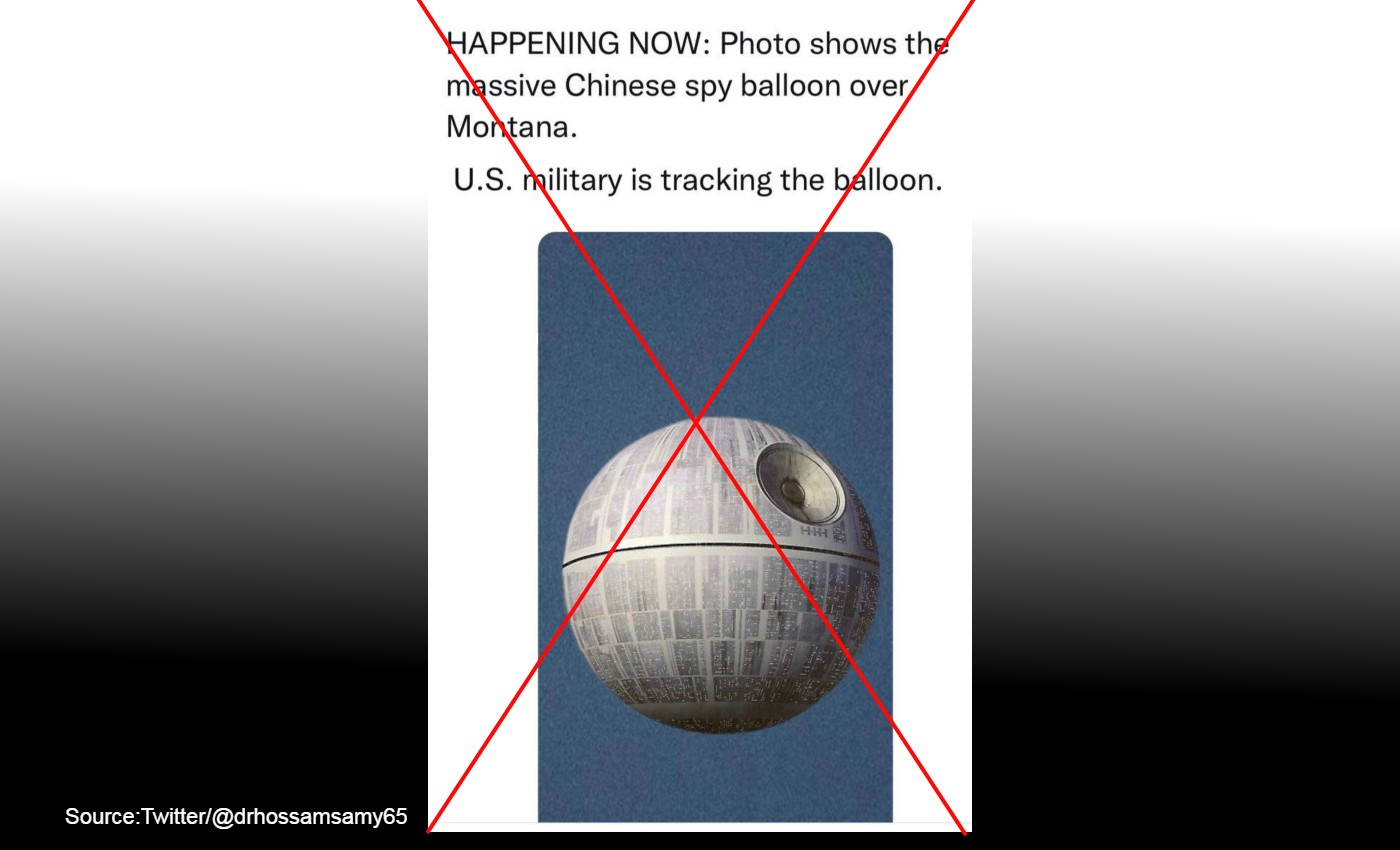 The image shows the "Death Star," a fictional space station from the Star Wars film franchise.
Context
On February 4, a Chinese-made balloon was shot down by fighter jets over U.S. territorial waters. While the Chinese government has maintained that it was a weather balloon, the U.S. government has alleged that it was used to spy on American territory. Soon, images claiming to be of the spy balloon began circulating online. A picture of an object resembling a metal orb was shared online with the claim that it was the first close-up image of the Chinese spy balloon. The image contained the text: "HAPPENING NOW: Photo shows massive Chinese spy balloon over Montana. U.S. military is tracking the balloon." Dr. Sam Youssef, the founder of Healing Light Therapy Center in Fort Wayne, Indiana, shared the same viral image with a caption written in Arabic, "Urgent: The first close-up photo of the Chinese spy balloon over the State of Montana, now in the United States of America." This particular post had more than 89,000 views.
In Fact
A reverse image search of the picture in the post led us to the official website of the Star Wars film franchise. The metal orb is not the Chinese spy balloon but a fictional space station known as the "Death Star," which appears in Star Wars films. This shows that the image is a movie still and not the Chinese balloon.
According to the U.S. Department of Defense, when the balloon was spotted over the water off the coast of South Carolina, officials shot it down using a U.S. Northern Command fighter aircraft on February 4. The BBC uploaded a video of the balloon being shot down on February 5, showing the helium-filled balloon to be white with Chinese text.
The Verdict
The now-viral image is not of the Chinese balloon, but a fictional space station called the "Death Star" from the Star Wars film franchise. Therefore, we have marked this claim as false.