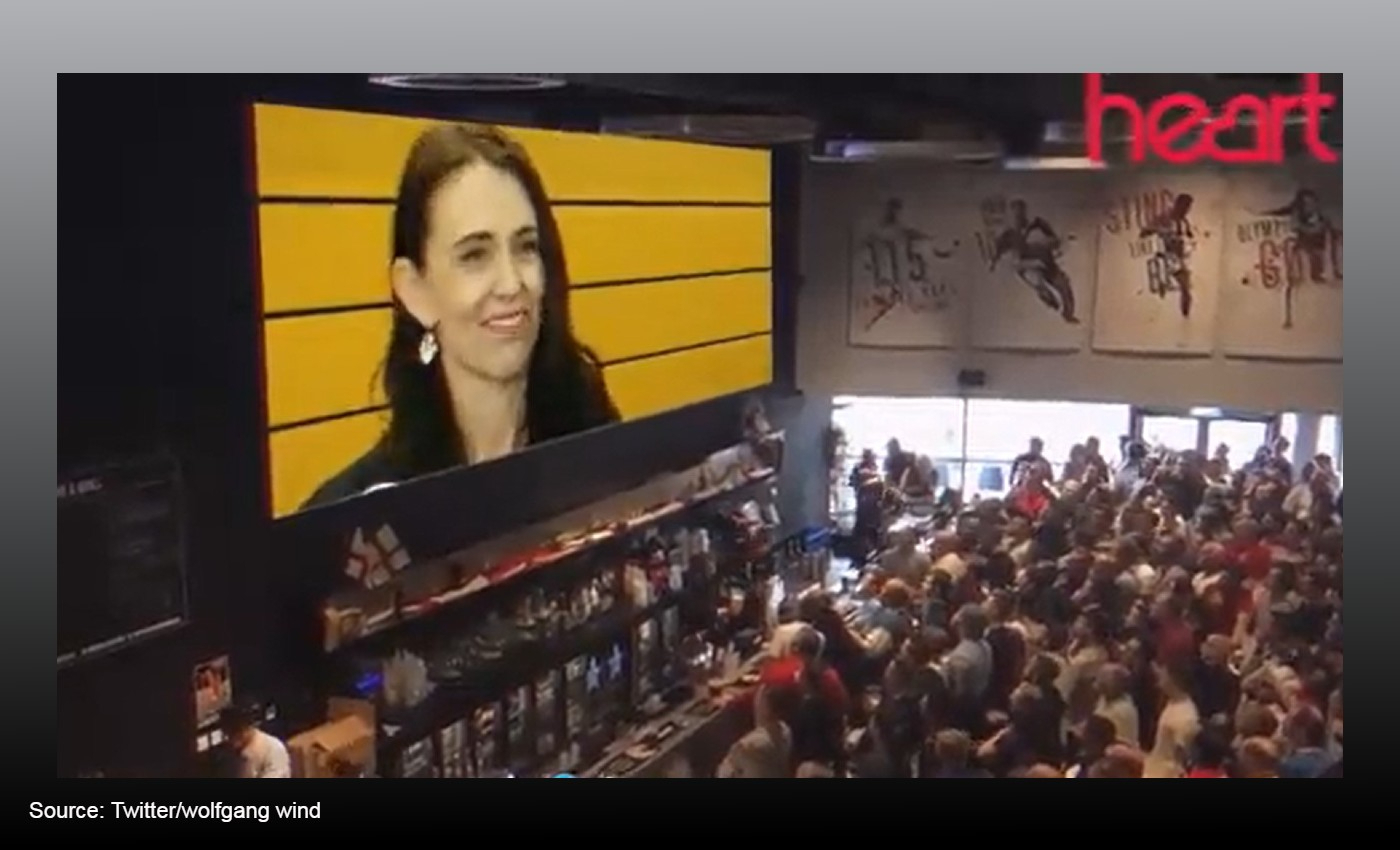 The video of people celebrating after watching NZ PM Jacinda Ardern's resignation announcement has been digitally manipulated.
Context
New Zealand (NZ) Prime Minister Jacinda Ardern announced her resignation on January 19, 2023. Following this, many videos and narratives on Ardern's resignation started circulating online. One such video was posted on Twitter claiming, "Just in: Live shots of NZ reacting to Jacinda Ardern's resignation." The video depicts a crowd gathered in an indoor venue, watching Ardern's speech on a large screen and then breaking out in celebration.
However, this video has been digitally manipulated. The original video, of fans celebrating at Ashton Gate Stadium after England's goal against Wales in the 2016 UEFA European Football, is popularly used in various memes.
In Fact
In the video in question, the logo "heart" can be seen in the right-side corner of the video. Upon investigation, we found the same logo used on the "Heart News West Country." YouTube channel. We found a similar video on this channel, published on June 17, 2016, with the caption, "Fans at Ashton Gate Stadium, Bristol, celebrate England winner against Wales at Euro 2016." In the video, the crowd, their appearance, and the venue's interiors match the video in question. In the original video, the crowd is watching a football game on a big screen, not Jacinda Ardern's speech.
The same video taken from a different angle was found on Bristol Sport's YouTube channel on June 17, 2016. The video was titled "Ashton Gate Erupts For Euro 2016 England Game." The description also reads, "Thousands of football fans filled Ashton Gate Stadium on Thursday afternoon for the England v Wales game."
The CBS Sports and Bristol City Football Club websites posted the same video and reported that on June 16, 2016, fans at the Sports Bar & Grill at Ashton Gate watched a live broadcast of the England vs. Wales match during the Euro 2016 tournament. The report from Bristol City Football Club has numerous images of the Ashton Gate celebration, confirming that the video is from the U.K., not from New Zealand.
The Verdict
A video of NZ Prime Minister Jacinda Ardern's resignation speech has been digitally merged into a 2016 video of fans celebrating during a football match at Ashton Gate Stadium in the U.K. Therefore, we have marked this claim as false.