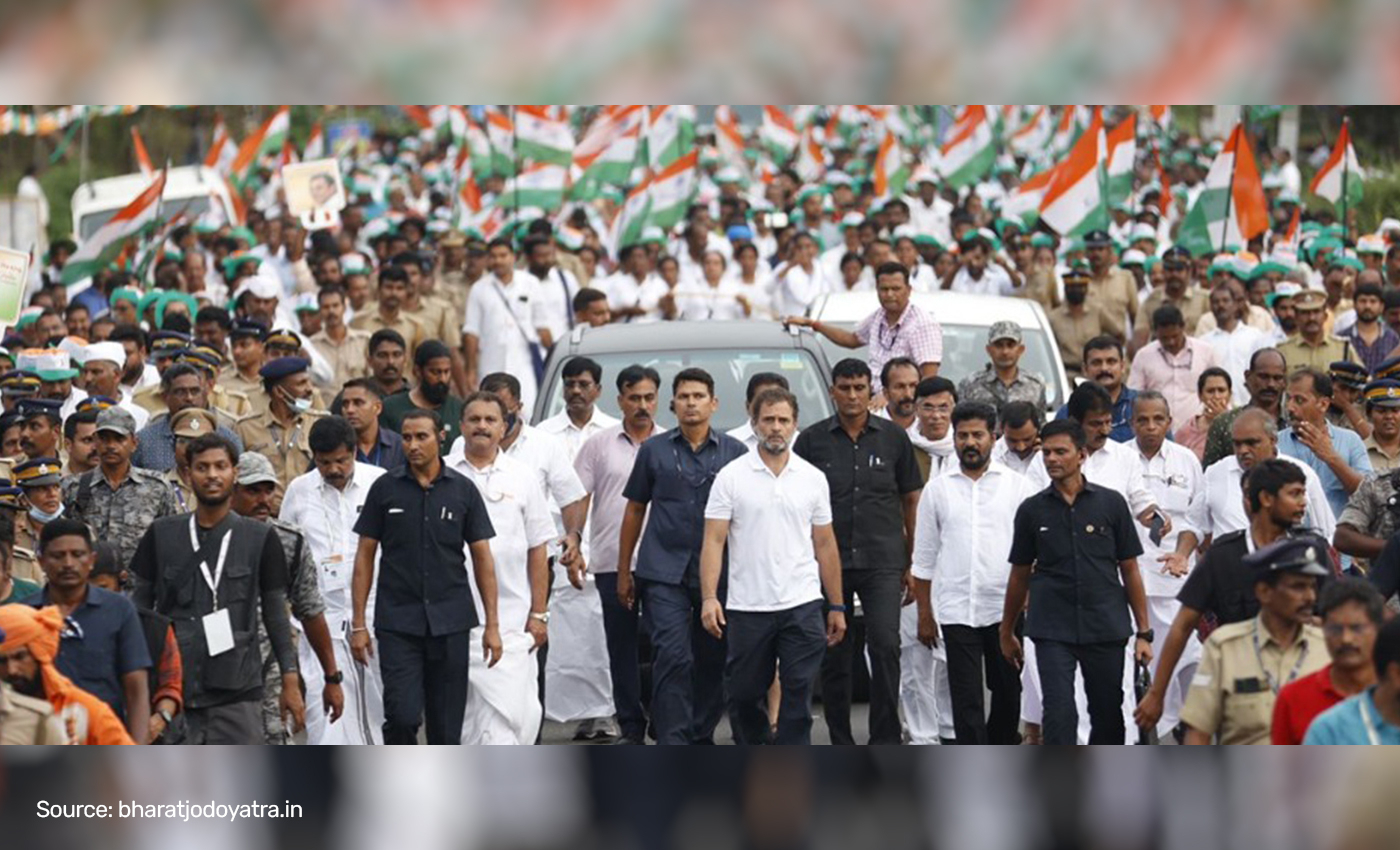 Congress leaders including Rahul Gandhi were at a restaurant and their video leaving the outlet has been misinterpreted and shared with false claims.
Context:
A team of Congress leaders, including former party President Rahul Gandhi, are marching from Kanyakumari to Kashmir as part of the "Bharat Jodo Yatra," which began on September 7, 2022. They entered Kerala on September 10, touching seven districts over 19 days before their planned entry in Karnataka on October 1. The aim of this Yatra is to unite the voices of the people of India against injustice. Following this, several false narratives have surfaced over the campaign across social media platforms. Several posts claim that Congress party members are spending their days in luxury and having a gala time. A Twitter post shared a video of Congress party members and Rahul Gandhi allegedly walking out of a hotel and captioned it as "Rahul Gandhi & Senior Congress leaders coming out fully drunk from a local bar in Kerala during #BarJodoYatra." In the viral video, several leaders are seen walking out of a restaurant. At the end of the video, Rahul Gandhi is exiting the place with applause from the people around him. The voice in the background has someone speaking in Malayalam.
In fact:
Using a keyword search, we found a tweet from Supriya Shrinate, chairperson of Social Media and Digital Platforms of the Indian National Congress, about the viral video. Targeting the claims around the team being drunk, she tweeted, "Even though the 'Mafiveer' army has deleted the video, do the liars realize what it means to walk 25 km daily? Yatris had taken a tea break. Details, map, pic follow 1. Malabar Hotel 2. Owner Anasar Malabar 3. Location Ochira Kollam."
Taking a cue from this, we searched "Malabar Hotel in Ochira Kollam" on Google Maps. We found that one of the images of the hotel shows a similar image (tiles and a corridor entrance leading outside) that matches one of the video keyframes. Thus, it confirms that the place seen in the video in question is Malabar Hotel, located in Oachira, Kerala.
Logically reached out to Kerala-based journalist and fact-checker Deepa M, who spoke to Malabar Hotel owner and ex-Congress worker Ansar for clarification. According to her, Ansar said, "We also noticed that this video is being circulated as Congress leaders drinking alcohol. It is false propaganda. On September 17, 2022, at around 7:30 am, Congress leaders, including Rahul Gandhi, came to have breakfast. It is a place frequented by the public to eat." Ansar further said, "the hotel has the video footage on their TV and alcohol is never served in the restaurant. As shown in the video, it is the entrance of the hotel where many people tend to stumble when they step out, and it may be the reason for this misinformation." Hence, it confirms that Congress leaders' stumbling over steps was misinterpreted as they were drunk.
According to the Times of India, on September 22, 2022, thousands joined Rahul Gandhi on day 15 of the Bharat Jodo Yatra in Kerala on the national highway. Gandhi resumed the rally by planting a sapling brought from Lakshadweep at the premises of the Union Christian College in Aluva, Kerala.
The verdict:
Rahul Gandhi's and other leaders visit to the Hotel Malabar in Kollam for breakfast during Bharat Jodo Yatra was misinterpreted to claim he was inebriated and leaving a local bar. Hence, we have marked this claim as false.