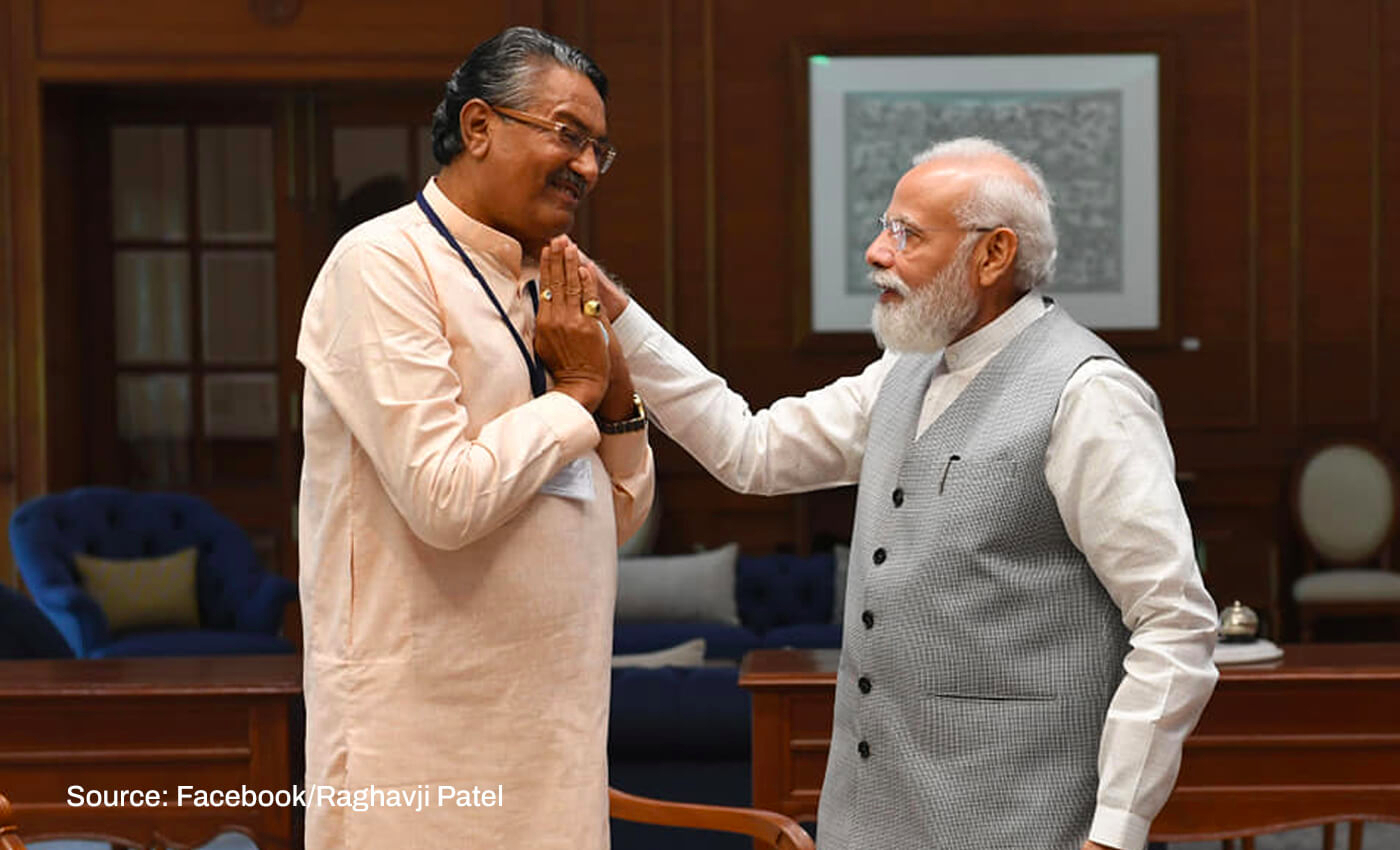 This is an image of Prime Minister Modi meeting Gujarat Minister of Agriculture Raghavji Patel, not the Morbi bridge contractor.
Context
A suspension bridge collapsed in Morbi, Gujarat, on October 30, causing at least 135 fatalities and leaving over 100 injured. After the tragic incident, social media was flooded with false narratives about the collapse. A post is being shared on social media claiming Prime Minister Narendra Modi met with the Morbi bridge contractor. In the viral image, the PM can be seen with a man who is referred to as Raghavji Patel by many on social media. The official Twitter handle of Odisha Youth Congress shared it on October 31, and its caption reads, "The man who got the contract to repair and maintain the #MorbiBridge is also a Modi crony... Only those who pay upfront via election bonds and cash, get business from the Modi Govt. The going rate is reportedly 40%. It's more than just criminal."
Times Now reported that the tender for the maintenance of the century-old bridge was given to the Oreva Group. Sharing the same viral image, other social media users have claimed that Modi was seen with Oreva Group founder Odhavji Raghavji Patel.
In fact
A reverse image search revealed that the person with Modi in the viral photo is Raghavji Patel, the cabinet minister of agriculture and animal husbandry of Gujarat. The image was originally shared from Patel's social media handles. A total of three images of the minister standing with Narendra Modi, including the viral photo, was shared from Patel's official Facebook handle on October 14, 2021. In the caption, the BJP leader wrote, "Respected Prime Minister Shri Narendra Modi Ji means hope for the nation's people, the authority that paved the way for the whole country in disasters. I took his blessings. He guided me and wished me a bright tenure."
The image can also be found in a news article published by the Gujarati news organization VTV on October 14, 2021. According to the article, Gujarat Agriculture Minister Raghavji Patel held a meeting with Prime Minister Narendra Modi and discussed farmers' issues and crop losses faced due to heavy rainfall.
According to The Hindu Businessline report dated October 19, 2012, the Oreva Group founder Odhavji Raghavji Patel died at 88. He was also known as the father of India's wall clock industry. His company's commonly known brands are Ajanta and Orp
The verdict
The image in question is of PM Modi and Cabinet Minister Raghavji Patel from Gujarat. Patel is falsely identified as the Morbi bridge contractor and sometimes as Oreva Group founder Odhavji Raghavji Patel. Hence, we have marked this claim as false.