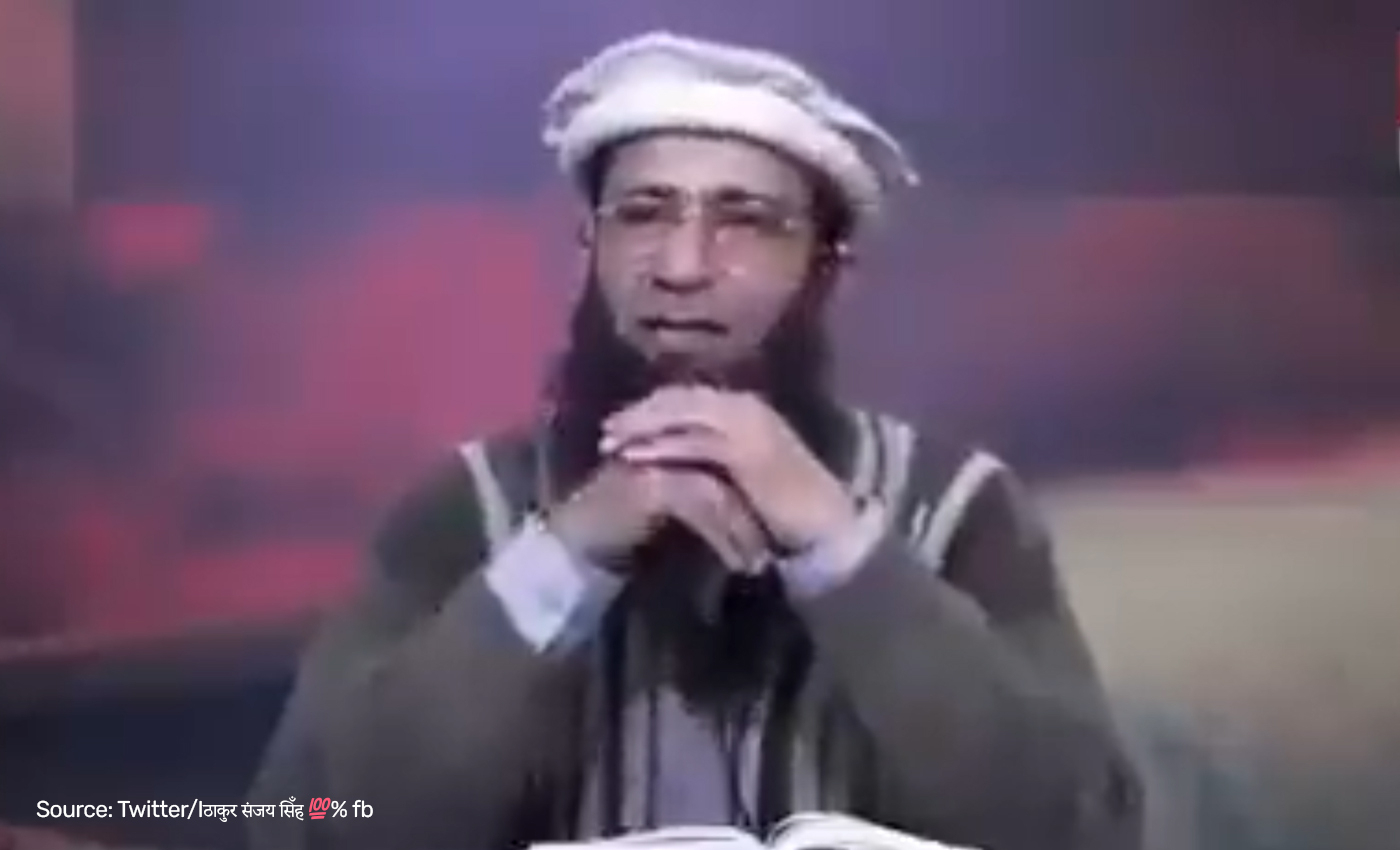 A Pakistani Islamic scholar talking about the BJP and RSS has been misidentified as the Taliban chief secretary.
Context
A Twitter video shared on September 20, 2022, claims that the Taliban Chief has praised RSS and the BJP as influential organizations in India. The caption reads, "Taliban themselves admitted that RSS and BJP are more powerful in India. As long as there is BJP in India, no country can attack it. If you want to attack India, first remove BJP. Watch this video What Taliban chief secretary said in Pakistan, makes you proud Watch full video on RSS."
In a two-minute video, a man speaks about the BJP( Bharatiya Janata Party) and its connection with RSS (Rashtriya Swayamsevak Sangh), a Hindu nationalist organization. He says, " BJP and RSS are closely linked and are India's most powerful organizations. Its strength and power are equivalent to Aurangzeb's power. Members of the organization share a similar opinion that India is a land of Hindu Gods and anyone who does not believe this is not allowed to stay in the country." Similar posts have surfaced across multiple social media platforms like Facebook and Twitter.
In fact
Upon reverse image searching, we found that the person speaking in the viral video is Khalid Mehmood Abbasi. His official YouTube channel is named "Khalid Mehmood Abbasi Official," where we can find many of his videos preaching about Islam. We tried to match the person seen in the viral video with Khalid Mehmood Abbasi and found many similarities, like his beard, spectacles, hand gestures, and voice tone. The original video was posted on his YouTube channel on August 3, 2021, titled "Hindustan Mae Bigarte Halat - Khalid Mehmood Abbasi." In a 17-minute long video, starting from the 51-second mark to 1 minute 23 seconds, we can find the same viral video extract of him talking about RSS and the BJP. The visuals show that the video was recorded on March 1, 2019. Further analysis revealed a logo in the top right corner of the video, written as NWAA STUDIOS. The studio also has a YouTube channel of the same name that contains several videos of Khalid Mehmood Abbasi.
We also found the official Facebook page of Khalid Mehmood Abbasi, which describes him as "a renowned Islamic scholar. And delivered thousands of lectures and sermons on both secular and religious platforms. He is graced with Qur'anic wisdom, knowledge and insight into regional and international politics, philosophy, psychology, sociology, history, philosophy of history and revolutionary thought. Currently, he is serving as Head of Shura for "SHUBBAN UL MUSLIMEEN."
None of his official social media handles have any links to the Taliban. An India Today report notes that Hibatullah Akhundzada currently heads the Taliban. The Director of National Intelligence, U.S., notes that the Pakistan branch of the Taliban, Tehrik-e-Taliban Pakistan (TTP) is headed by Mullah Fazlullah, who was appointed in 2013. A similar fact check by The Quint in 2021 quoted an exclusive note from Khalid Mehmood Abbasi. Speaking to the organization over a phone call, he denied any affiliation with the Taliban. He said, "This is a completely false statement, that I am the chief secretary of Taliban. The Taliban has come to power in Afghanistan now, but part of the clip has been taken out from the video, which is about 1.5 years old. I have no links with the Taliban or any political party."
The same video also went viral in 2021, when the Taliban seized power in Afghanistan after the withdrawal of the U.S. troops in August. The video has resurfaced in the context of increasing communal tensions between Hindus and Muslims, where several people have accused RSS and the BJP of triggering violence. However, the person speaking in the video has been misidentified to spread incorrect narratives.
The Indian state of Gujarat, which is the home of Indian Prime Minister Narendra Modi and Union Home Minister Amit Shah, is headed for elections in December 2022. The BJP has faced a setback in Bihar after Chief Minister Nitish Kumar severed ties with the saffron party and formed a new government in the state with a new coalition. Prime Minister Modi is also seeking election to office in 2024. Amid these developments, far-right elements in India are sharing videos unrelated to the Taliban to suggest that the Taliban has spoken highly of RSS and BJP in India.
The verdict
It is clear that Khalid Mehmood Abbasi is not Chief of the Taliban and has no relations with the Afghanistan-based organization. He is an Islamic scholar who has been misidentified, and the video has been circulated with false claims. Therefore, we have marked this claim as false.