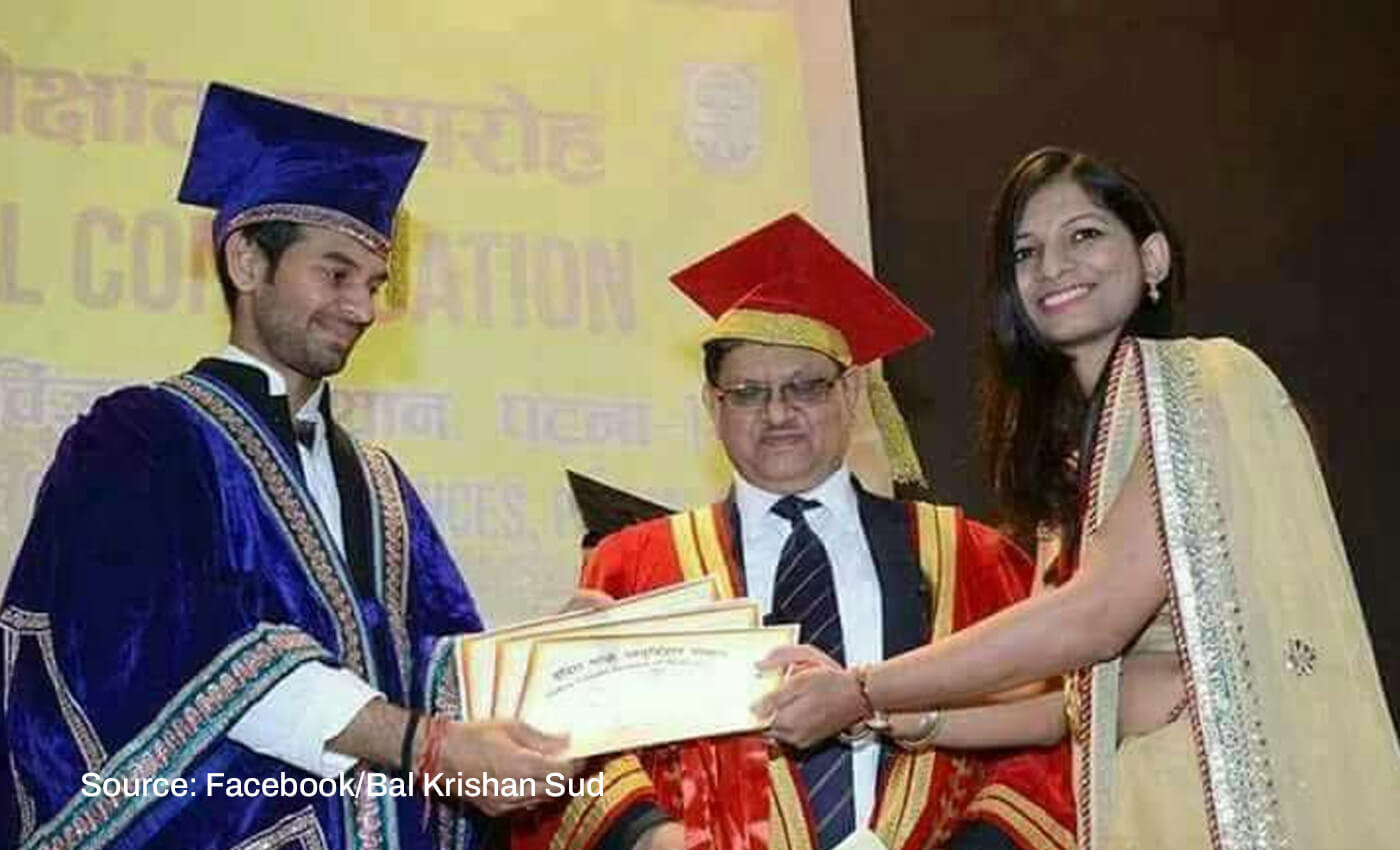 The photo is from 2017 when Tej Pratap Yadav attended a convocation ceremony of a medical college in Patna and presented degrees to students.
Context:
A photo of RJD leader and former Bihar Chief Minister Lalu Prasad's son Tej Pratap Yadav is being shared on social media with the claim that he received a doctorate from Takshasila University (referring to the ancient university of Taxila). The post claims that Yadav has not studied beyond class 10 and sarcastically hails India as a country for awarding him a doctorate. The photo, which includes a woman and Yadav holding degrees as another man looks on, with this claim has been intermittently viral on social media since 2017, despite being fact-checked by several outlets.
In fact:
On scrutinizing the viral photo, we saw the words 'convocation' and 'Patna' on the banner behind Yadav and the two others present on stage. Taking a cue from this, we ran a search using relevant keywords. This directed us to a news article by The Times of India from February 12, 2017, which reported that Yadav, then health minister of Bihar, had attended the convocation ceremony held at Patna's Indira Gandhi Institute of Medical Sciences (IGIMS). It further stated that Yadav had handed out degrees and gold medals to 78 MBBS, 20 postgraduates, three super specialty course students, and 20 paramedics.
Through reverse image search, we also found Yadav's tweet from February 11, 2017, where he had written that he participated in the third convocation of IGIMS the same day and presented degree certificates and gold medals to the students. The tweet also contained photos from the event, one of which showed Yadav presenting certificates to the student seen in the viral photo, taken from a different angle.
Further, we also checked for video footage of the convocation ceremony and came upon a video uploaded by 'Rjd Bihar' on YouTube on March 23, 2017, which showed Yadav at the institute, interacting with staff before the ceremony. The video also captured the actual event, and we could confirm that Yadav was only attending the event and presenting students with degrees and medals rather than receiving one himself. On watching the video, we could find the exact moment of the event,, as seen in the viral photo and saw Yadav presenting medals and degrees to the student visible in the viral photo.
The verdict:
An old photo of Tej Pratap Yadav presenting a student of a Patna medical college with degrees at an convocation ceremony is being shared with a false spin. Yadav has not been presented with a doctorate by Bihar's Taxila University which does not even exist anymore. Therefore, we have marked this claim false.