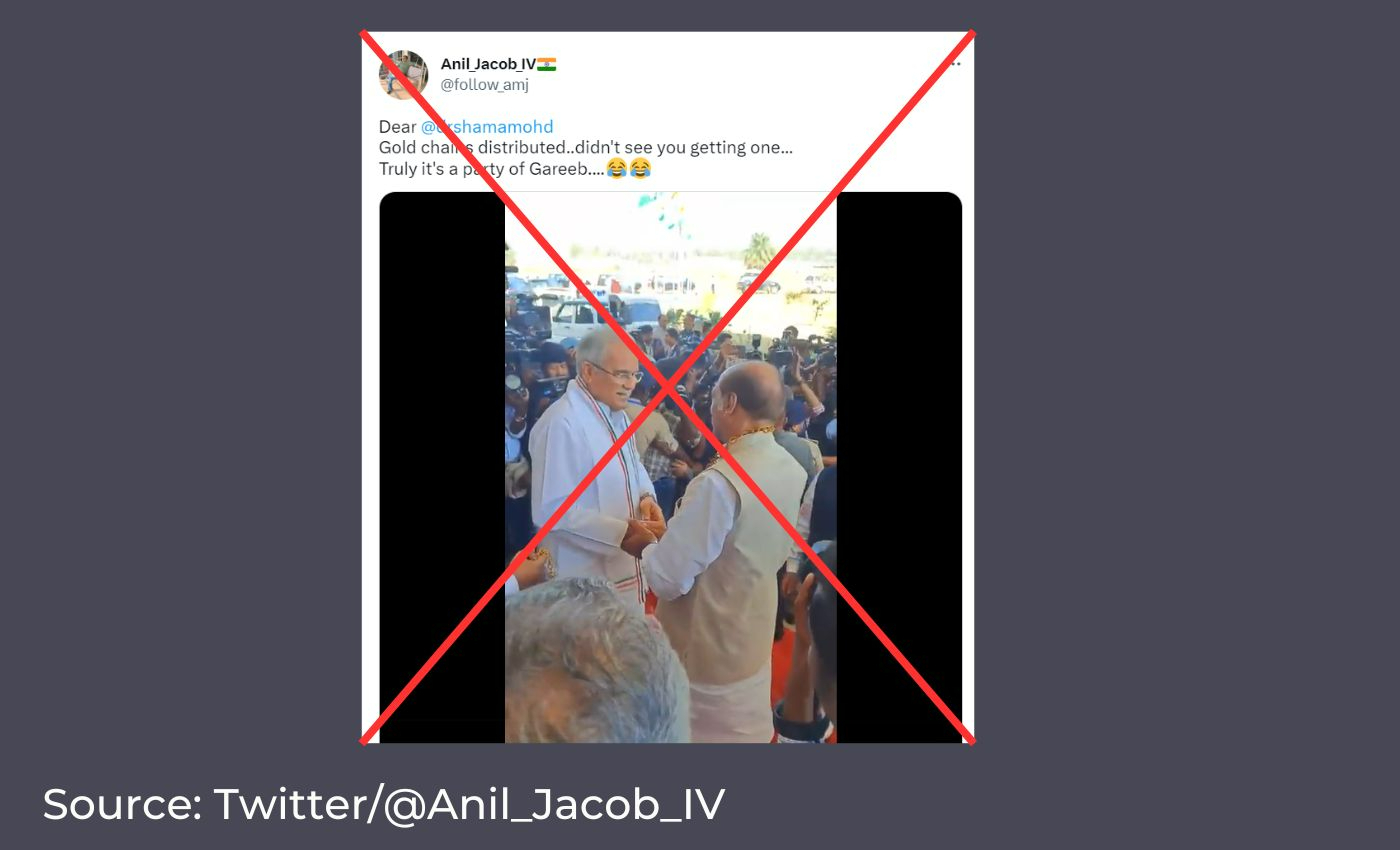 Garlands handwoven by members of the Baiga tribe, and not chains made of gold or any other metal, were used to welcome the Congress leaders.
Context
The Indian National Congress recently held its 85th plenary session in Chattisgarh, where party leaders and delegates discussed key political and economic issues and planned the way ahead for the grand old party. As the three-day meet concluded on February 26, a video started going viral on social media with the claim that Congress leader and Chattisgarh Chief Minister Bhupesh Baghel welcomed party leaders, including veterans like Meira Kumar, Salman Khurshid, and P. Chidambaram, to the plenary session with gold chains. The right-wing ecosystem widely shared the video with many people even claiming that the supposed gold chains weighed 50 grams each. Some even accused Congress of "looting" public money and demanded a government investigation into the alleged incident. However, Congress leaders were not welcomed or honored with gold chains but were given handwoven garlands.
In Fact
A report published by Hindi news outlet ETV Bharat News on February 27 quoted CM Baghel saying that members of the Baiga tribal community had made the garland he presented to the party leaders while welcoming them at the plenary session. According to the report, the garland is called 'biran mala' and is made using twigs and grass. The report quoted Itwari Ram Machiya Baiga, state president of the Baiga tribe, who said, "The biran mala is one of the adornments of the Baiga tribal community and is made using twigs of the Khirasali tree, and blades of the Suta Khand grass. It is very difficult to make."
A report by Navbharat Times also confirmed that the ornaments presented to Congress leaders were not gold chains but garlands made by members of the Baiga tribe. In a video posted by the Navbharat Times journalist Somesh Patel, CM Baghel tells reporters that he wanted to welcome Congress leaders to Chattisgarh with garlands handwoven by tribal people, not the traditionally used flower garlands.
Baghel also posted a video on his official Twitter account in which Itwari Ram Machiya Baiga talks about how the garlands are made. The video also included visuals of a woman making the garlands with her bare hands. Several Congress leaders also posted the image of the 'biran mala,' clarifying that they were not made of gold. The images show that chains worn by the Congress leaders were made out of natural plant fiber and not any metal.
Images of women wearing the 'biran mala' or the garland visible in the viral video are also available on the Madhya Pradesh government's tourism website. The website has a section on the Baiga tribal community, members of which mostly live in Central India.
The Verdict
CM Bhupesh Baghel used garlands handwoven by members of a tribal community, and not gold chains, to welcome Congress leaders to the plenary session in Chattisgarh. Therefore, we mark this claim false.