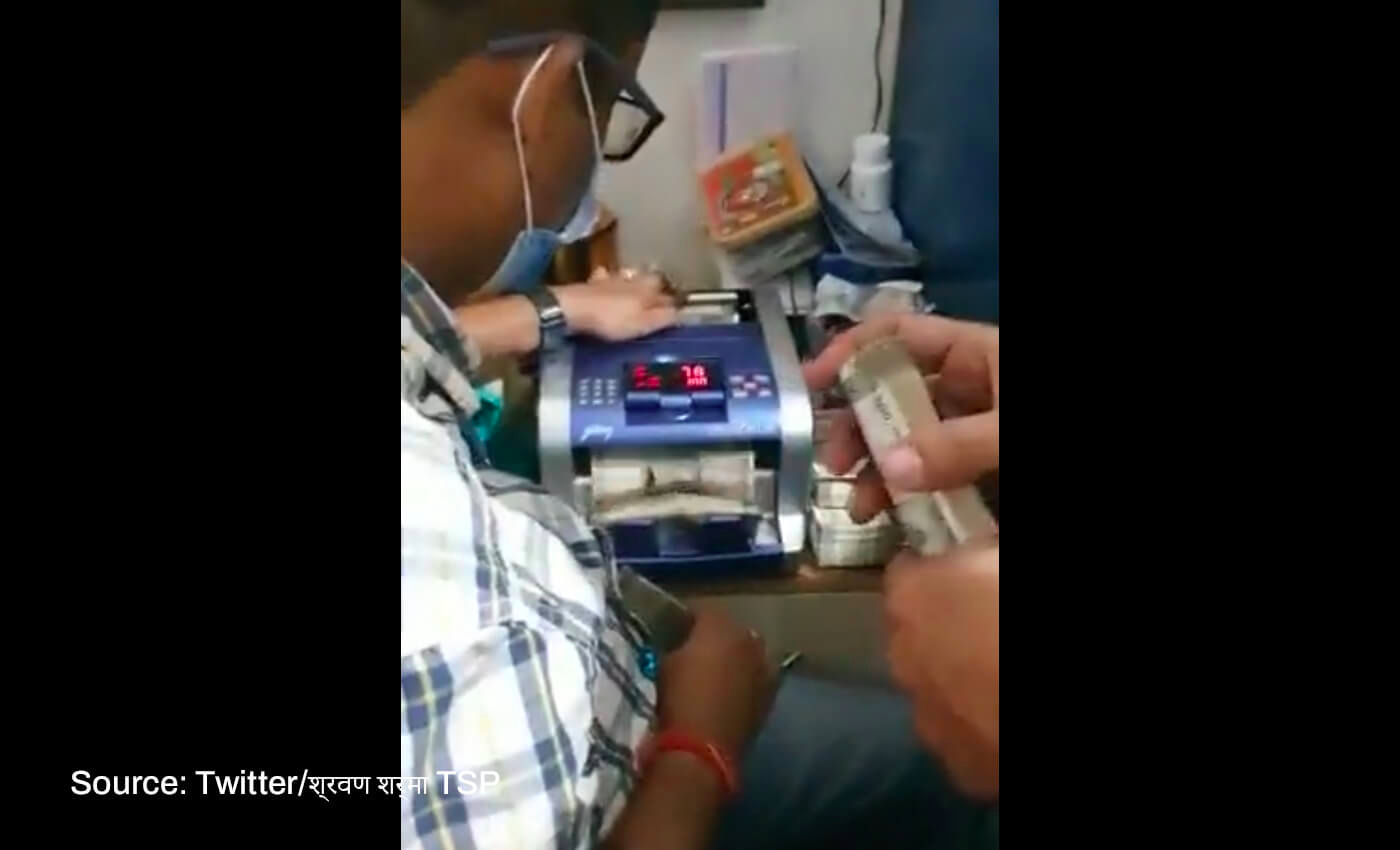 Enforcement Directorate raided six locations relating to mobile gaming apps in Kolkata. The individual named in the claim is not from AAP.
Context:
Only months before the Gujarat assembly elections, which are slated to be held in December 2022, a post making rounds on Twitter shows a bed full of Indian currency and a suitcase filled with cash. In the video, a few men are counting the money using machines. The post claims that the money has been recovered from an Aam Aadmi Party (AAP) leader's house. Its caption reads, "GUJ: ED recovered bundles of 2000 and 500 from Surat's textile trader Sekhar Agarwal's house, machine called for counting * *was in Congress earlier... now has joined AAP* *The followers are disappointed."
However, the claim is false. The video is from Enforcement Directorate (ED) raids in Kolkata, not Gujarat.
In fact:
On September 12, 2022, the ED's official Twitter account posted about the searches carried out by the agency in Kolkata under the Prevention of Money Laundering Act, 2002. "ED has carried out search operations under PMLA, 2002 (on 10.09.2022) at 06 premises in Kolkata, in respect to an investigation relating to the Mobile Gaming Application. Cash amounting to Rs 17.32 Cr has been seized," ED posted.
Even a Times of India report carried video of the same ED raid. A September 11 report stated that the agency raided businessman Nisar Ahmed Khan's residence in Kolkata and seized Rs. 17 crores, which were made by "defrauding people" through an E-Nuggets, a gaming application launched by Khan's son Aamir.
According to the Indian Express, ED searched six locations linked to the accused, whose family runs a transport business. The report adds that the raids were condemned by Trinamool Congress Minister and Kolkata Mayor Firhad Hakim, who stated that "the raids were a part of a conspiracy to damage the economy of West Bengal."
Ajay Vidhyarthi, a journalist working for TV9 Bharatvarsh, also posted the same video, where the ED officials are seen counting the notes during raids in Kolkata. India Today reported that there was no recent raid on the residence of a businessman named Sekhar Agarwal and that no businessman by that name jumped ship from the Congress party to the AAP.
It is hence clear that the video in circulation is from Kolkata, and no such raid was conducted at the home of a Surat businessman called Sekhar Agarwal. Moreover, there are no recent reports from mainstream media about ED raids on Gujarat's AAP members.
The verdict:
Based on the available evidence, it is clear that the video being shared is from a raid at a gaming app developer's house and has nothing to do with an AAP leader. Therefore, we have marked the claim as false.