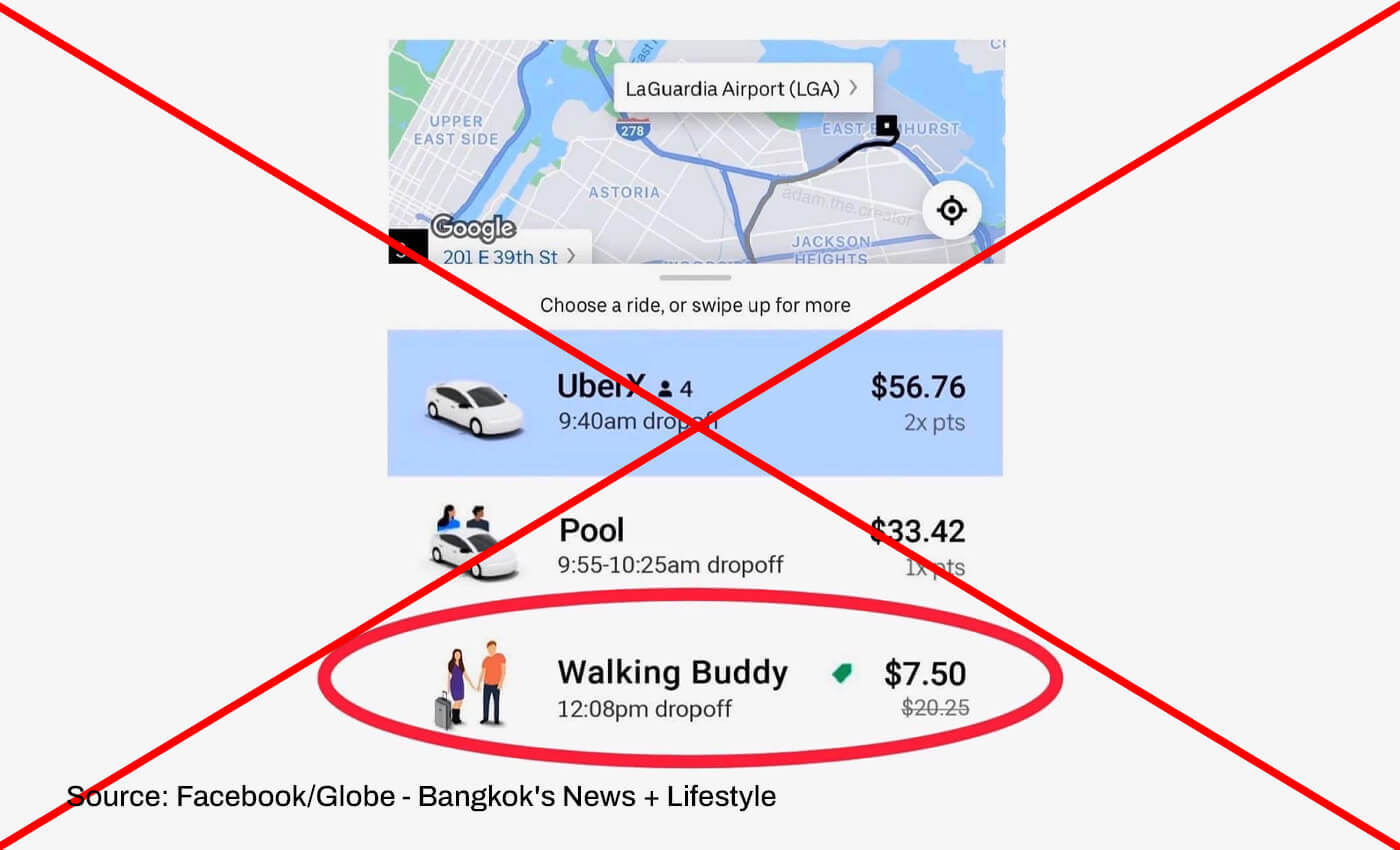 The ''Walking Buddy'' option is not a genuine feature on the Uber app or website.
Context
A Facebook post shows a purported screenshot of the Uber app, which displays various costs: $56.76 for UberX and $33.42 for an Uber Pool to get to LaGuardia Airport in Queens, New York. There is a third option called "Walking Buddy" in the screenshot, and its icon shows two people holding hands. The screenshot shows that the original charge for a "Walking Buddy" was $20.25; however, with the option discounted, the cost is reduced to $7.50. Similar posts with the same screenshots have gone viral on different social media platforms. While many considered such posts satirical, some took it seriously and had many questions about the purported service.
In Fact
Uber is a technology platform with an app allowing passengers to order a trip at a pre-set fare. It also offers food delivery and freight services. However, Uber hasn't launched a ''Walking Buddy'' option. We confirmed this by going through the ride options, technology offerings, and news sections on the official Uber website for the U.S. and other countries. None of their services resemble or refer to the alleged walking partner or buddy option.
By conducting a keyword search, we found an NC New York report stating that the purported Uber app screenshot initially went viral on Twitter in 2020.
When the image went viral, even Uber's official Twitter account quoted the screenshot, saying, "Gotta get those steps in,'' but it did not mention whether or not it was true. It should be noted that this option is not included on the company's website for worldwide transportation options. Further, the NBC New York report said that the viral tweet's author and Uber acknowledged that the screenshot was fake in the same year.
In October 2022, the same two-year-old fabricated screenshot about the "Walking Buddy" option was again in circulation. Reuters debunked the claim on October 22. Conor Ferguson, an Uber spokesperson, acknowledged via email to Reuters that the screenshot was fake.
Verdict
The image showing Uber having a "Walking Buddy" option is fake. Uber does not provide a walking partner service to its customers. Hence, we have marked this claim as false.