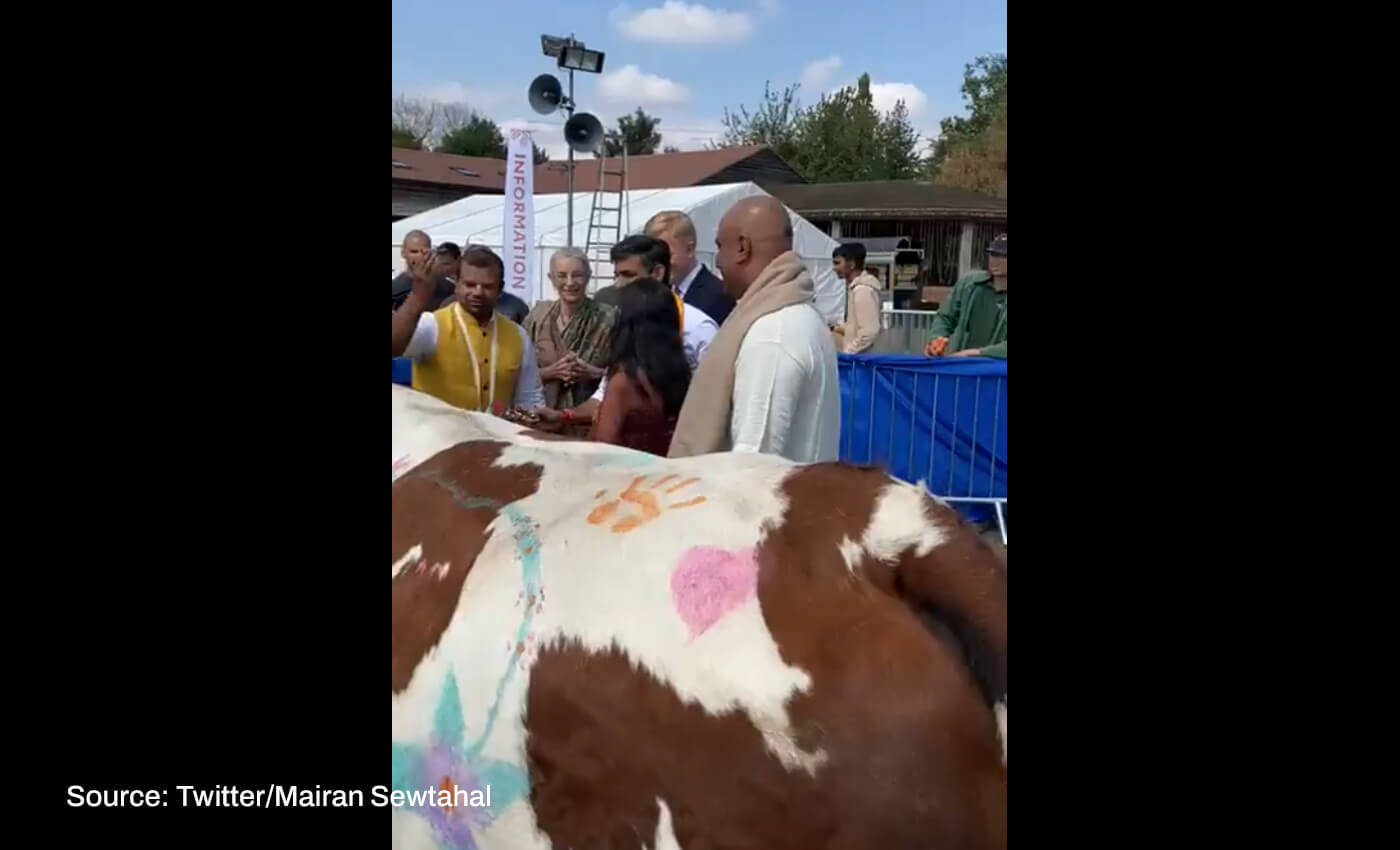 The viral video is from August when Sunak performed a cow-worship ritual during his campaign to win the Conservative Party leadership.
Context:
Ever since 42-year-old Rishi Sunak became the first Indian-origin prime minister of the United Kingdom, several unverified, misleading claims around his lifestyle and beliefs have been circulating on social media. A video of Sunak worshiping a cow is doing multiple rounds on social media platforms. Sharing the video, several users claimed that Rishi Sunak performed the cow-worship ritual after becoming the PM. The caption of one such post read, "Indian native Rishi Sunak worshipped cow after becoming Prime Minister of Britain. His wife accompanied him during the ritual. This is our culture."
In fact:
According to an article published on August 26, 2022 by the financial daily Mint, Sunak, then one of the candidates fighting for the leadership of the Conservative Party and the prime minister post, performed cow worship during his campaign for the top job. Days after quitting from former PM Boris Johnson's cabinet as the chancellor of the Exchequer, Sunak was up against Foreign Secretary Liz Truss in the contest.
Reporting on the cow-worship ritual, India Today reported that the Conservative Party leader Sunak was accompanied by his wife, Akshata Murthy. Murthy is the daughter of Infosys founder NR Narayan Murthy. Sunak and Murthy, who are also the richest occupants of Number 10 Downing Street ever, are both of Indian origin and Hindu by religion. For many Hindus, the cow is considered holy and is often worshiped.
Sunak's video with the cow was also shared by Hindustan Times' YouTube channel on August 26. The video is titled- U.K. PM hopeful Rishi Sunak, wife Akshata Murthy do 'Gau Puja' in London before results.
Sunak took charge as U.K's youngest Prime Minister on October 24 just weeks after losing the Conservative leadership to Truss. During his campaign, Sunak had emphasized that he wanted to improve the relationship between India and the U.K. He said that he wants a two-way exchange that will open up easy access to U.K. students and companies in India.
The verdict:
The viral video of Rishi Sunak worshiping a cow is from before he became the prime minister. The clip was from August, 2022 when Sunak was fighting elections for the Conservative Party leadership. Hence, we have marked this claim as misleading.
Reference links
Mint
India Today
Hindustan Times
WSJ