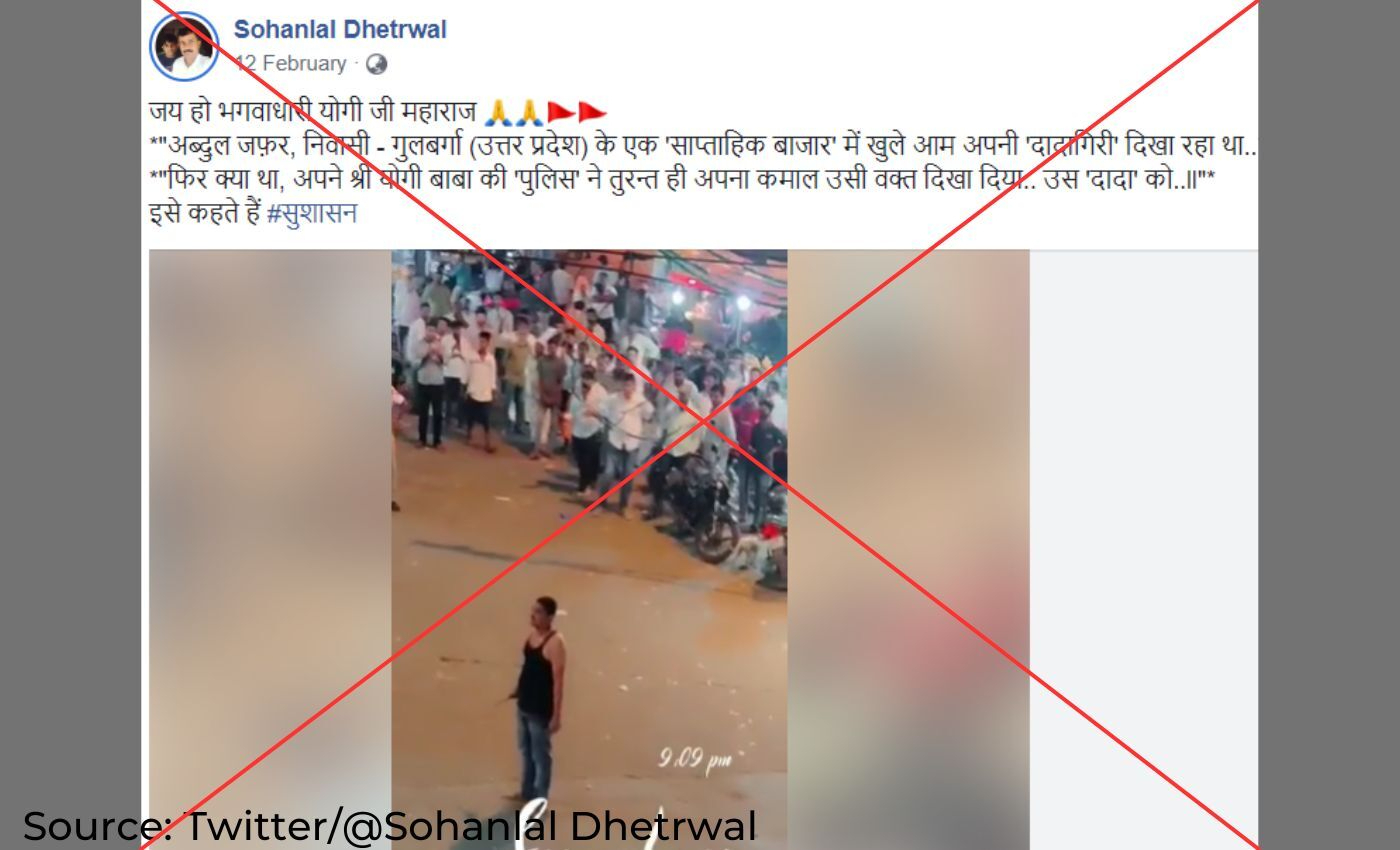 An incident from Kalaburagi in Karnataka has been falsely linked to Uttar Pradesh. The UP Police was not involved in the incident.
Context
A video of police opening fire at a man brandishing a knife in a public square has gone viral with the claim that the police under Uttar Pradesh Chief Minister Yogi Adityanath took timely action against one Abdul Jafar, a resident of Gulbarg in Uttar Pradesh. The viral post in Hindi praises the Uttar Pradesh government, claiming that this police action was possible because of good governance in the northern state. However, an old video from a different state is being shared with a false claim.
In Fact
After running a reverse image search on the keyframes of the viral video, we found several news reports about the incident, which was reported from Karnataka earlier this month. News website The News Minute, on February 6, 2023, tweeted the video clip with the title: "Karnataka police opens fire at man brandishing a knife in Kalaburagi."
According to India Today, which also published a zoomed out version of the viral video on February 6, the accused, identified as Fazal Bhagwan, allegedly attacked people near a supermarket in Karnataka's Kalaburagi district with a knife. The local police were alerted, and they rushed to the spot and tried to persuade him to drop the weapon. The report added that he did not adhere to the police warning, so they shot at his leg to apprehend him. Kalaburagi city police commissioner R Chetan was quoted as saying that the police opened fire to protect the public, and the man was later arrested. An Indian Express report on the incident also showed a screen grab of the commotion in the market area, similar to the visuals seen in the viral post. All the news reports establish that the incident took place in Karnataka and not Uttar Pradesh.
The Verdict
A viral video of police personnel firing at a knife-wielding man in Kalaburagi in Karnataka has been shared with a false claim that the incident took place in Uttar Pradesh under the able leadership of CM Yogi Adityanath. Therefore, we have marked the claim as false.
Reference links
TheNewsMinute
India Today
The Indian Express