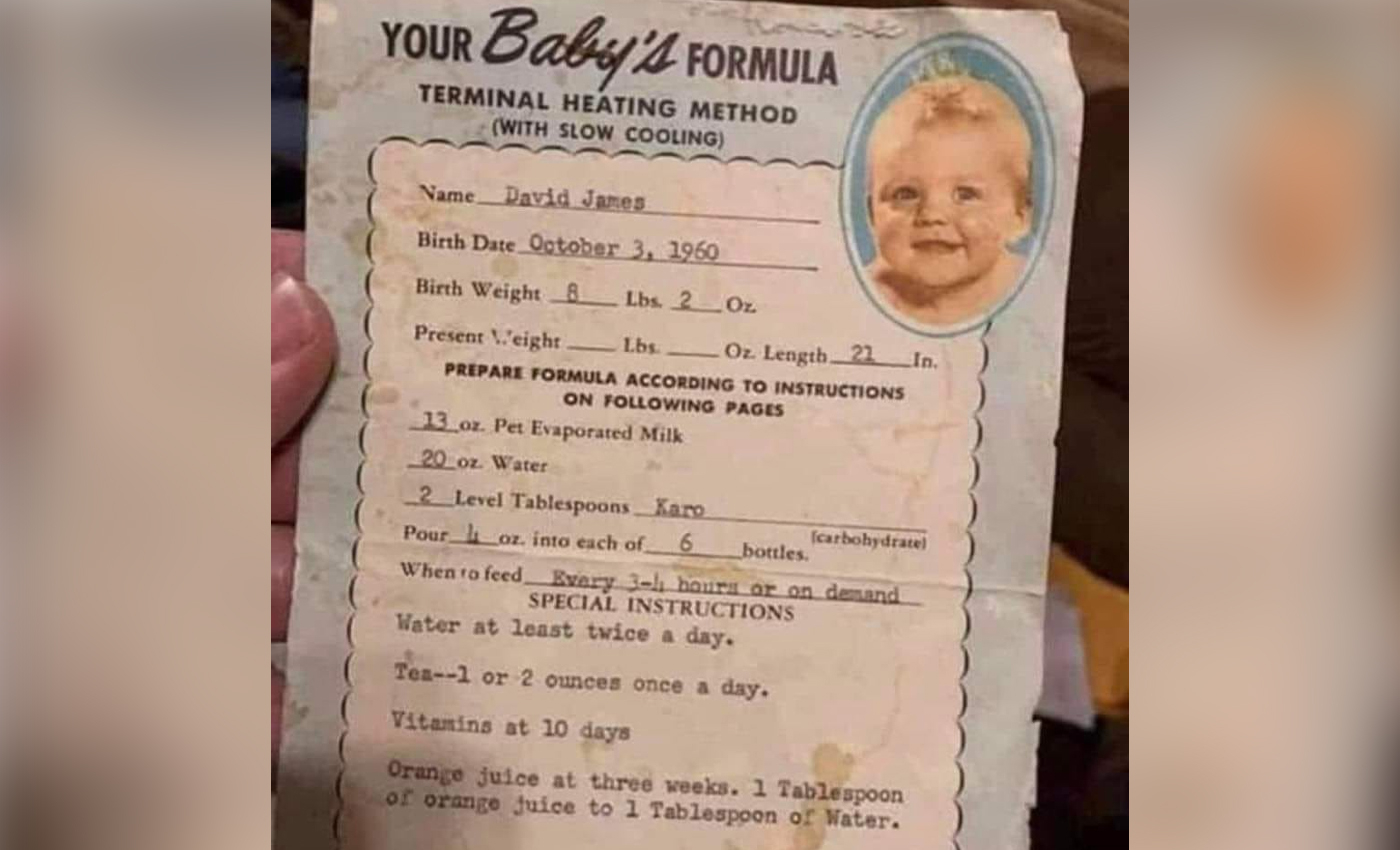 Pediatricians do not recommend homemade baby formula.
In May 2022, the U.S. experienced a shortage of baby formula. The New York Times reported that parents in the country had begun attempting to make the formula at home, with social media users posting formula recipes online. One such post has a picture of a baby formula recipe sheet dating back to 1960, that includes ingredients like Karo (corn syrup), evaporated milk, and orange juice. It also instructs the user on how many times the child should be with the formula. Many pediatricians have since advised against this using home made baby formula.
Mayo Clinic and the Academy of Breastfeeding Medicine have advised parents not to give their children homemade baby formula. According to the Mayo Clinic, Karo is harmful to babies and should not be given to them. In the past, Karo was administered to babies for constipation; however, "Today's commercially prepared dark corn syrup might not contain the chemical structure that draws fluid into the intestine and softens the stool," Mayo Clinic reported.
According to Johns Hopkins All Children's Hospital, babies shouldn't drink orange juice until they are six months old. Doctors do not recommend giving juice to babies as it is high in calories and can cause tooth decay and diarrhea. Juice can also cause an imbalance in the baby's nutrition when they don't have formula or breastmilk.
The Academy of Breastfeeding Medicine advises parents to switch to breastfeeding where possible, or feeding babies cow's milk and not making formula at home for those who cannot breastfeed. Mayo Clinic listed three types of formulas: cow milk protein-based, soy-based, and protein hydrolysate.
Many media outlets have reported on this viral post and have interviewed pediatricians who do not recommend making baby formula at home. Dr. Katie Lockwood, an attending physician at Children's Hospital of Philadelphia Primary Care, told the New York Times that "Regular formula is F.D.A.-regulated and held to very high standards, the same way we treat medications. Making it at home is a lot riskier." Doctors say homemade formula does not contain the nutrients babies need.
The American Academy of Pediatrics advises parents to contact local pediatricians for samples, avoid big box stores where supplies are low, or switch to a store brand formula unless advised otherwise medically, BBC reported.
On May 18, President Joe Biden said he launched new actions to address the baby formula shortage. Biden is invoking the defense production act and operation "Fly Formula" to ensure suppliers can direct resources to manufacturers and make sure baby formula is back in stores soon.