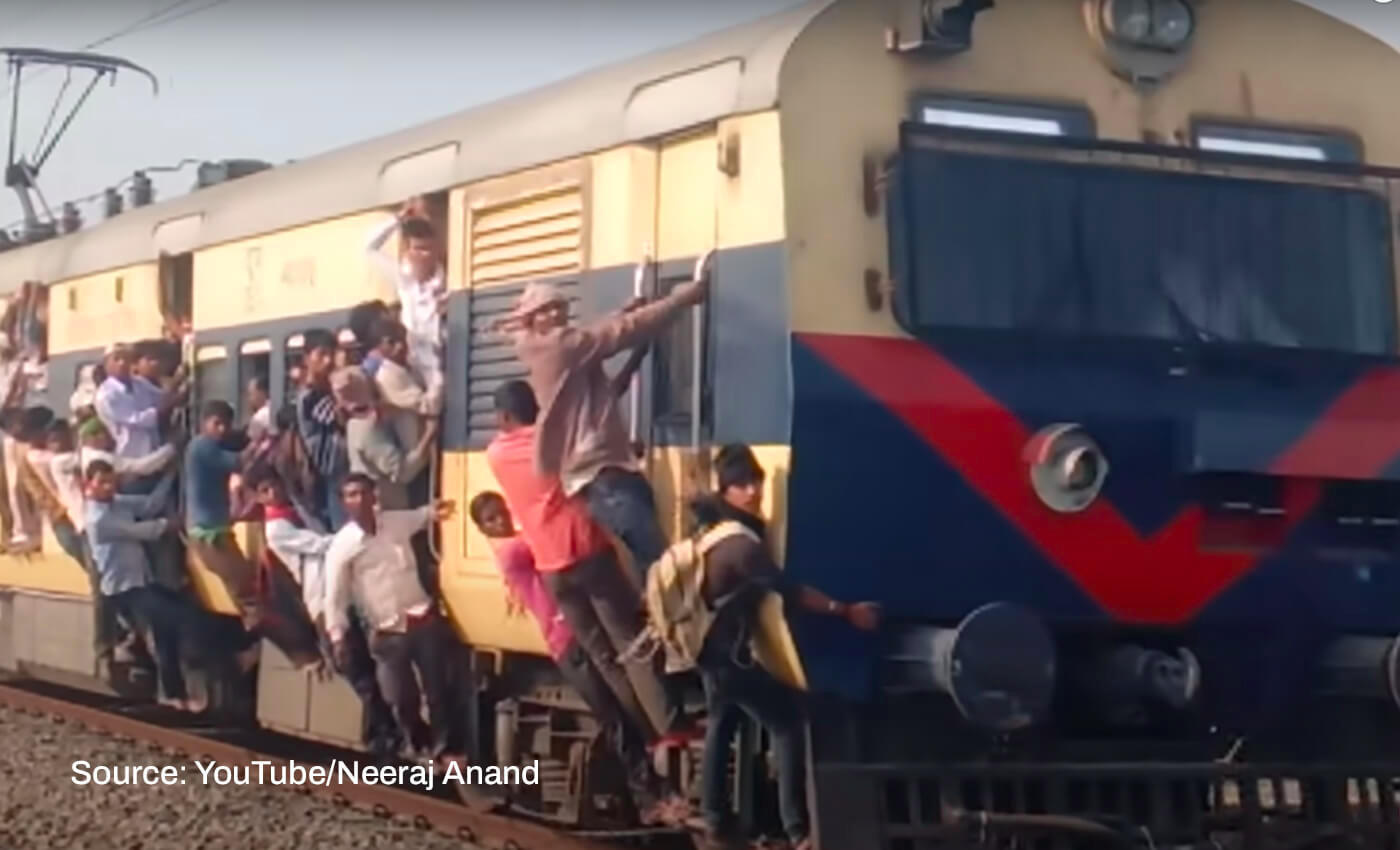 Although reports showed train stations were packed with aspirants traveling to exam centers, this particular video is from 2018.
Context:
A video of a crowded train running on the tracks is being shared on social media claiming that aspirants are going for Uttar Pradesh Subordinate Service Selection Commission Preliminary Eligibility Test (UPSSSC PET), a preliminary test qualifying candidates for future government jobs. The viral 30-second clip shows passengers sitting on the roof and hanging from the door of the running train. The post's caption read, "Visuals of Uttar Pradesh- Students going to appear for PET exams. But, there is no unemployment & we are vushwaguru."
The U.P. PET exam was conducted on October 15 and 16 across the state. According to a Hindustan Times report, aspirants faced transportation issues as bus depots and trains were overcrowded. A rush of passengers was witnessed at Sitapur, Kanpur, and Lucknow railway stations.
In fact:
We ran a few reverse image searches on the video keyframes and found the claim made with this particular video false. A YouTube channel named Neeraj Anand published the same crowded train video on February 27, 2018. The video is titled, "This scene can only be seen in Patna. The report claims the video is from Patna, Bihar"
Further searches revealed that North Central Railways spotted the misinformation and issued a clarification on Twitter on October 15. A comparison image of one such viral post and a screenshot of the 2018 YouTube video shared stating that the video is old. The tweet's caption read, "Avoid rumours! With reference to @priyankagandhi 's tweet (now deleted) it is clarified that coach number 40042 of MEMU train has not passed Prayagraj today and this image has nothing to do with the UPPET exam."
U.P.'s government's official fact checking handle also debunked the fake news on Twitter. The post's caption read, "Some accounts are presenting a misleading picture of chaos in the examination on social media platforms by displaying a video of a Mumbai local regarding PET conducted in Uttar Pradesh. PET is being conducted completely transparently and systematically in Uttar Pradesh."
We couldn't independently verify whether the viral video was from 2018 or the exact location. However, the evidence given above clearly proves that this video is not recent and has no connection with the 2022 U.P. PET examination.
Reports showed arrangements at bus depots and railway stations across Uttar Pradesh were inadequate and saw major chaos as significant numbers from over 370,000 registered candidates travelled to and from their exam centers.
The verdict:
An old video of a crowded train was falsely shared as aspirants going for the U.P. PET examination in 2022. Hence, we have marked this claim as false.