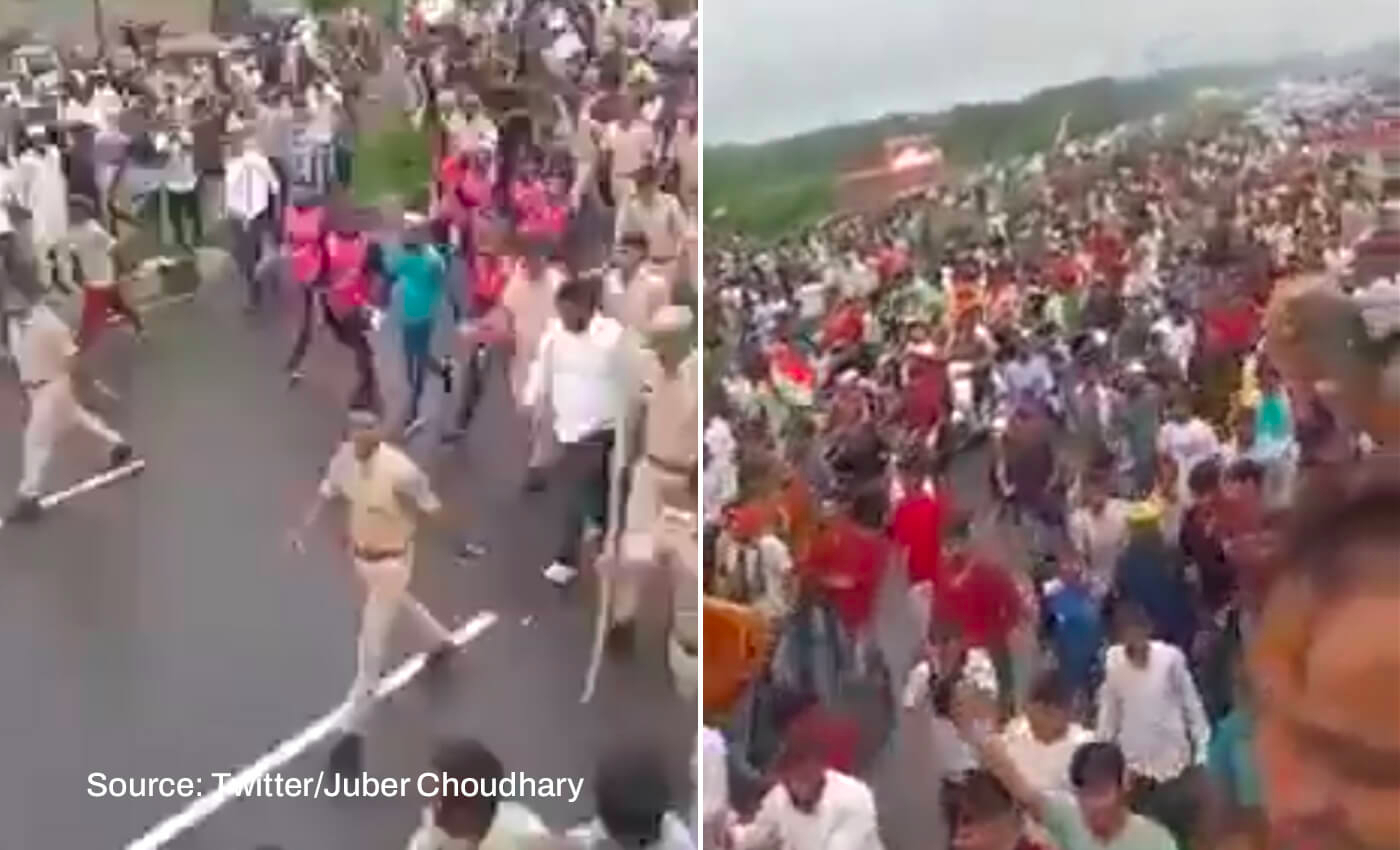 A video of a crowd gathered in Rajasthan's Ajmer to greet a Hajj pilgrim from Kerala has been falsely linked to Chandrashekar Azad's visit.
Context:
A video of huge crowdshas been going viral on social media with the claim that it shows supporters of Bhim Army, a party advocating for the rights of Dalits, blocked a road in Rajasthan's Jalore ahead of Azad Samaj Party and Bhim Army Chief Chandrashekhar Azad's visit in the area. The video, which is viral on both Twitter and Facebook, shows many people, along with several police officers, walking down a road. Azad was scheduled to visit Jalore on August 17, after the death of Indra Meghwal, a Dalit boy who was fatally beaten by his school teacher for drinking water from a pot meant for 'upper caste people.' The incident occurred in Surana village of Jalore district, and the teacher has since been arrested. As reported by several media outlets, Azad was stopped at Jodhpur airport and prevented from visiting the boy's family in Jalore.
In fact:
However, the viral video has no connection with Azad's attempt to travel to Jalore. While watching the video, we noticed that the crowd and the police officials seemed to be gathered around one man in a blue tshirt. Further, we also noticed several men wearing pink tshirts walking beside him.
Under one Facebook post containing the viral video, we found that a user had commented that the video showed a man named 'Shihab Chottur' on his walk to Mecca, Saudi Arabia. Taking a cue from this, we performed a search with relevant keywords, which produced several videos of a person walking from Kerala to Mecca. Sifting through the videos, we came across this individual's official, verified YouTube channel, which carries clips documenting his journey on foot from Kerala's Malappuram to Mecca.
We also found that the individual is named Shihab Chottur. Going through his channel, we found a video from August 17, 77th day of his journey, which showed him walking through Ajmer, dressed in the same blue tshirt and skullcap, surrounded by police officers and men in the same pink tshirts as noted earlier. Observing the video, we noticed crowds similar to that seen in the viral video. We also searched for his social media profiles and found a clip of him wearing the same outfit, posted on August 17 on his verified Facebook page. The video is not of crowds waiting for Azad but locals in Ajmer following Chottur as he made his way through the area.
We also dug more information about Chottur through news reports by Siasat Daily and The Hindu, both of whom noted that the 29-year-old began his journey in early June. Chottur is expected to traverse 8,600 km on foot in his attempt to reach Mecca and will cross Pakistan, Iran, Iraq, and Kuwait.. Chottur walks a little over 15 miles each day and will reach Mecca in 2023.
The verdict:
The video shows crowds surrounding Shihab Chottur, a Hajj pilgrim on his way to Mecca on foot, and is not related to Chandrashekhar Azad's planned visit to Jalore or the death of the Dalit boy. Therefore, we have marked this claim false.