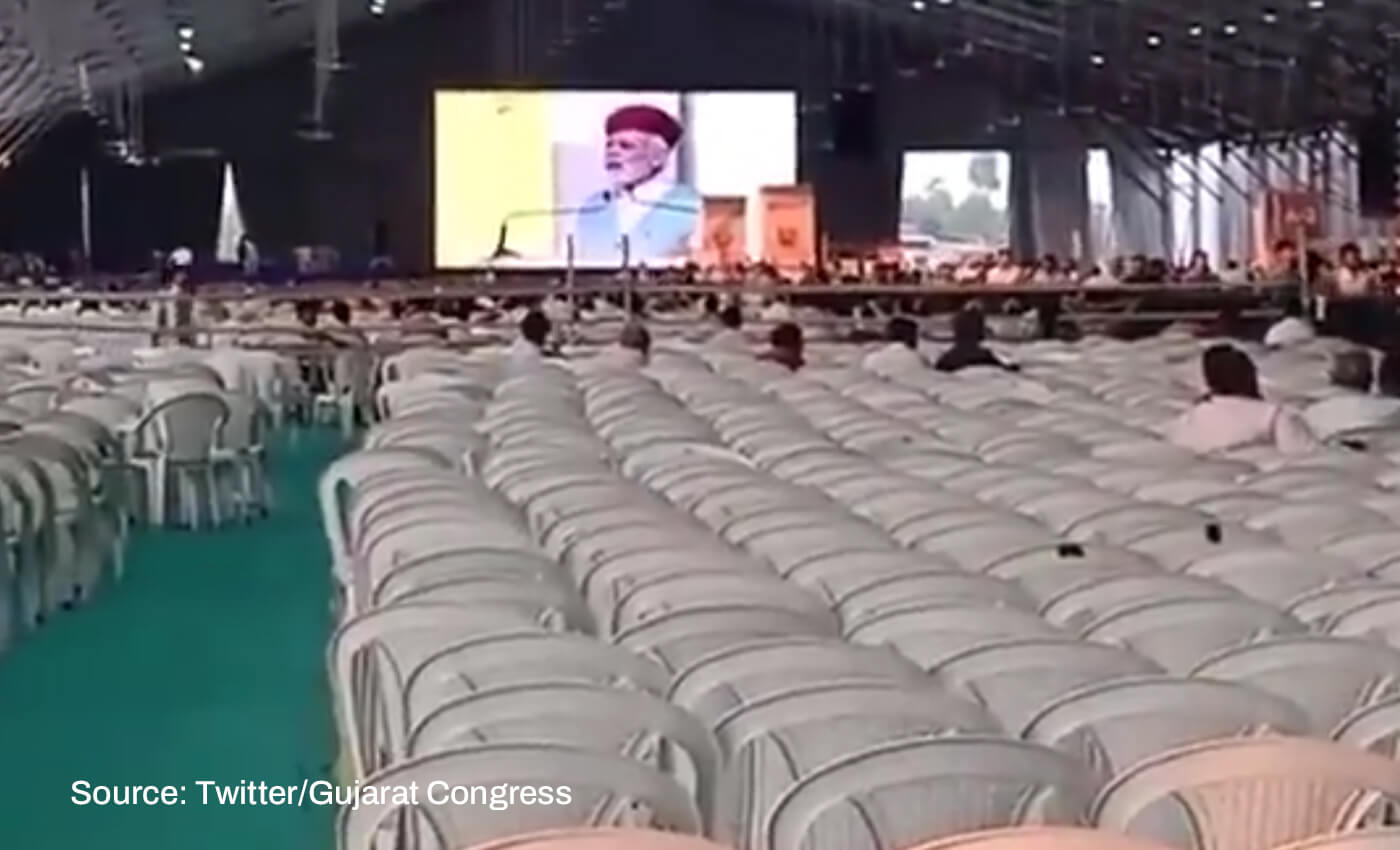 The video making rounds was shot after the event ended, and Modi's speech was replayed for those exiting the venue. His rally was well-attended.
Context:
On October 9, 2022, Prime Minister Narendra Modi embarked upon a three-day visit to Gujarat, where he launched new projects and inaugurated some completed projects. The visit comes just months before the state heads towards assembly elections which are speculated to be held in November 2022. Amid Modi's visit, a video started circulating on social media showing empty chairs sprawled across a big hall. Noted Indian lawyer and activist Prashant Bhushan also shared one such video. The video's caption states that it was shot during Modi's recent rally in Gujarat, adding that empty chairs show the reality of Modi's dwindling popularity in the state. The video shared by Bhushan has been retweeted over 4,985 times and viewed nearly 1 million times.
Gujarat Congress' Twitter handle also shared a similar video. The post read, "the popularity of our world guru Prime Minister has increased so much, and he has developed so much in Gujarat that no one is willing to sit in his meetings."
In fact:
A longer video of the same event was shared on the official website of the Prime Minister's Office and was live-streamed on October 9. The footage was from Modhera, where the PM laid the foundation for multiple projects. In the video, at time stamps 13:11 and 26:17, one can see that nearly all the seats are filled with people. The same can also be seen towards the video's beginning and end. A hall with empty chairs was not a scene captured when Modi was on the stage,
Logically also contacted Deepak Patel, a journalist based out of Ahmedabad, to confirm the events. According to Patel, the viral video with empty chairs was recorded after PM Modi finished his speech and the attendees began leaving the auditorium.
Also, in retaliation to Gujarat Congress' tweet, the Gujarat BJP hit back with a video showing a hall packed with people as PM Modi delivered his speech. The BJP also accused Congress of spreading fake news.
Modi has been the subject of various false claims, but at the same time leaders from his own party and his supporters have also been found sharing misinformation. Spreading fake news to target political rivals has become a popular tool among some leaders across the world.
The verdict:
Modi's rally in Gujarat was well-attended. It is quite apparent that the viral footage of empty seats was recorded when his speech was replayed on the screens after the event ended and the attendees had begun to leave the venue. Therefore, we mark the claim misleading.
Reference links
PMO India
BJP Gujarat
Hindustan Times