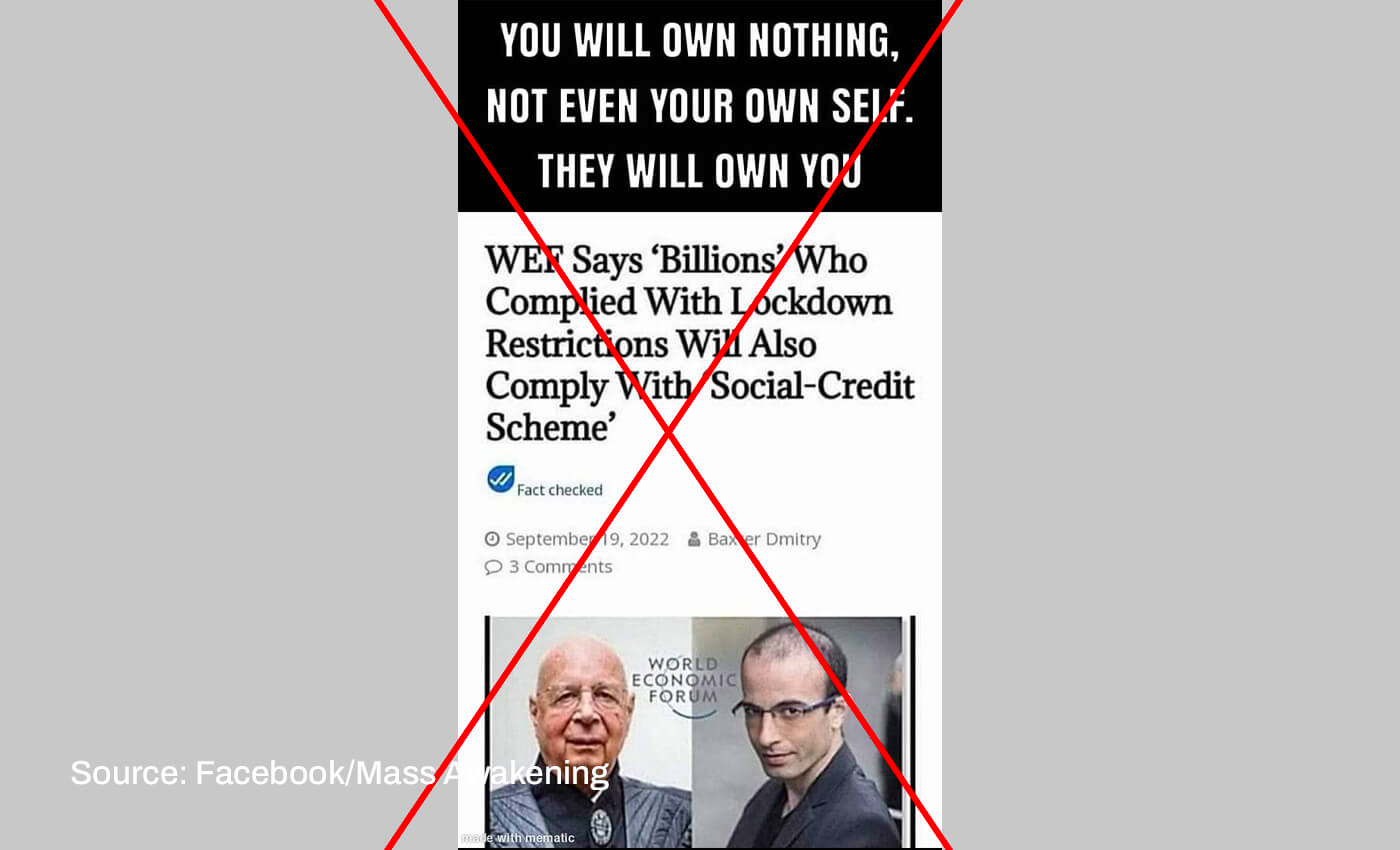 NewsPunch has misrepresented an opinion piece on WEF's blog. It never mentions social credit schemes or claims that lockdowns were a test.
Context:
Screenshots of a headline from an article published by Los Angeles-based website NewsPunch are being shared on social media by many users. The headline states: "WEF Says 'Billions' Who Complied With Lockdown Restrictions Will Also Comply With 'Social-Credit Scheme'". The NewsPunch article links to a blog published by the World Economic Forum (WEF) on its website. According to NewsPunch, the WEF has admitted that COVID-19 lockdowns were a test, and their article calls for "a social-credit style carbon emissions rationing scheme". Many people around the world shared the screenshot on Facebook and Twitter, claiming that this proves the COVID-19 pandemic was simply a training exercise. One person shared the screenshot claiming that the WEF is openly admitting that they are attempting to "enslave the planet" and steal people's humanity. "We're witnessing the systematic destruction of the west in preparation for a one-world government," the user added. Another user who posted the screenshot on Instagram said, "the vaccine project was all about a psychological trick to make you submit to rules and medical procedures."
In fact:
However, the WEF has admitted no such thing, and while the NewsPunch article uses quotation marks in its headline to make it seem that the organization spoke about a "social-credit scheme", the words do not appear in WEF's article. We found that the article NewsPunch links to is an opinion piece published on Agenda, WEF's blog platform, called "'My Carbon': An Approach For Inclusive And Sustainable Cities". Agenda invites guests to write on various topics and issues of the day based on pitches, for which WEF has published guidelines on its platform. "The World Economic Forum's Agenda content reflects, facilitates and informs the conversations that matter between well-intentioned, globally minded people. Our goal is to take some of the world's most important issues and make them accessible to everyone," the intro for this section states. Written by Kunal Kumar and Mridul Kaushik and labeled opinion visibly, "'My Carbon': An Approach For Inclusive And Sustainable Cities" is one of the platform's many posts by guest contributors. Kumar is the Joint Secretary & Mission Director for Smart Cities Mission - Urban, Ministry of Housing & Urban Affairs. WEF states very clearly at the bottom of the article that the views expressed in this article are those of the author alone and not the World Economic Forum.
The piece in question deals with carbon emissions and how new technology has made it possible to track personal carbon footprints better and take steps to reduce the same. The writers state that personal carbon allowance programs in the last few years have enjoyed low success because of reasons such as a lack of social acceptance, political resistance, and a lack of awareness and fair mechanisms for tracking. In this context, they write that the world is undergoing a transformation, one of which is the pandemic, which, in requiring billions of people to adopt "unimaginable restrictions for public health", became a test of social responsibility. "There were numerous examples globally of maintaining social distancing, wearing masks, mass vaccinations and acceptance of contact-tracing applications for public health, which demonstrated the core of individual social responsibility," Kumar and Kaushik opine in their piece, praising the public. It does not say that the COVID-19 lockdowns were a test; the two statements are not the same.
Further, as mentioned before, the words "social credit scheme" do not appear in the article, nor is there anything to suggest anything along these lines. China is a nation that has publicly been following a social credit scheme. This is essentially a program that monitors the behavior of citizens, gives them scores, and hands out punishments and rewards basis this score. China's social credit system judges citizens' behavior and trustworthiness, states a 2019 article on the subject published by Wired. "Caught jaywalking, don't pay a court bill, play your music too loud on the train — you could lose certain rights, such as booking a flight or train ticket," it adds. As part of the plan, which is still in the process of being implemented, individuals will have scores or records of their behavior, which will determine which rights they are granted. However, no scheme of this sort is mentioned in Kaushik and Kumar's article, which instead talks about reducing personal carbon emissions through awareness programs, economic incentives, technological advances, and social norms. The authors define the norms as giving a new definition to fair share of personal emissions, and setting acceptable levels of personal emissions. All this could help in "providing individuals with tailored and timely advice on how to reduce their lifestyle emissions", the authors conclude.
Therefore, it is clear that NewsPunch has misrepresented and misquoted the WEF blog post in its article. First, the piece does not reflect WEF's own views; second, the guest authors have not claimed that COVID-19 lockdowns were a test; and third, they have not suggested a social-credit scheme or said that people who adhered to lockdowns would also accept such schemes. NewsPunch, formerly known as YourNewsWire, has routinely published misinformation.
The verdict:
The NewsPunch headline and the screenshots being shared online have no basis in truth and misrepresent the original WEF article completely. WEF has not said that COVID-19 lockdowns were a test, and the piece makes no mention of a "social-credit scheme". We have therefore marked this claim false.
The COVID-19 pandemic has given rise to a lot of potentially dangerous misinformation. For reliable advice on COVID-19, including symptoms, prevention, and available treatment, please refer to the World Health Organization or your national healthcare authority.