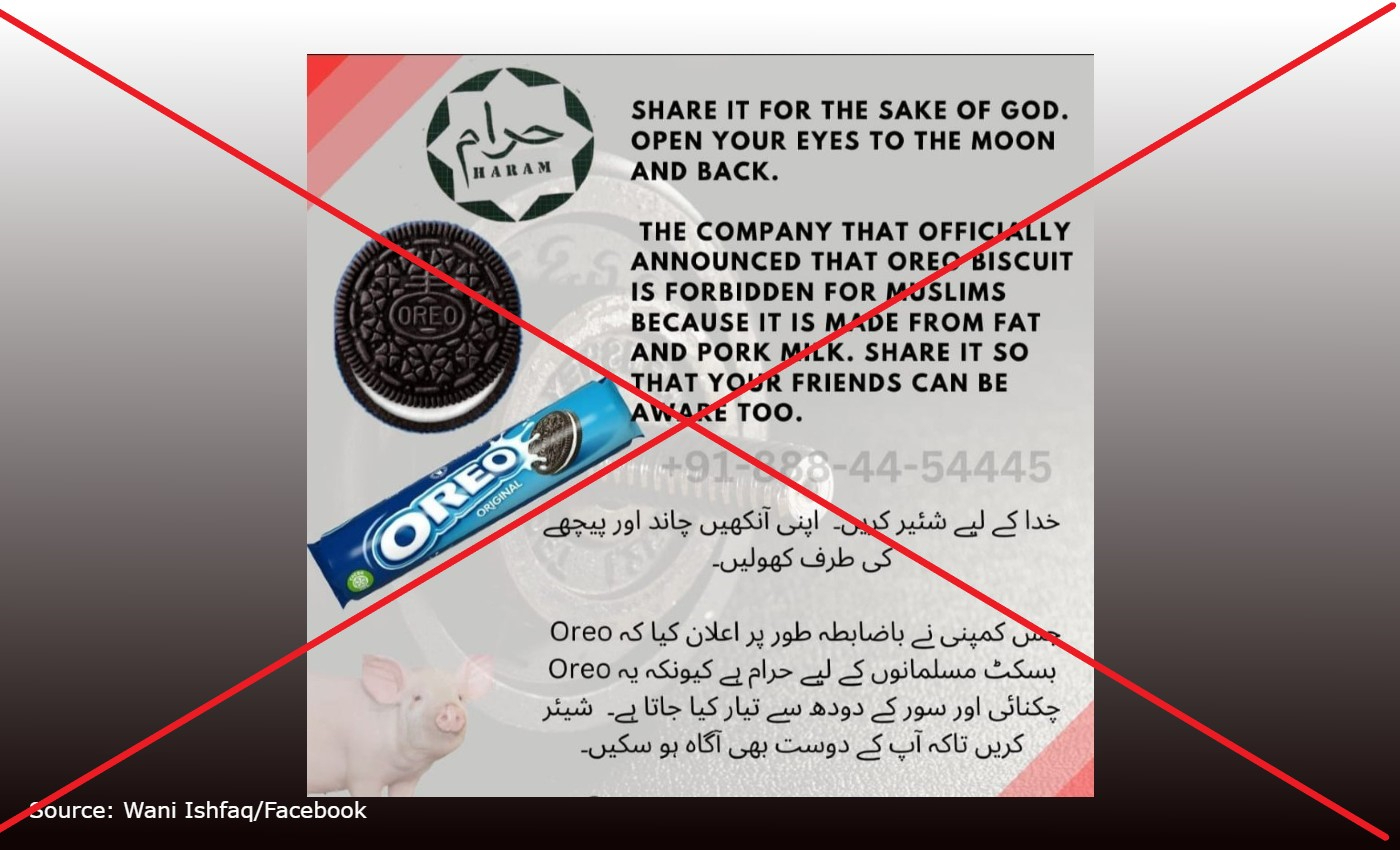 Oreo cookie manufacturer Mondelez India confirmed to Logically that the ingredients used are of vegetarian origin. These claims are unsubstantiated.
Context
Multiple versions of a claim that Oreo biscuits contain pig fat and alcohol have been circulating on social media. Although the claim was shared in many countries, it has most prominently spread in the Middle East and France, claiming that the cookies are "not halal." Additional concerns were raised as pig fat and alcohol are considered "haram" in Islam. However, claims that Oreo cookies contain alcohol and pig fat are untrue.
In Fact
We came across many similar posts dating back to 2017 that provided no evidence to back the claims that Oreos contain alcohol and pig fat. Upon analysis, it was clear that the more recent posts referred to a response in the FAQ section on Oreo's French website. The FAQ mentions that Oreos are not halal; however, we did not find any reference to pig fat or alcohol used as ingredients.
In response to these similar claims, the UAE Ministry of Climate Change and Environment issued a statement on January 5, 2023, clarifying that Oreo biscuits do not contain pig fat or other animal fats. It further explained that there is no alcohol in the product and that these imported products are allowed in the country after stringent regulatory checks.
The official Oreo Twitter account responded to a query on February 23, 2022, as to whether Oreo cookies made for the Middle East, Pakistan, and North Africa were halal-certified and alcohol-free, confirming that they were.
Several users from India also posted similar concerns online, to which the Oreo India Twitter account has responded, stating that all ingredients they use are of vegetarian origin.
Logically also reached out to the Indian arm of Mondelez, the parent company, for comment. They replied, "All ingredients used in the manufacturing of chocolates by Mondelez India Foods Pvt. Ltd. (formerly Cadbury India Limited) are of vegetarian origin. The green dot on the wrapper also declares the same."
Furthermore, the Mondelez International website says, "Production of halal compliant food products requires close attention to ingredients, source of ingredients, processing, cross-contact, cleaning procedures of the equipment for the production process, and many other operational issues. Halal certification is managed through external agencies, and their requirements vary by agency, country, and/or government." This emphasises that pig fat or alcohol are not used as ingredients in Oreo cookies and that their products are made according to the dietary guidelines or requirements of the specific regions in which the products are sold.
The verdict
Claims of Oreo cookies containing pig fat or alcohol as ingredients are untrue. Oreo cookies are halal-certified in Pakistan and regions like the Middle East and North Africa. Therefore, we have marked this claim as false.