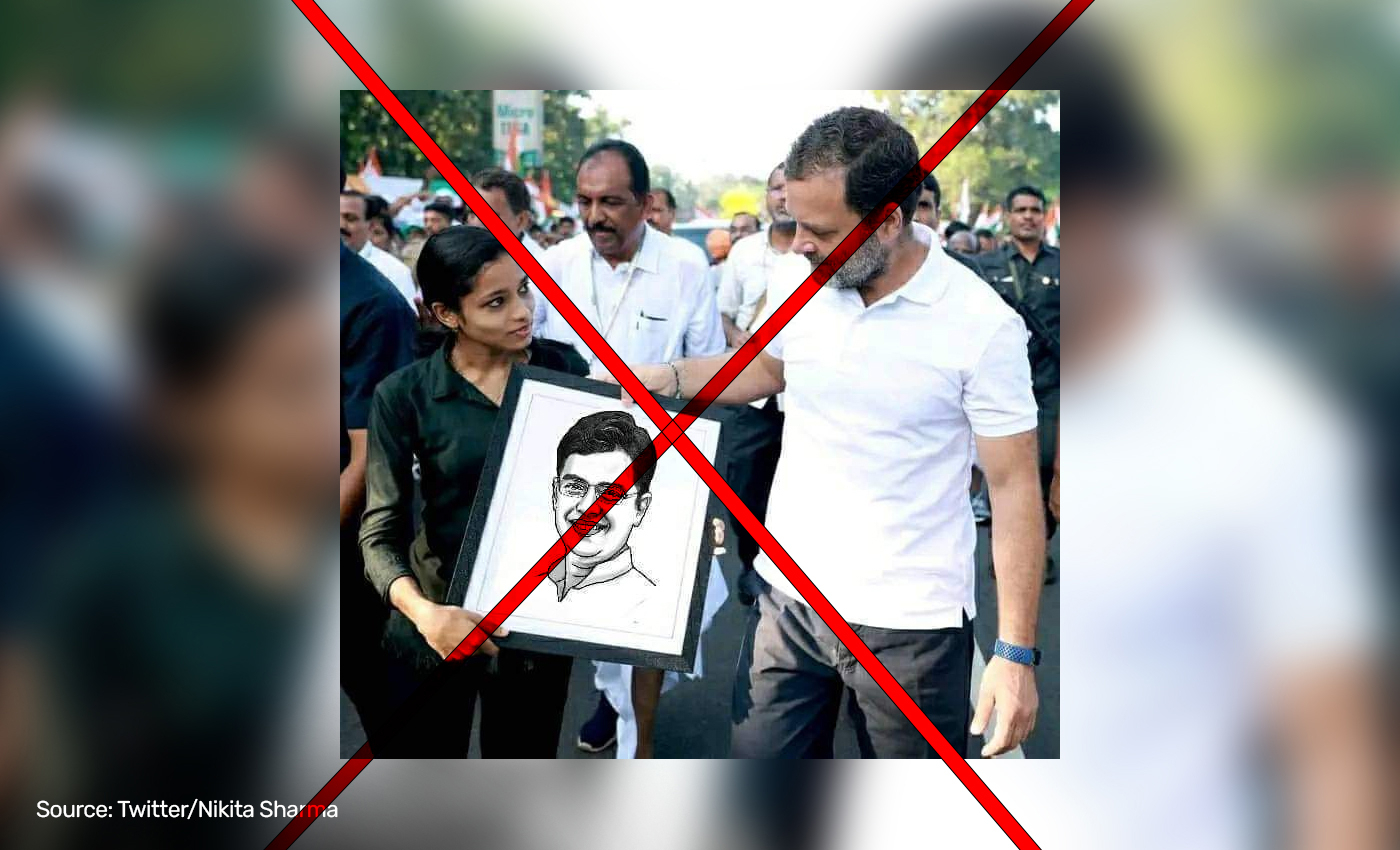 A girl presented Gandhi with a sketch of the leader himself. The image of the two together was morphed to show that the sketch was of Sachin Pilot.
Context:
As Rajasthan Chief Minister Ashok Gehlot's name made it to list of potential candidates for president post of the Congress party, the state was looking at a leadership crisis and witnessed political turmoil in the last few days. As Congress' "one man-one post' principle would not allow Gehlot to remain CM if he were to become the Congress President, supporters of former deputy CM and Congress leader Sachin Pilot became confident that the latter would rise up the top post in the state. Social media platforms were soon flooded with posts about Pilot. Some Twitter users claimed that a girl presented a sketch of Pilot to former Congress President and MP Rahul Gandhi during the Bharat Jodo Yatra in Kerala. In a bid to rally support for his party, Gandhi had launched the 3,500 km yatra on September 7 from Tamil Nadu's Kanyakumari, and after crossing Kerala, the yatra entered Karnataka on September 30.
In fact:
Using reverse image search, we found a similar picture of the girl with Rahul Gandhi on the official Twitter handle of the Indian National Congress (@INCIndia). The picture was shared on September 22, 2022, and shows that the girl presented a sketch to Gandhi of the leader himself.
Amit Malik, an INC member, also posted the same image of Rahul Gandhi holding the sketch during Bharat Jodo Yatra on September 22, 2022. It is hence apparent that the picture of the girl presenting a Sachin Pilot sketch to Gandhi was morphed.
Infighting between the supporters of Sachin Pilot and Ashok Gehlot had intensified with the announcement of the Congress Presidential elections and even prompted a warning from the party general secretary K.C Venugopal, The Indian Express reported. In the wake of Pilot's candidature to be the next chief minister of Rajasthan, several MLA's from Gehlot camp had submitted their resignation to the assembly speaker on September 25. On September 29, Ashok Gehlot told the media that he would not contest the party presidential polls and that interim president of the party Sonia Gandhi would decide who would be the Rajasthan CM. Gehlot is reported to have apologized to Sonia Gandhi for the developments in Rajasthan.
High drama in the Congress comes at a time when the party is trying to turn its fortunes around with the Bharat Jodo Yatra just months before assembly elections in Gujarat and Himachal Pradesh. The yatra itself has been the subject of various false claims many of which have been debunked by Logically.
The verdict:
The sketch in the image in question is of Rahul Gandhi, not Sachin Pilot. Hence, we have marked this claim false.