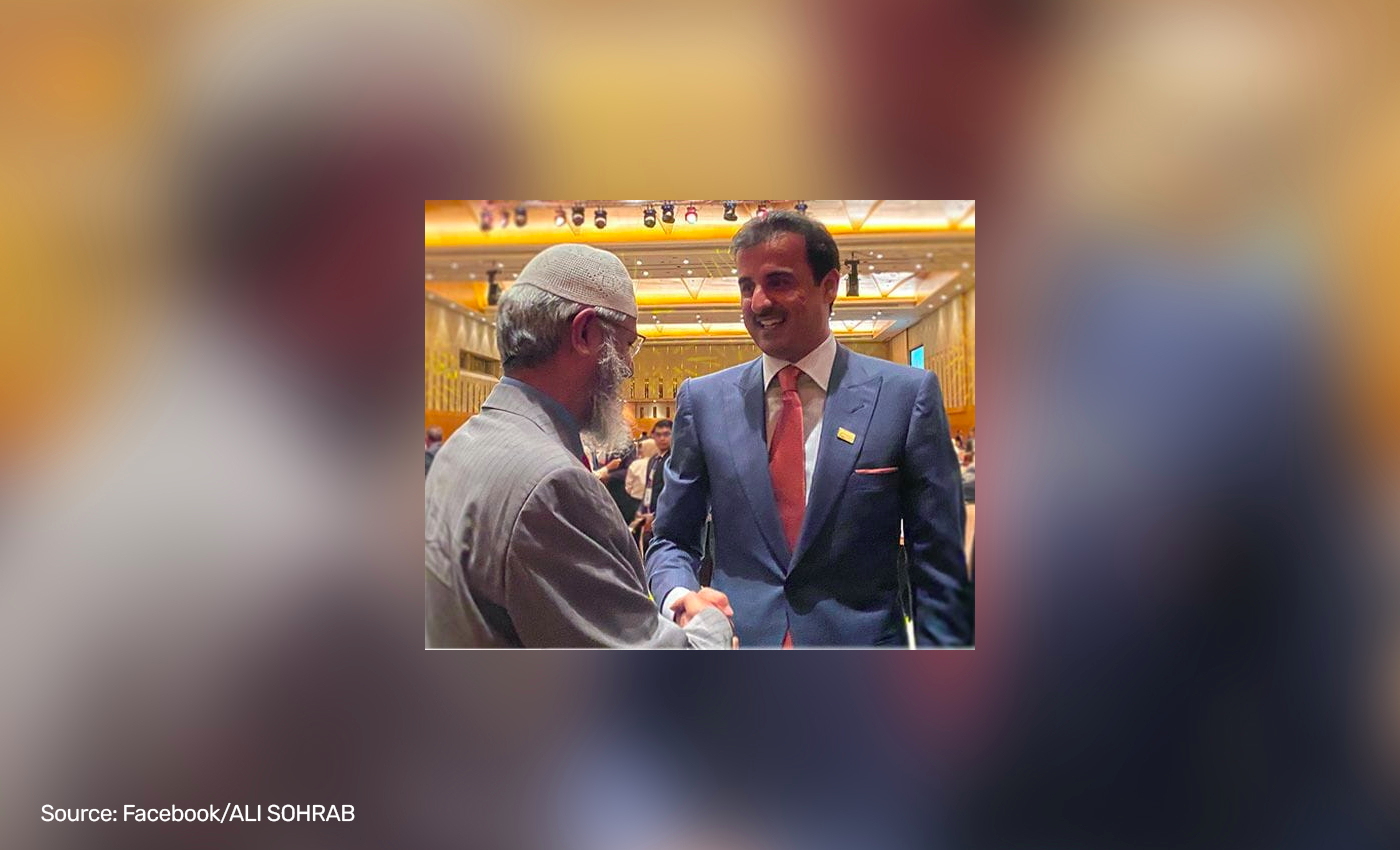 A 2019 image of Tamim bin Hamad Al Thani greeting Naik is falsely claimed to be from the 2022 FIFA World Cup in Qatar.
Context
On November 20, 2022, FIFA 2022 kicked off its tournament with the opening ceremony at the Al Bayt Stadium in Al Khor, Qatar, followed by the first match. The opening ceremony included performances and a showcase of Qatari culture and heritage. Reports and social posts said Islamic Preacher and Indian fugitive Zakir Naik was invited to Qatar to deliver religious lectures. Following this, social media was rife with posts linking the event to Naik.
One photo on social media shows Sheikh Tamim bin Hamad Al Thani, Emir of Qatar, and Naik together. Narratives around the image claim Tamim welcomed and greeted Naik at FIFA 2022. Another Facebook user captions it, "Naik, who arrived in Doha, the Capital City of Qatar, was received by the Emir of Qatar, His Royal Highness Tamim bin Hamad Al Thani" on November 19. However, the image is old and has been miscaptioned.
In Fact
Using the InVID tool, we did a reverse image search and found the image dates back to 2019. On December 20, 2019, Naik posted the viral image on his Facebook account, captioning it "interaction with Heads of State Dr Zakir Naik in Conversation with Shaikh Tamim bin Hamad Al Thani Ameer of the State of Qatar." Similarly, we could find the viral image using keywords under an unverified Twitter handle @mdJahirpersonal dated December 20, 2019, with the same caption as Naik's post.
Tamim and Naik attended Malaysia's three-day Kuala Lumpur Summit on December 18, 2019. Malay Mail published a report on the summit dated December 19, 2019. Its report attached Naik's image by photographer Hari Anggara from the event. The report mentioned that Tamim would be attending the event. Tamim, on December 19, tweeted his video from the summit. The viral image and the video Tamim shared have similarities; Tamim's attire matches, and the venue in the background is the same. Even Naik's attire matches the image published by Malay Mail.
Naik's presence at the 2022 World Cup has been widely criticized. On November 23, 2022, Hindustan Times reported Naik is a "radical Muslim who is wanted by Indian authorities since 2016 for alleged money laundering and inciting extremism through hate speeches." It also mentions that Naik-founded Islamic Research Foundation (IRF), is banned for five years by the Union Home Ministry in March 2022 for unlawful association under the Unlawful Activities Prevention Act. He has been banned from entering the U.K. and Canada due to hate speech. He is among the 16 banned Islamists in Malaysia.
Modi Government had communicated that it would cancel the visit of Vice President Jagdeep Dhankar to attend the FIFA World Cup inauguration if Naik was officially invited. Qatar informed India via diplomatic channels that Naik was not officially invited to FIFA in Doha, stated Hindustan Times. Qatar says third countries were spreading "deliberate disinformation" to spoil India-Qatar bilateral relations. Following this, Dhankar visited the ceremony and returned the next day.
News 18 published that Naik, through his "activities of da'wah (an act of inviting or calling people to embrace Islam) through IRF," gained fame during the 1990s. His channel, Peace TV, reaches a million viewers, and many provide him an equivalent status of "Salafi (a reform moment within the Sunni community) ideology."
The Verdict
An old image of Tamim greeting Naik in 2019 during the Kuala Lampur Summit has been falsely connected to FIFA 2022, claiming Qatar Sheikh is welcoming him. Therefore we have marked the claim as false.