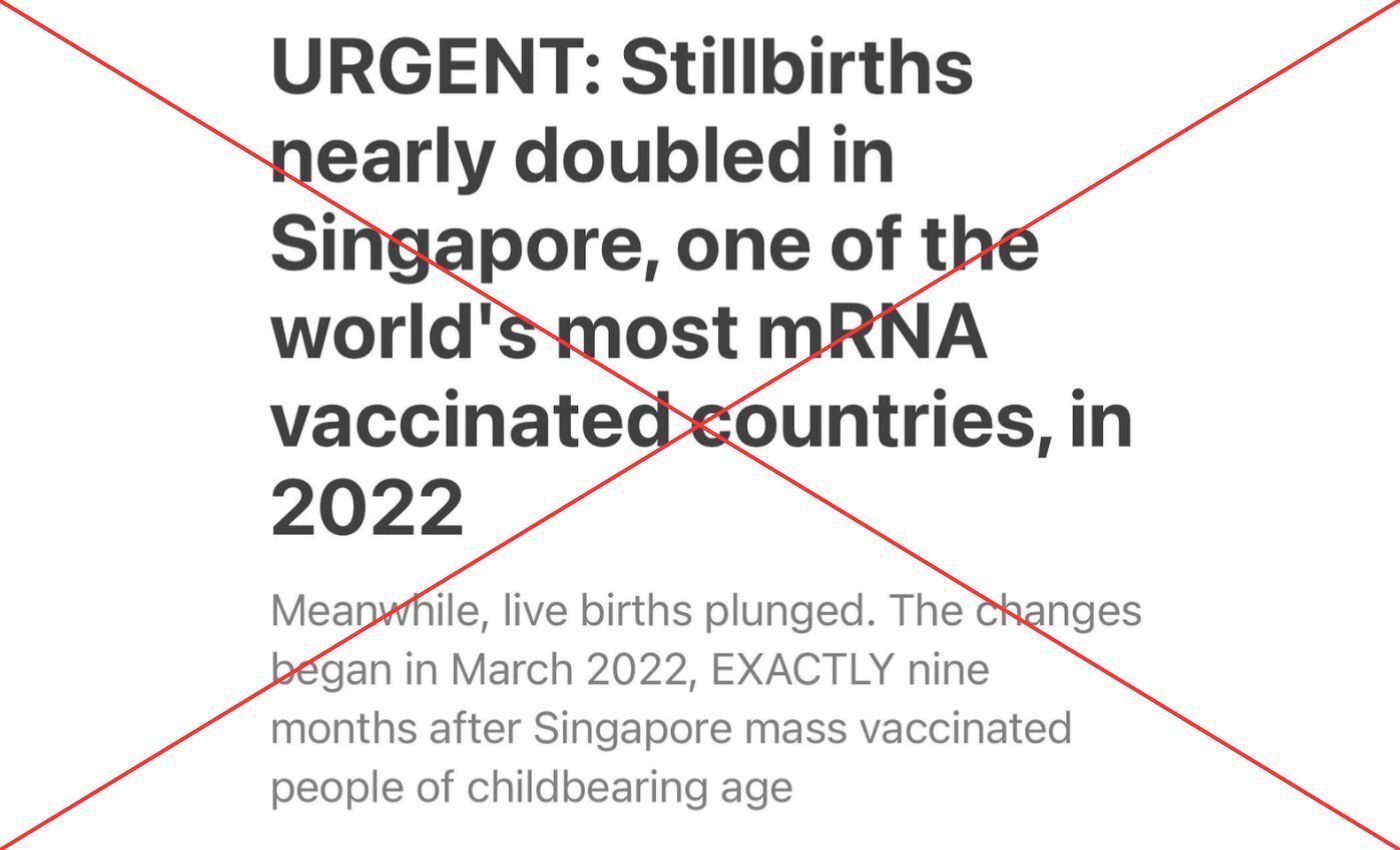 There is no evidence that mRNA vaccines cause stillbirths. This increase followed changes in requirements relating to the registration of deaths.
Context
Recently, there has been a considerable amount of speculation concerning official health data from Singapore. The dataset in question concerns registered deaths in the country, and some have used it to draw conclusions concerning the safety of mRNA vaccines. This commentary has been published largely on Substack.
One article on the site summarizes its concerns as follows: "Raw numbers on Perinatal Deaths and Stillbirths are out! Look at the dramatic increase post-vaccination. These are babies born to vaccinated parents. Huge jump from previous years, 45% and 70.5% respectively. I'm glad Singapore is transparent with the data. Let's wait for their official 'narrative' and see if they double down, or recall the mRNA."
Data from Crowdtangle shows that this article has been shared just under 200 times in public settings on Facebook in recent days. A similar article, written as part of a series entitled Unreported Truths that has over 250,000 subscribers, has been screenshotted and uploaded to Instagram. At the time of publishing, its headline read, "URGENT: Stillbirths nearly doubled in Singapore, one of the world's most mRNA vaccinated countries, in 2022." An image of this has received thousands of likes on the platform.
In Fact
There is no evidence that mRNA vaccines have resulted in a significant increase in stillbirths in Singapore or any other country. This question has been explored in depth in a study published by the British Medical Journal in 2022. Its authors examined outcomes across 85,162 births. Their findings "suggest that vaccination against covid-19 during pregnancy is not associated with a higher risk of preterm birth, small for gestational age at birth, or stillbirth."
The statistics cited by the articles in question are accurate and were published by the Singaporean government. However, the cause of the increasing number of registered stillbirths is not mRNA vaccines. In July 2021, Singapore's parliament passed the Registration of Births and Deaths Bill. According to reporting by Channel News Asia, this legislation made it "compulsory to report the birth of every child in Singapore, as well as stillbirths and deaths" and streamlined relevant administrative processes.
The author of Unreported Truths has since issued a correction, acknowledging that changes in the law are likely the true cause of increasing numbers of registered stillbirths in Singapore. At present, the headline of the article has been amended to read, "NOTE: THIS ARTICLE IS ESSENTIALLY INCORRECT - SINGAPORE CHANGED ITS DEFINITION OF STILLBIRTHS. SEE POSTED CORRECTION OF MARCH 2, 2023." To date, no evidence has come to light that supports claims that mRNA vaccines are capable of causing stillbirths.
The Verdict
The available scientific evidence shows that mRNA vaccines are safe and effective. To date, no evidence has surfaced that links these vaccines to stillbirths. The overwhelming likelihood is that the statistics cited in these articles were heavily affected by changes in Singaporean law concerning the registration of deaths. This claim has therefore been marked as false.