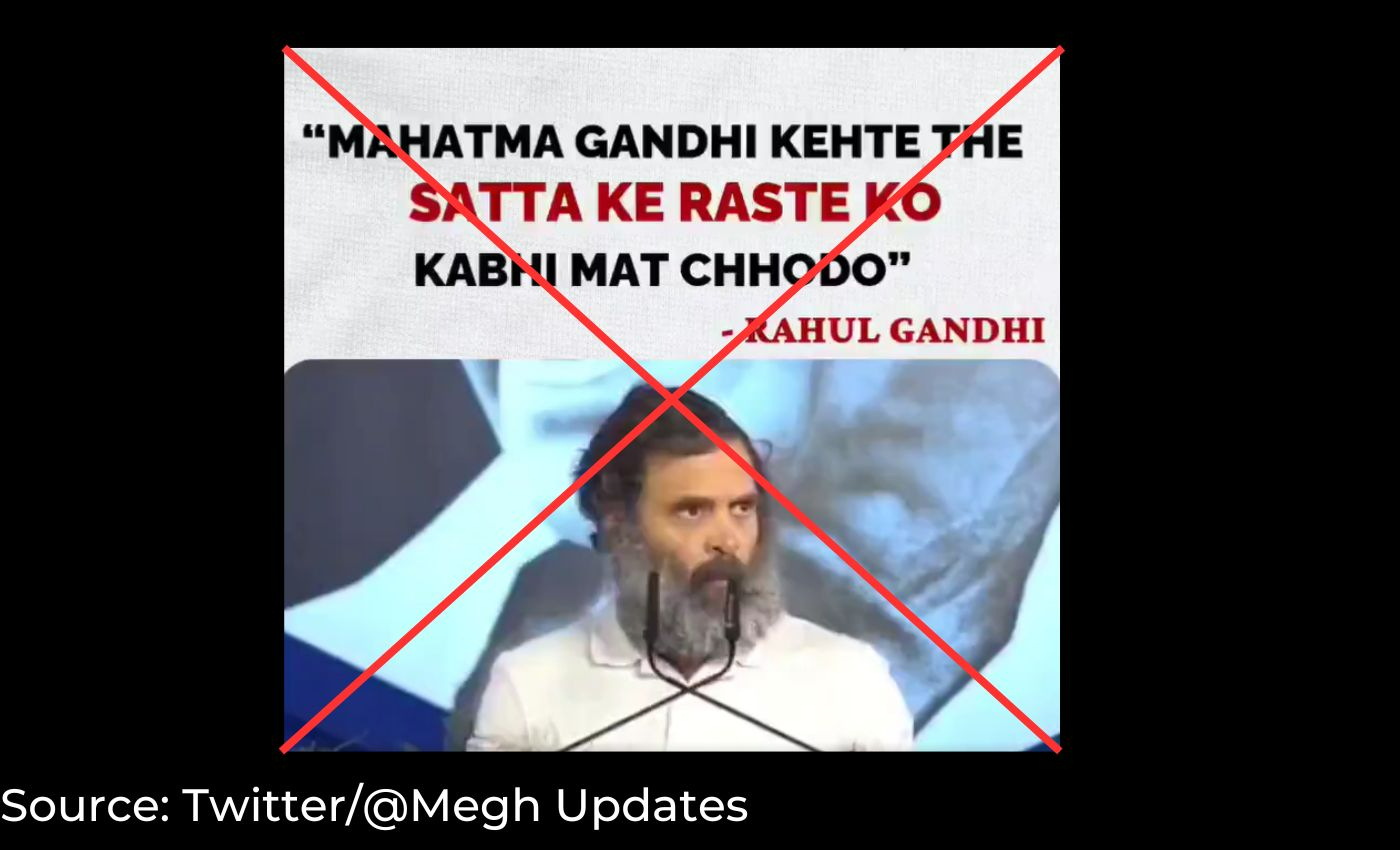 Gandhi had a slip of the tongue while talking about 'satyagraha,' but the correction has been edited out of the viral video to mock the leader.
Context
The 85th plenary session of the Indian National Congress, which was held last month in Chattisgarh, became the target of several misleading and false claims. As the three-day meet, where delegates and leaders discussed key political and economic issues, concluded on February 26, a 24-second clip of Congress leader Rahul Gandhi talking about 'satyagraha' (non-violent resistance based on holding to truth) at one of the events at the plenary session started circulating on social media. Posts sharing the clip claimed that the Congress leader described satyagraha as a path to power while addressing the gathering. The posts accused the leader of not understanding the meaning of satyagraha—a term coined and popularized by Mahatma Gandhi. Several verified accounts affiliated to Congress' rival Bharatiya Janata Party (BJP) also shared the same clip with posts mocking Rahul Gandhi.
In Fact
The full video of Rahul Gandhi's speech from the plenary session is available on his official YouTube channel. Around the 35-minute mark in the 47-minute long video, Gandhi talks about satyagraha and says in Hindi: "Mahatma Gandhi used to talk about satyagraha. Satyagraha means never leave the 'path of power' (satta)." However, he immediately corrected himself and said, "Sorry, never to leave the path of truth (satya)." Gandhi fumbled and used the Hindi word "satta" (which means power) while explaining the term 'satyagraha', but was quick to correct himself and use the word "satya" meaning truth. Tweets claiming Gandhi does not know the meaning of 'satygraha' have only shared that part of Gandhi's speech where the latter fumbled and used the Hindi word for power instead of truth—an error he rectified immediately. The correction is edited out from the viral clip to show that the Congress politician does not know the meaning of 'satyagraha.'
A report published by The Hindu on February 26 also noted that Gandhi had a slip of the tongue, which he corrected immediately. The viral claim and the 24-second clip are part of a larger narrative employed by many of Gandhi's critics and rivals to mock his abilities and intelligence.
At the plenary session, Gandhi later took a dig at the BJP in his speech, alleging that the latter craves only power. while Congress believes it is holding onto the truth. He said, "We (Congress) are satyagrahi (truth seekers), and they are 'sattagrahi' (those seeking power)."
The Verdict
Gandhi had a slip of the tongue but immediately corrected himself and noted that 'satyagraha' is the path to truth. Gandhi's video making the gaffe has been shared widely to mock him after editing out his immediate correction. Therefore, we mark this claim misleading.
Reference links
Rahul Gandhi
The Hindu