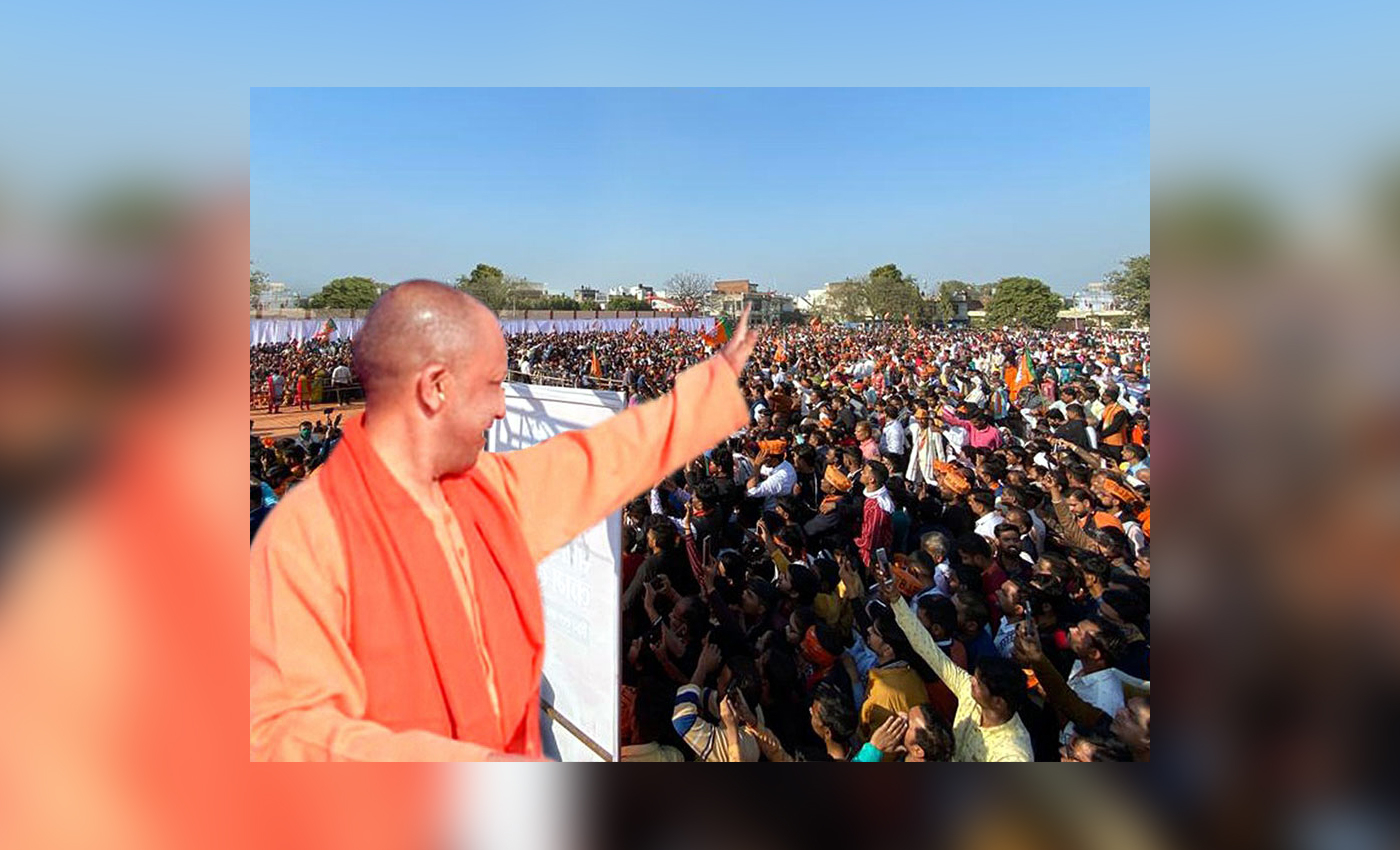 The image of CM Yogi Adityanath at the Jan Vishwas Yatra in Mathura from December 2021 is morphed to look like he was at the Etawah campaign rally.
Yogi Adityanath, the Chief Minister of Uttar Pradesh, tweeted a photo of himself waving to a large audience on February 15, 2022. The caption mentions Etawah, urging people to vote against "terrorists" in the current assembly elections. The image is clearly edited as Adityanath is seen to be addressing a crowd that is looking in a different direction. This image circulated on social media and some mocked Adityanath's team for using such a badly edited photo.
The image used in the February 15 tweet was taken out of context. On December 19, 2021, Bharatiya Janata Party (BJP) launched the Jan Vishwas Yatra in six different places in Uttar Pradesh, which started from Mathura, where Adithyanath waved hands to his supporters as seen in the tweet from the same day. Adityanath shared the original unedited image on Twitter on December 19, 2021, in which he is waving to his supporters. That photo was taken during the Jan Vishwas Yatra. Yogi Adityanath's frame from the photo is superimposed on another image where the crowd doesn't seem to face him, and it was shared to commemorate the Etawah rally on February 15, 2022.
Reverse image search results for the viral photo led to an India Today article from December 20, 2021, where CM Yogi is shown in the same pose as in the viral shot in the photo. Further, the report stated that the image is credited to the Press Trust of India (PTI) news agency. Comparing both images tweeted by Adityanath in December and February shows that the latter picture is modified.
According to Hindustan Times, the Jan Vishwas Yatra took place in six distinct locations: Bijnor, Jhansi, Ghazipur, Ambedkar Nagar, and Ballia, beginning from Mathura. The campaign was held to highlight the government's accomplishments during the previous four and a half years.
Reference links
Twitter
India Today
Hindustan Times