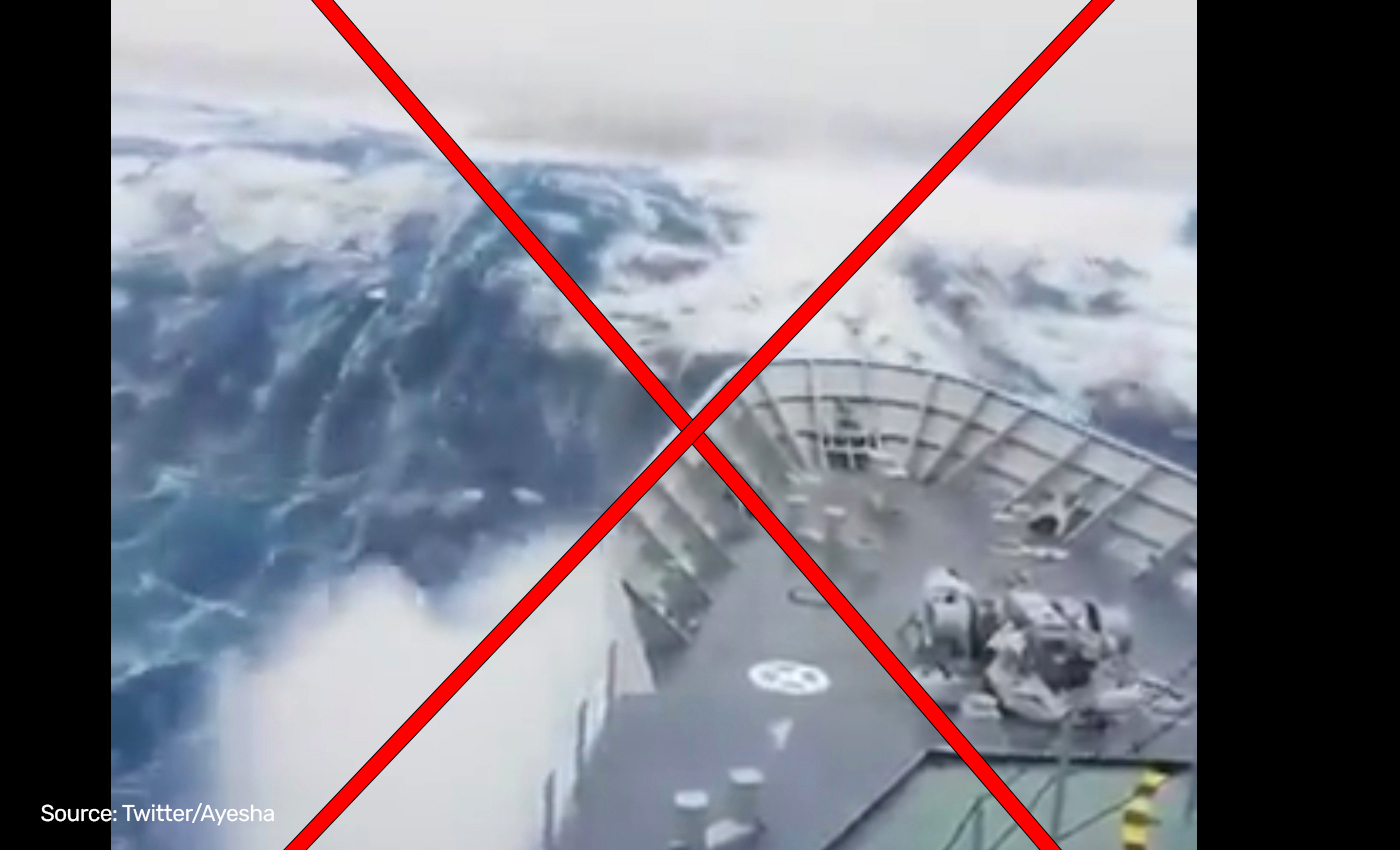 An old video of a ship being struck be a wave in Antarctica has been falsely linked to the recent earthquake in Indonesia.
Context
As Indonesia was stuck with an earthquake on November 21, 2022, news reports and videos depicting the damages caused by the earthquake went viral on social media. One such video shared showed a ship getting struck by a large wave, with people laughing in the background. The user alleges the ship was sailing through a tsunami-like wave triggered by the recent earthquake. However, it's an old video that dates back to at least 2012.
In Fact
On conducting a reverse image search, we found that the same video had been circulating since 2012. On February 15, 2012, the New Zealand Defense force posted a video on their YouTube account that said, "HMNZS Wellington weathers a storm during sea trials in the Southern Ocean". In their description, they explained, "New Royal New Zealand Navy Offshore Patrol Vessel HMNZS Wellington sailed to Antarctica to undertake sea trials". We couldn't independently verify that this video was taken in 2012 or before that. This is the oldest version we found on public domains.
Similarly, The Royal New Zealand Navy marine technician Isaac Ford, on December 17, 2017, shared the same video on his Instagram account with the location status as Antarctica.
Multimedia platform AmoMama on October 9, 2018, published an article on the video after it went viral in 2018. It stated, "a navy ship of New Zealand sailed through a massive wave in the rough seas in the Southern Ocean, and the overwhelming moment was recorded on camera". It proves the video is not from the recent Indonesia earthquake.
BBC News cited U.S. Geological Survey data and reports that a 5.6-magnitude quake struck Cianjur Regency, West Java, Indonesia, on November 21, 2022. Landslides and many houses were left in rubbles in the affected area.
According to a Reuters report, at least 268 people were killed, with 151 people missing. Recuse teams have been deployed, and the government is taking steps to provide aid to the victims. Disaster Agency Chief Suharyanto told reporters that more than 1,000 people had been injured, 58,000 displaced, and 22,000 houses damaged. Electricity outrage, landslides, and rough terrain caused hindrances to the rescue efforts.
Indonesia's Meteorology, Climatology, and Geophysical Agency (BMKG) tweeted on November 21, 2022, and clarified that there was no potential for a tsunami.
The Verdict
An old video without any reference to earthquakes has been related to Indonesia's earthquake. BMKG has stated earthquake has no potential for a tsunami. Therefore we have marked this claim as false.