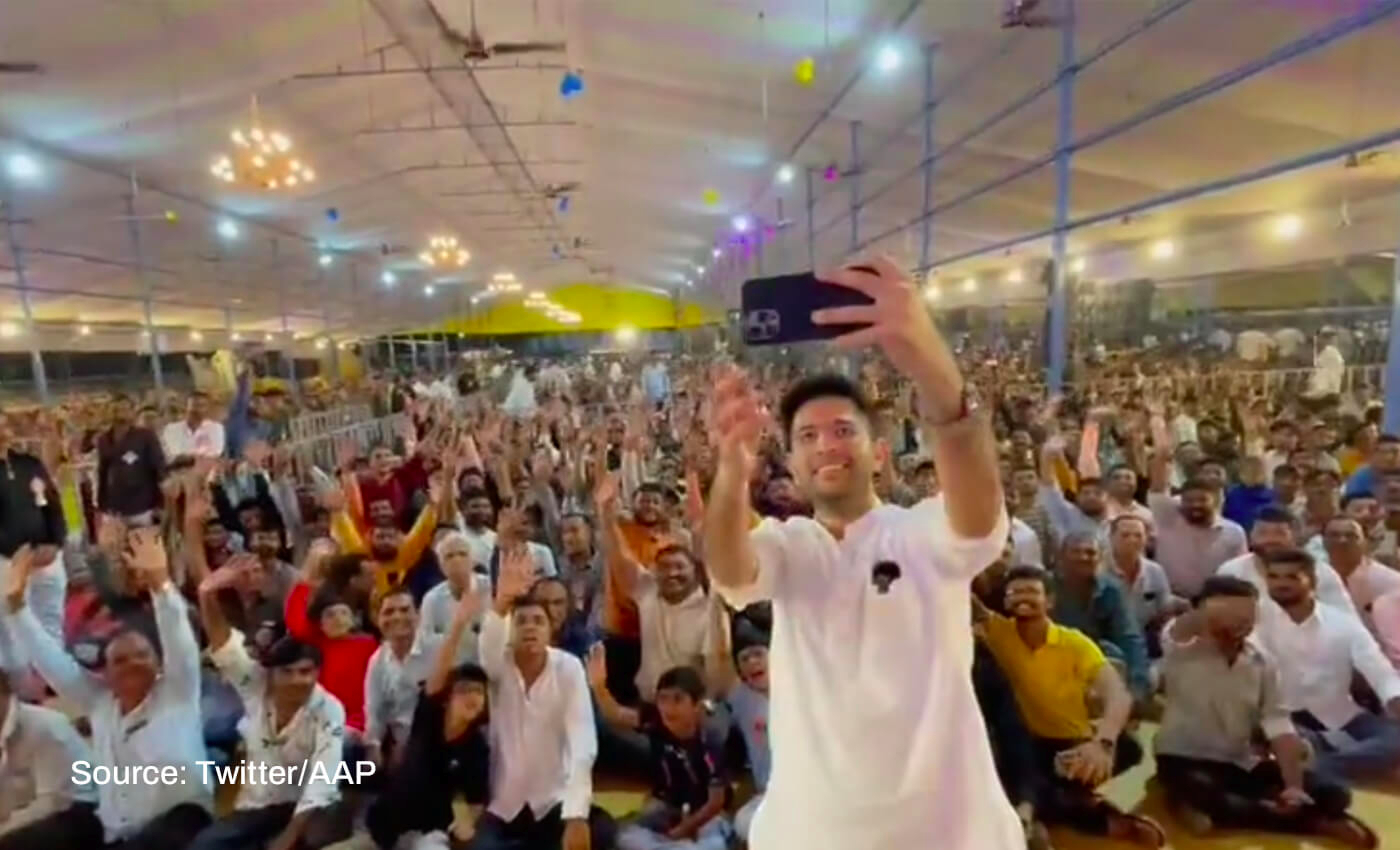 The video is from a political rally in Gujarat and not from the Shrimad Bhagwat Katha pandal in the state.
Context:
On October 14, 2022, Andhra Pradesh's secretary for the Bharatiya Janata Party(BJP), Vishnu Vardhan Reddy, tweeted a video of Aam Aadmi Party (AAP) member of parliament (MP) Raghav Chadha. The footage showed Chadha addressing a massive crowd in a closed hall and asking the group to cheer 'hail lord Krishna'. In the caption, Reddy claims that his video is from a Shrimad Bhagwa Kaha pandal, and he hit out at the MP for promoting his party during a religious event. The video's caption read, "This is a pandal of Shrimad Bhagwa Kaha & not a rally of Aam Aadmi Pary. Shameless attempt to tell the crowds that came in the Kaha of Pujya Mahadev Prasad Ji as he crowds for @amadmiPary!"
The narrative emerged ahead of the assembly elections scheduled in Gujarat. Gujarat is the home state of Prime Minister Narendra Modi and has been ruled by BJP for over 27 years.
However, the claim made by Reddy is baseless as the video was from Chadha's campaign in Gujarat's Gir Somnath and not a religious event.
In fact:
We found a picture similar to the viral video posted on MP's official Twitter handle through a reverse image search. The footage showed Chadha addressing a vast crowd. The video's caption read that the people of Gujarat have "accepted their love by gathering in late-night meetings in Gir Somnath, Gujarat."
Even Chadha posed a similar image of the campaign in Gujarat on October 13, 2022. An NDTV report quoted Chadha saying, "for giving 35 years to Congress, 27 years to BJP, people of Gujarat have decided to give one chance to Kejriwal this time. Ek Moko Kejriwal Ne".
Shrimad Bhagwat is one of the greatest Puranas (holy books) of Hindus, also known as Bhagwat Purana, and is revered by the devotees of Lord Vishnu.
The verdict:
Since the viral video of Raghav Chadha was from the Gir Somnath rally, not a Shripad Bhagwat Katha pandal, we mark the claim as false.