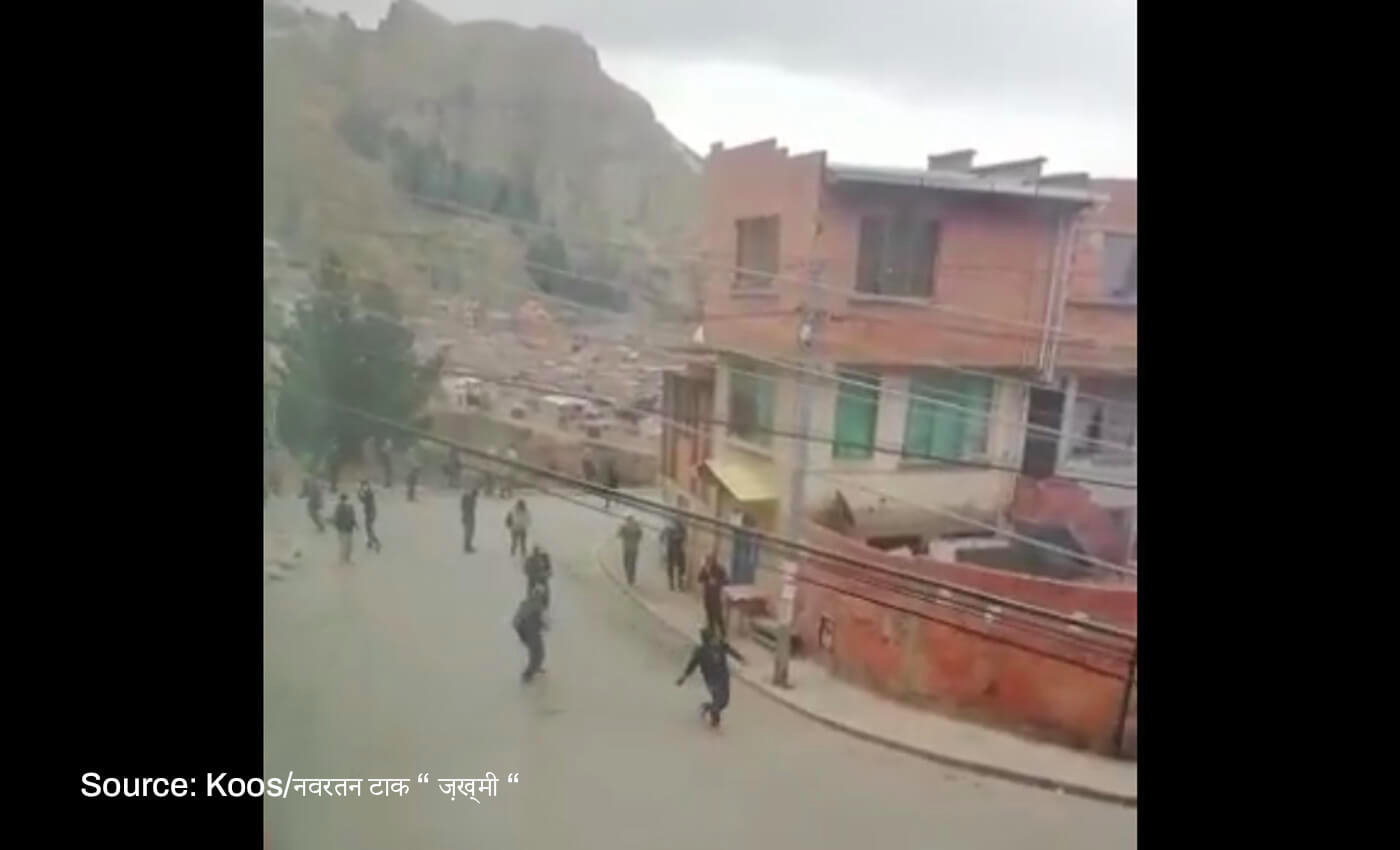 A video of protests by the cocoa farmers in Bolivia has been shared with the false claim that a soldier shot a stone pelter in response to an attack.
Context:
A video doing rounds on the Indian microblogging site Koo claims to show a Kashmiri stone pelter being shot down immediately after throwing a stone at a security official. The faces of the stone pelters are covered in the video. The post's caption reads, "As soon as a stone-pelter hit a police official in Jammu and Kashmir, the soldier immediately responded with a bullet," adding that he made an "amazing shot." The post has been liked over 400 times and has been shared by 30 people. The same video has also been shared on other social media platforms, including Facebook and Twitter.
However, the video is from Bolivia, South America.
In fact:
On reverse image searching, we found the same video posted on the Twitter page of Opinión Bolivia, a media company based in South America. The video's caption reads, "#LaPaz: a confrontation between police and coca growers leaves a man without a hand and in serious condition."
On further searching using the relevant keywords, we found that the video is from the clashes between the cocoa farmers and police in the Villa El Carmen area in La Paz, Bolivia, South America. On August 3, 2022, France 24 reported that clashes "erupted after a dispute over the commercialization of the cocoa plant." The report adds that "in 2021, the Adepcoca market had become the center of the clashes between two cocoa growers, the pro-government group and the anti-government group". The anti-government coca growers demanded the closure of a market run by the pro-government union.
According to Africa News, protestors attempted to use dynamite against the police; however, the dynamite exploded, severely injuring a grower.
Stone pelting incidents in the Indian state of Jammu and Kashmir have been prevalent for many years and increased after the rise of the separatist movement and insurgency in 1989. The pelting of stones is an expression of support by the Kashmiri youth for the extremists and against Indian armed forces deployed in the Kashmir valley.
The verdict:
Considering the video is from clashes between cocoa growers and the police in Bolivia and had nothing to do with Jammu and Kashmir, we are marking the claim as false.