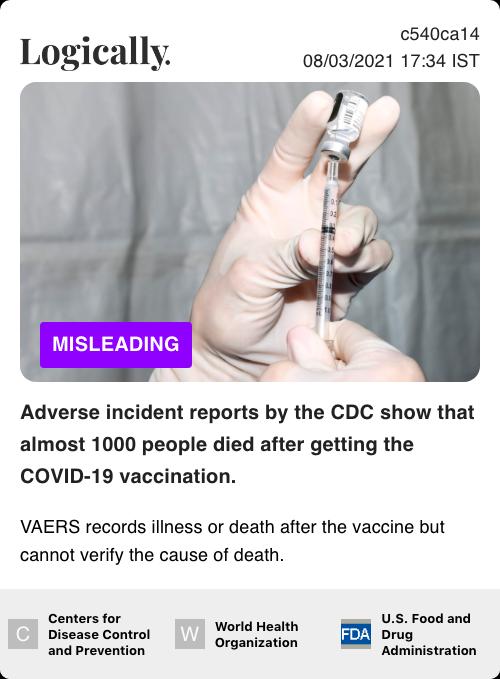 VAERS records illness or death after the vaccine but cannot verify the cause of death.
The Vaccine Adverse Event Reporting System (VAERS), is a vaccine safety program managed by CDC and the Food and Drug Administration (FDA). CDC and FDA physicians review each case of death reported in VAERS. It had received 1,381 reports of death (0.0018%) among people who received a COVID-19 vaccine.
The VAERS database is being misused to disseminate fear about the vaccine. As Science-Based Medicine noted, "a VAERS entry does not demonstrate causation."
VAERS, co-managed by the Centers for Disease Control and Prevention (CDC) and the U.S. Food and Drug Administration (FDA), is an early warning system that aims to "detect unusual or unexpected patterns of adverse events, also known as safety signals."
VAERS, in a disclaimer, cautions that "VAERS accepts reports of adverse events and reactions that occur following vaccination. It is a passive reporting system, meaning it relies on individuals to send in reports of their experiences to CDC and FDA." Additionally, "VAERS reports alone cannot be used to determine if a vaccine caused or contributed to an adverse event or illness. The reports may contain information that is incomplete, inaccurate, coincidental, or unverifiable. The data provided needs additional necessary work and evaluation to further assess a possible safety concern."
While some have died after receiving the COVID-19 vaccine, no deaths have been directly attributed to the vaccine.
The COVID-19 pandemic has given rise to a lot of potentially dangerous misinformation. For reliable advice on COVID-19 including symptoms, prevention and available treatment, please refer to the World Health Organisation or your national healthcare authority.