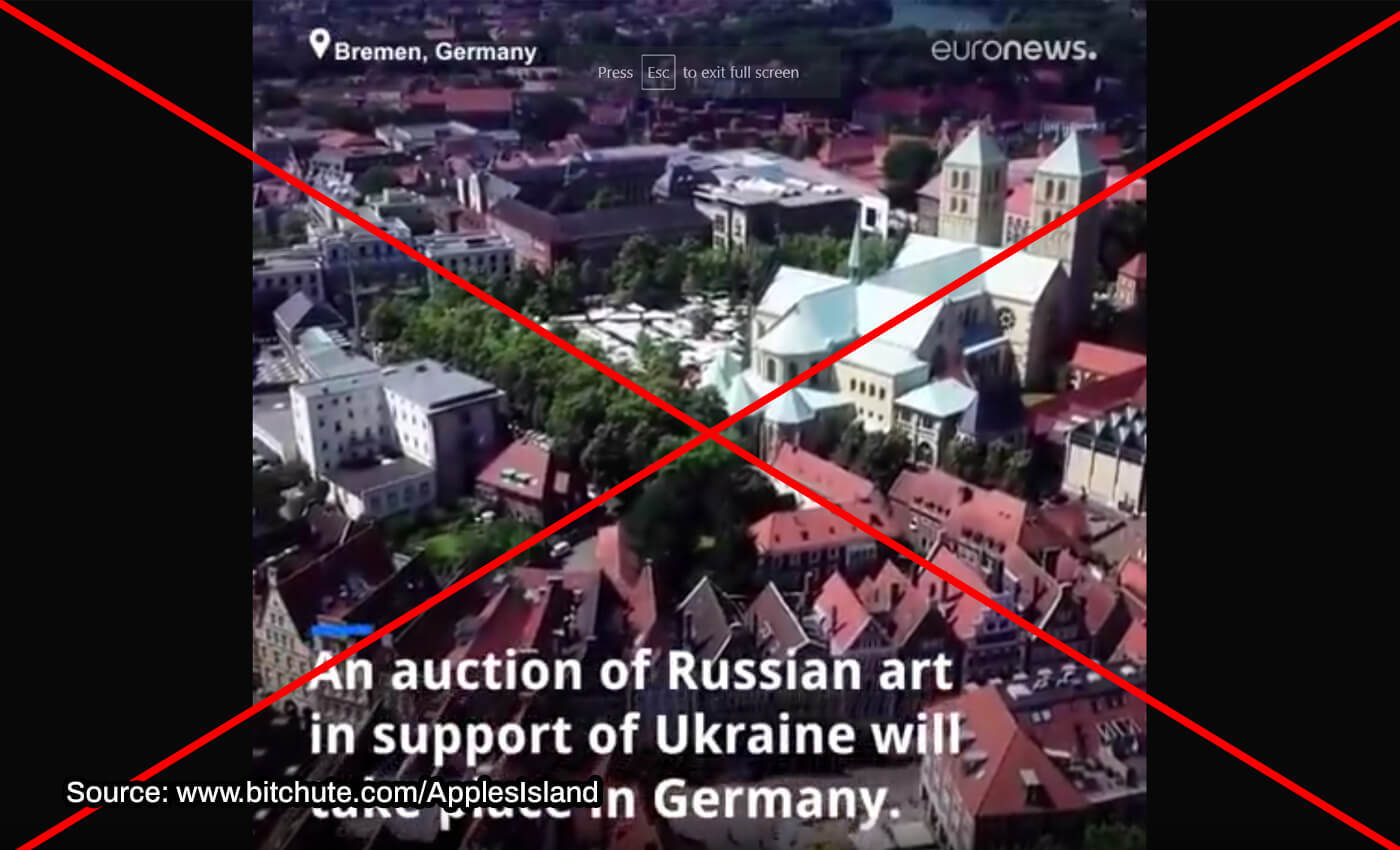 The video report is fabricated and was never published by Euronews. The entities mentioned in connection with the event have denied any association.
Context
As Russia continues its invasion of Ukraine, several countries have supported the latter to bolster its defense capabilities. Amid this, a viral 67-second video on Facebook, purportedly by French broadcaster Euronews has reported that an auction house in Germany is organizing an auction of Russian works of art. The report states that everything will be publicly destroyed following the sale, and the proceeds will go to Ukraine's armed forces. It further alleges that Bremen-based auction house Bolland & Marotz has invited art collectors to bid on Russian work. The list of works includes paintings by Russian artists, manuscripts of classics, letters by celebrated authors, and even sheet music by renowned musicians of Russian origin. The video, allegedly published by Euronews, carries the news outlet's logo and a font similar to that used for its videos. It also quoted representatives of the auction house on the reasoning behind such an event being held. However, there is no evidence of any such auction.
In Fact
We found that Euronews has no such news report published on their website. Further, on October 28, 2022, Euronews tweeted and published an article calling the video a fake, adding that the organization's graphics and format had been used without their consent. They stated, "The video has not been produced or published by Euronews, and no such auction is due to take place." Euronews further assured that they were investigating the video's source and taking steps to have it deleted from all platforms.
Moreover, the auction house mentioned in the video, Bolland & Marotz, has also refuted the claims and asserted that the clip is fabricated. A statement affixed to their website's landing page stated, "A video has been circulating on the internet and social media linking the name Bolland & Marotz to an auction of Russian art. This video is a fake, a forgery. An auction described in the video will not take place. Bolland & Marotz firmly distances itself from this video and is outraged that our name is being misused for it." They also linked back to the official statement by Euronews.
Germany is one of the countries supporting Ukraine's efforts in the war against Russia. However, the country is transparent about how the government is aiding Ukraine's armed forces. On its website, the Government of Germany states, "Germany provides support for Ukraine by supplying equipment and weapons; these come from supplies of the Federal Arms Forces and from deliveries from industry financed from the Federal Government's funds for security capacity building."
Further, we found no news reports about any such auction which has taken place or is planned. However, Russian art and artists have certainly felt the repercussions of President Vladimir Putin's decision to invade Ukraine. In March 2022, The Guardian reported on many events like exhibitions, ballets, sports, art, and performances by Russians being canceled or postponed following Russia's invasion of Ukraine. In June, Euronews reported on the many cancellations as well. They also spoke to experts for their views on whether the presence of Russian artists, authors, and performers should be reduced worldwide, given Putin's war.
Verdict
A fabricated video report is doing the rounds on social media, claiming that Russian works of art will be auctioned and destroyed to raise Ukraine funds. Euronews, the purported source of the news video, has not published it or any related news report. Further, the auction house alleged to be conducting the event in the video has denied their involvement. Hence, we have marked this claim as false.