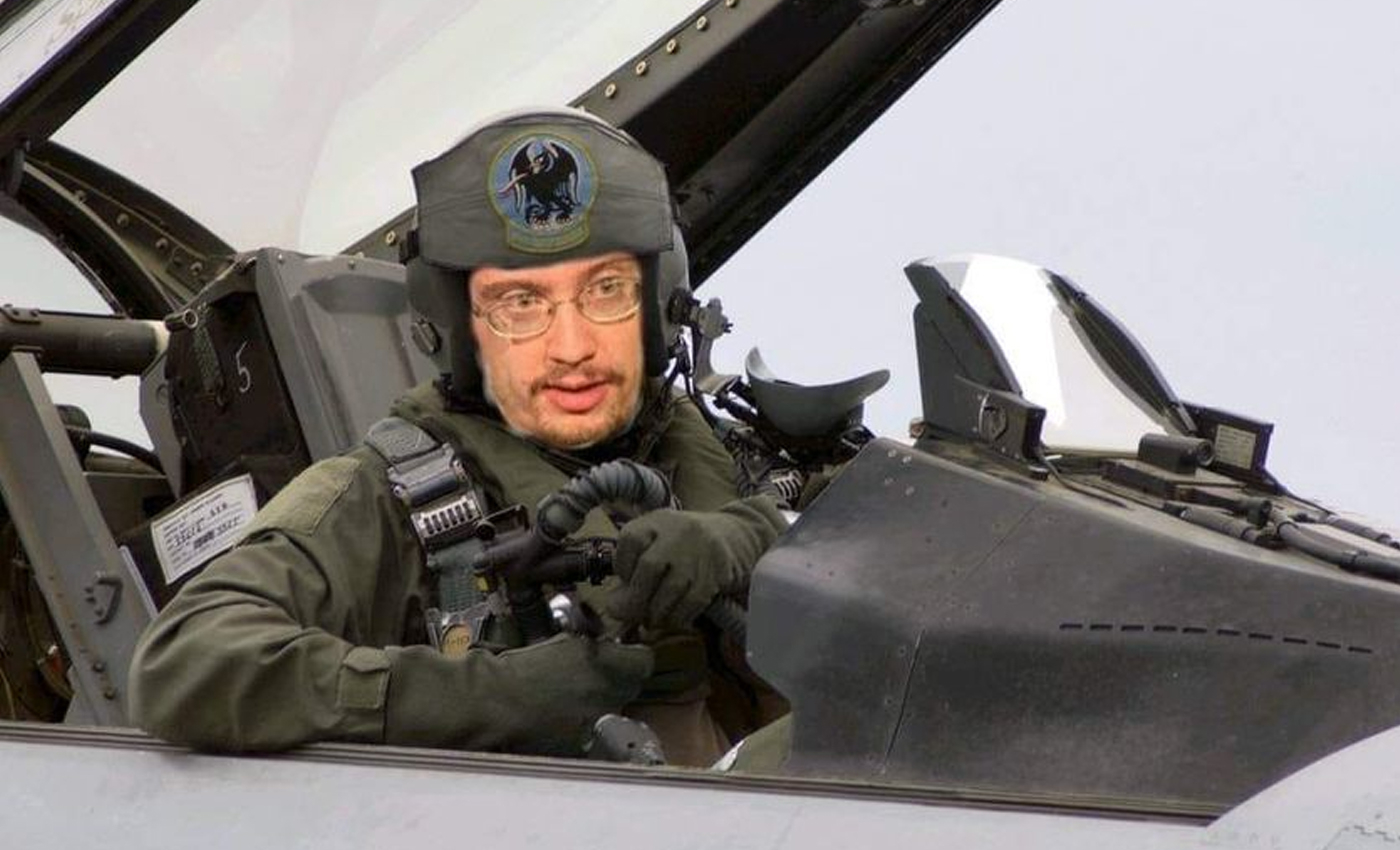 An old image of a U.S. fighter pilot has been manipulated to show comedian Sam Hyde's face. This is not a picture of the "Ghost of Kyiv."
Several social media users have shared an image of a pilot in an aircraft whose face is clearly visible.
The caption reads, "Ukrainian Ace-fighter Pilot known as the 'Ghost of Kyiv,' real name is Samuyil Hyde, a 36-year-old who was identified as the Mig-29 Pilot accredited with downing 6 Russian Jets." However, this image does not show the "Ghost of Kyiv." Instead, it shows the face of American comedian Sam Hyde added to the image of a deceased American fighter pilot.
By conducting a reverse image search of the viral post, we traced the original image of the pilot to news articles from 2018. In an article published by Air Force Times in October 2018, the photo appears with the caption: "Capt. Seth Nehring prepares himself for a mission in an F-16 Fighting Falcon during operation Cooperative Cope Thunder at Eielson Air Force Base, Alaska, in this July 2004 photo." Nehring was a fighter pilot who died in October 2018.
A cropped image of American comedian Sam Hyde has been added to Nehring's photo. The name "Samuyil Hyde" used in the viral post is a play on the comedian's actual name.
Buzzfeed News uploaded a YouTube video in 2019 titled "Why Sam Hyde Goes Viral After Every Mass Shooting," explaining Hyde's notorious reputation. Hyde is part of the sketch comedy group Million Dollar Extreme. He has been trolled on the anonymous message board 4chan, and over the years, he has featured in many memes.
Business Insider reported in 2013 that Sam Hyde crashed a TEDx program at Drexel University and delivered a 20-minute speech on the title "2070 paradigm shift."
Previously a similar post went viral claiming Ukrainian pilot — Ghost of Kyiv — downed Russian military planes during the first four days of the war. Logically marked this claim as false because it was a 2019 image of a pilot conducting a test of a new French helmet in the Kyiv region, unrelated to the current war.
There is no reliable information about the existence of the "Ghost of Kyiv."