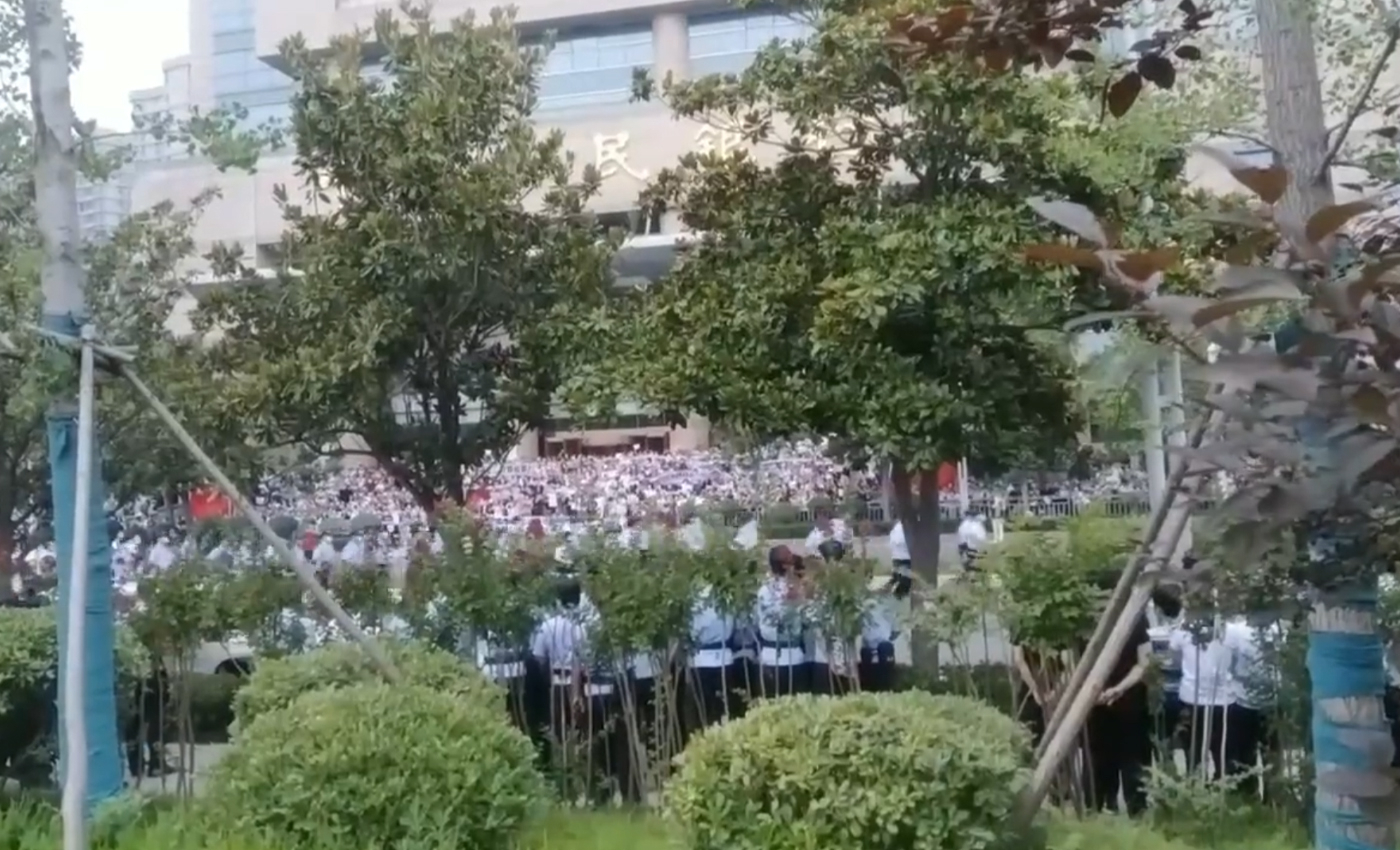 A video of a police march against bank protests in China has been misattributed as people celebrating Shinzo Abe's death.
Context:
Shinzo Abe, Japan's former Prime Minister, was shot and killed while speaking at a political event on July 8, 2022. Misinformation narratives have spread on social media since the incident. A Twitter account posted a video of people marching and shouting in China, with claims that people there were celebrating the death of Abe. The caption read, "Look inside the walls to celebrate the death of Prime Minister Abe! I really don't have anything to say about this kind of thing, and it's useless to say it! I knew this was not caused by Japanese militarism! That's it; the rest is up to your fate!"
However, this claim is inaccurate.
In fact:
According to Taiwan News, people in China's Henan Province could not access their money after accounts in six rural banks were frozen in April 2022. Customers complained that the institutions had not provided any updates regarding frozen deposits. On July 10, 2022, customers protested in front of the Zhengzhou branch of the People's Bank of China.
A reverse image search of one of the keyframes of the viral video led us to a Twitter account, @Byron_Wan. It posted the same video on July 10, stating bank customers were shouting at hundreds of police troops marching on the roads.
The Henan Rural Bank Rights Protection Twitter account posted the same video with the caption, "More than 3000 depositors came to Zhengzhou, Henan Province, from all over the country because their deposits in Henan Provincial banks could not be withdrawn."
The Taiwan News reported, "In a video of the protest, a large number of plainclothes police and security forces can be seen marching to the scene, and protestors can be clearly heard repeatedly shouting at them."
The verdict:
The video in question relates to a banking crisis in China's Henan Province, in which people are seen shouting at Chinese police in protest after banks froze accounts and people could not access funds. This footage is unrelated to Abe's death. Hence, we have marked this claim as false.
Reference links
Twitter
Twitter
Taiwan News
BBC News