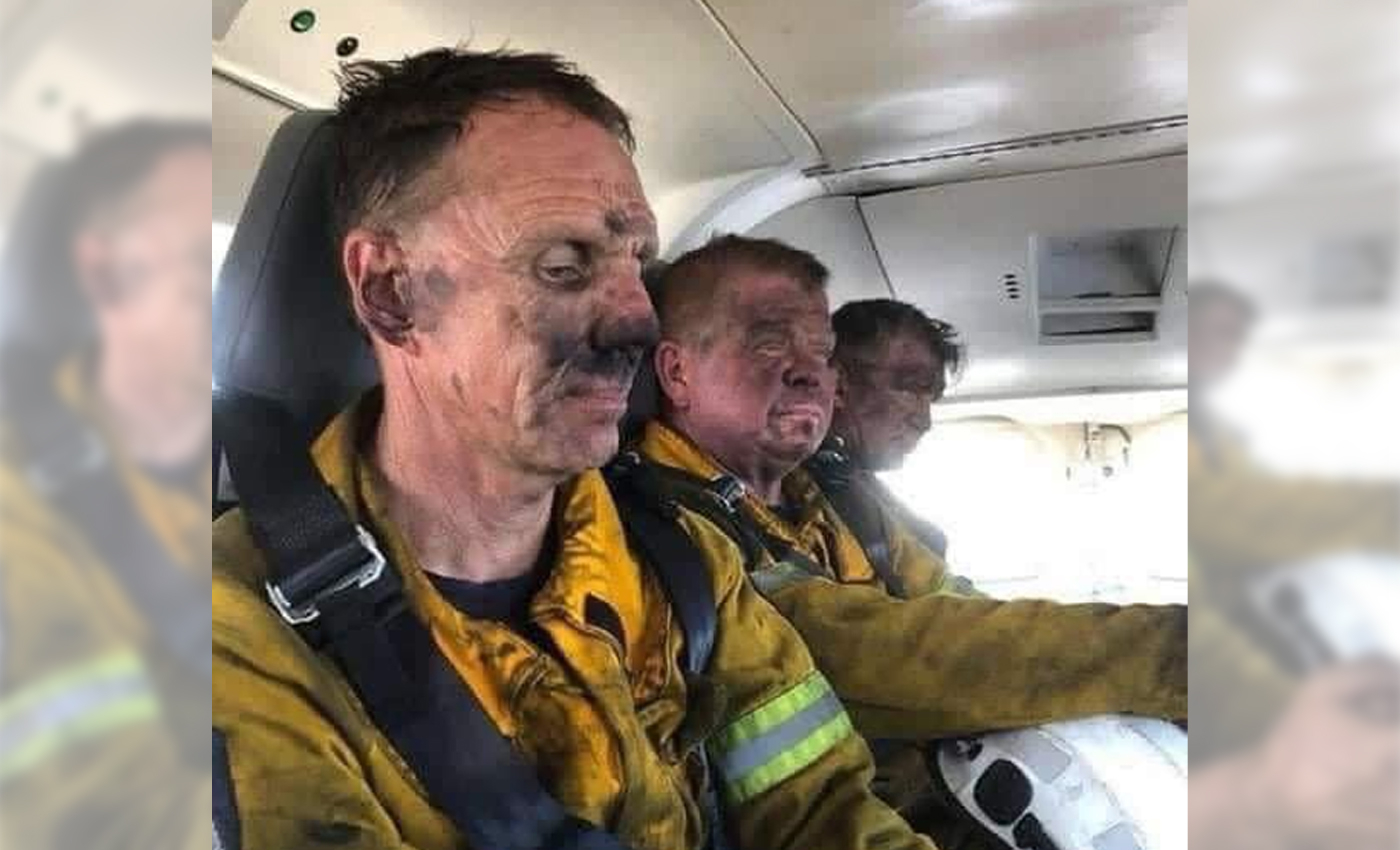 A 2019 image showing three exhausted Tasmanian firefighters has been falsely attributed to Ukrainian firefighters amid the ongoing Ukraine invasion.
Almost three weeks into Russia's invasion of Ukraine, there continues to be a large amount of misinformation going viral on social media. Amid this invasion, a Facebook user shared a photograph of three exhausted firefighters with a caption that attributed the image to "Ukrainian firefighters." The photo has attracted the attention of many people sympathizing with the Ukrainian soldiers, and the post has gained more than four thousand views.
However, upon conducting a reverse image search, we found that the fighters in the picture were firefighters battling blazes in 2019 in Tasmania, Australia. The same photograph of the tired firefighters covered in ash had gone viral after battling fires in a bushfire crisis that year. The fighters were responding to a fire in the area that started in December 2018, fueled by dry lightning strikes and a hot summer.
Wolfe Brothers shared the original photo of resting firefighters on their official Facebook page on February 1, 2019. "Captured by another brave Fire Fighter John Lyons," the post read. According to a social media post from 2019 on the Tasmanian fire incident, the names of the firefighters in the image are as follows: Jason Luck, John Kroczewski, and Paul Catteral.
The fires in Tasmania lasted from 2018 to March 2019, destroying hundreds of hectares of land in the region. According to a summary on the incident, published by the Australian Fire and Emergency Service Authorities Council Limited, three different agencies – Tasmania Fire Service, Tasmania Parks and Wildlife Service, and Sustainable Timber Tasmania – were able to successfully coordinate the fire and rescue operations.
Although the photograph in the Facebook post is real, it is in no way related to the ongoing Russian invasion of Ukraine as there is ample evidence showing these men are firefighters from Tasmania, Australia.
Reference links
SBS News
Facebook
Tasmanian Government