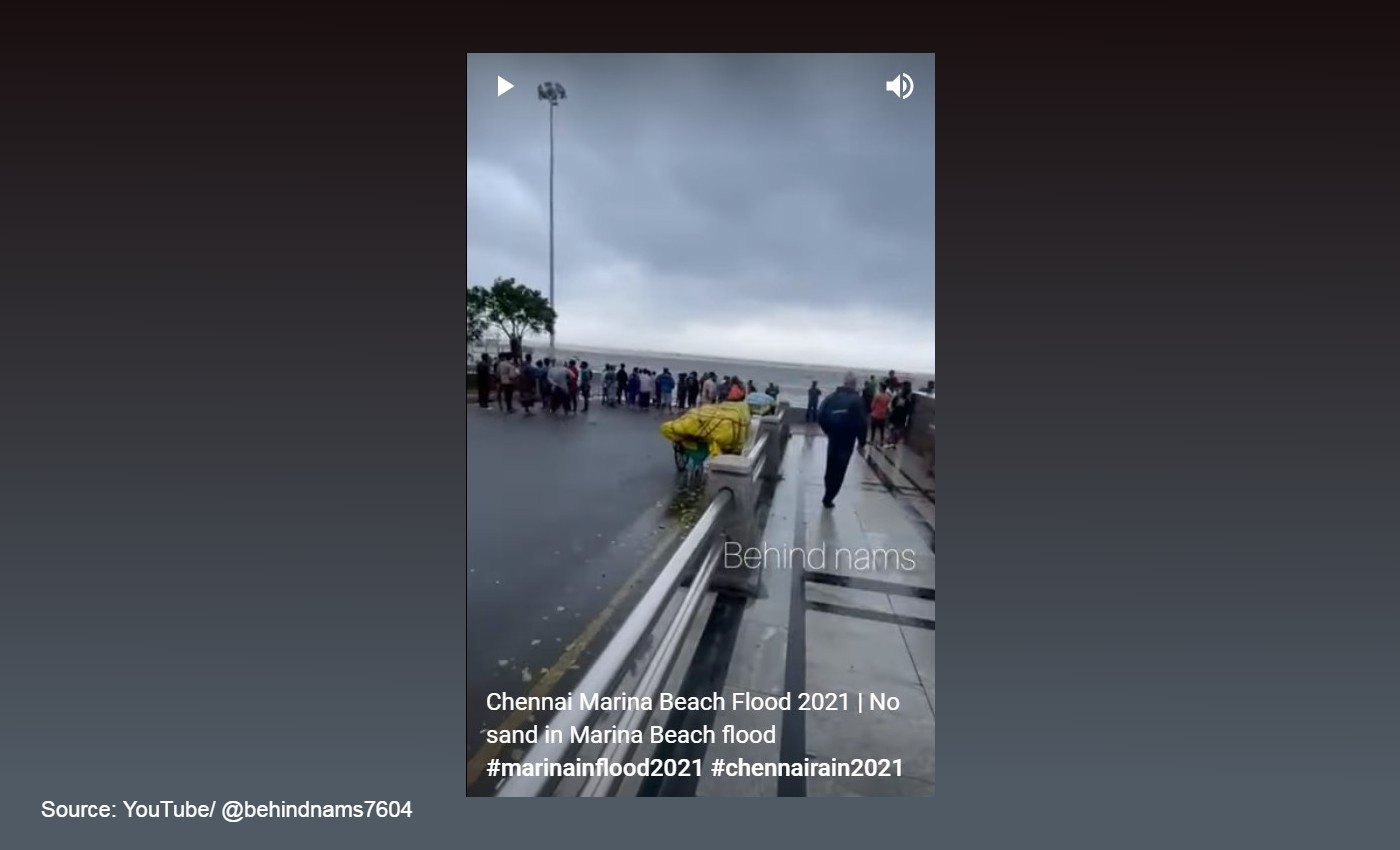 A video from 2021 showing flooding at Marina Beach has been misattributed to 2022's Cyclone Mandous.
Context
Cyclone Mandous made landfall in Tamil Nadu on the night of December 9, 2022. Coastal Tamil Nadu, Puducherry, and southern Andhra Pradesh were the worst hit by the cyclone. A report by The Hindu said that the storm had caused the deaths of five people, as well as significant damage to housing and electrical infrastructure. Several cities saw excessive flooding and strong winds for several days. By the end of December 10, the storm weakened into a well-marked low-pressure area over north interior Tamil Nadu.
During this period, several pieces of misinformation flooded social media claiming to be the devastation caused by the latest storm. One such video shared on YouTube on December 10, was attributed to Chennai's Marina beach. The video shows the seawater level overwhelming the beach and reaching the road as people gather around. A person can be heard speaking about the situation, calling it the effect of Cyclone Mandous. The same clip was also shared on Facebook without the background commentary.
In Fact
Upon doing a keyframe search of the YouTube video, we found a longer version of the same video uploaded on November 12, 2021, which claimed to show the water on Chennai's Marina Beach road after heavy rainfall. Reports from India Today and Hindustan Times confirmed that torrential rains in Chennai resulted in flooding and waterlogging in several places across the city, including Marina Beach, at that time.
The heavy rains, caused by a low-pressure area over the southeast Bay of Bengal, resulted in several residential areas going underwater in Chennai. The city's civic body was forced to deploy over 23,000 personnel to clear the water logging and inundation of subways. It took relief workers days to bring things back to normal in Chennai. The India Today report carried a picture of Marina Beach after the downpour, while the Hindustan Times report carried a short clip of the same published by news agency ANI. Both of these resembled the recently shared YouTube video.
We also found an article by Scroll dated November 12, 2021, with a slightly longer version of the viral video shared in a tweet within the news report. The tweet, by A Selvaraj, a journalist with The Times of India, dated November 11, 2021, reads, "Marina beach sea shore extended up to the service road." In his thread, Selvaraj also posted some photos from Marina Beach.
The Verdict
An old video of seawater at Chennai's Marina beach reaching the roads during the torrential rains in November 2021 has been shared, claiming to be from December 2022. The video does not show recent flooding at Marina Beach as it claims. Therefore, we have marked the claim as false.