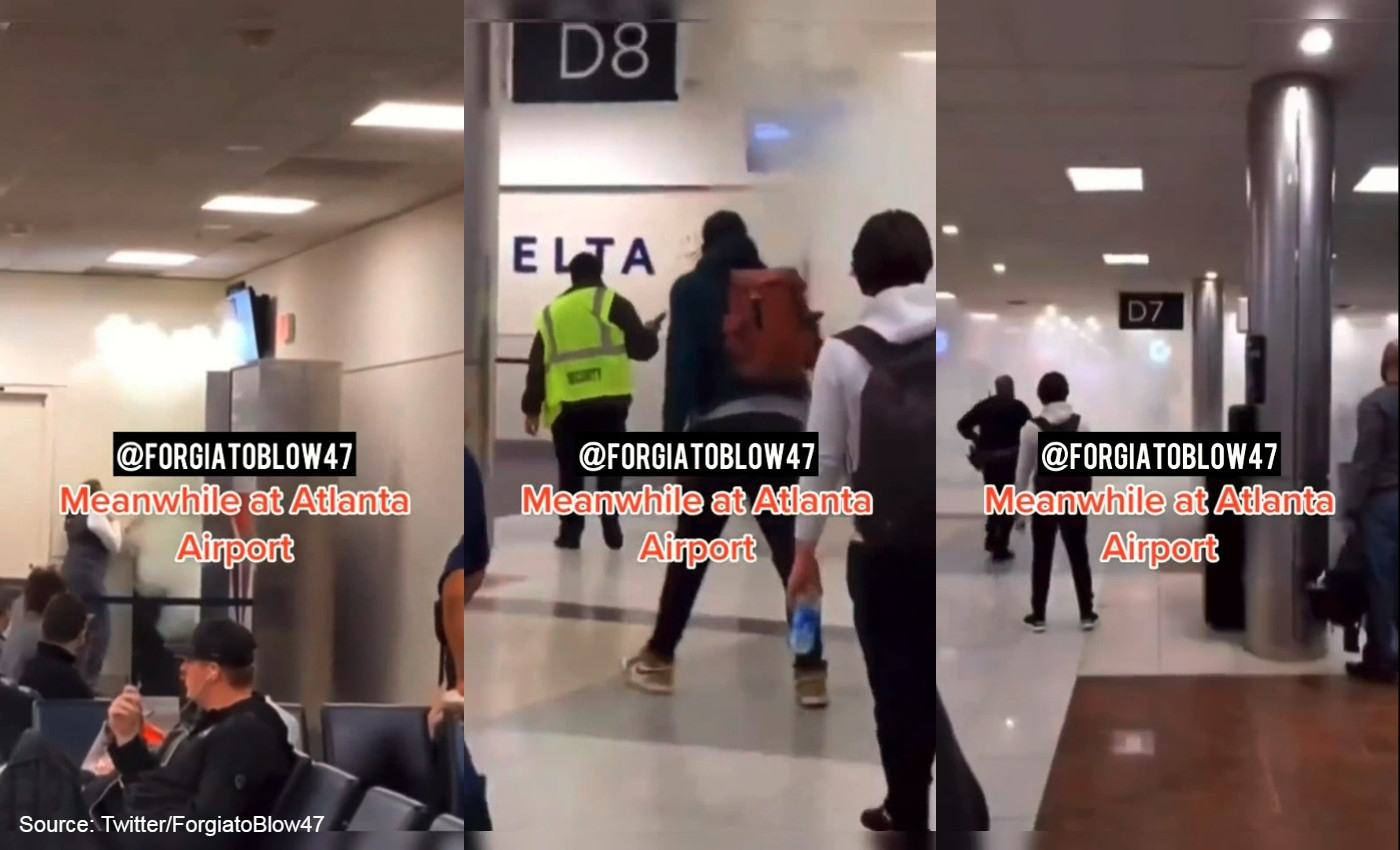 There was no AntiFa attack at Atlanta airport. The video shows a traveler spraying a fire extinguisher at airport employees on January 17.
Context
On January 21, in the U.S. city of Atlanta, Georgia, a peaceful protest by the "Stop Cop City" movement against the construction of an Atlanta Police Department training center turned violent. Environmental demonstrators behind the agitation set a police car on fire and smashed windows. Following the violence, six people were arrested the same night, reported Atlanta news channel WSB-TV.
Soon after, a 32-second video clip from a Delta airport terminal was shared by Twitter user @ForgiatoBlow47 on January 22, 2023, claiming that AntiFa had taken over Atlanta airport. The clip shows a woman spraying a fire extinguisher at airport employees and some people moving away as other onlookers film the commotion. This particular tweet has received about 1.2 million views and nearly 16,000 likes. The same clip and narrative have also been shared on Facebook. However, there was no AntiFa attack on Atlanta airport on January 22.
In Fact
We discovered slightly longer versions of the same video on Twitter and YouTube, first uploaded on January 18, proving the incident in the video is not from January 22. Observations of social media activity around this video reveal that several far-right ideology supporters have circulated this narrative.
Business Insider reported on the incident in the viral video on January 21, stating that a 27-year-old woman named Jennifer Holder was arrested at Atlanta's Hartsfield-Jackson International Airport on January 17. According to witnesses, she allegedly dined at the airport restaurant Buffalo Wild Wings but left without paying her bill. After a confrontation with the airport police, she sprayed a fire extinguisher at employees, following which the police apprehended her. She has since been charged with obstructing law enforcement officers, two counts of simple assault, and three counts of simple battery. The report also includes a video of the same incident filmed from a different angle. The Atlanta Police Department stated they managed to apprehend her despite her "combative" nature, and she continued to exhibit erratic behavior, even in police custody, by spitting and kicking at officers. She has not been associated with AntiFa in any credible reports.
According to the Center for Strategic and International Studies (CSIS), AntiFa (anti-fascist) refers to a "decentralized network of far-left militants that oppose what they believe are fascist, racist, or otherwise right-wing extremists." They regularly organize counter-protests to rally against far-right groups, tending to favor black clothing and items that hide their identity.
Reuters reported that in the January 18 protests in Atlanta, a 26-year-old protestor, Manuel Teran, shot at a State trooper. Troopers returned fire and killed Teran. It should be noted that while several news outlets have attributed the recent protests in Atlanta to AntiFa, the police, other authorities, and mainstream media have not termed it as such.
The Verdict
A video of an isolated incident at Atlanta airport from January 18 has been shared with a false narrative that it was an AntiFa attack from the following week. There was no attack by any group at the airport on January 22 or January 17, when the video was shot. Therefore, we have marked this claim as false.