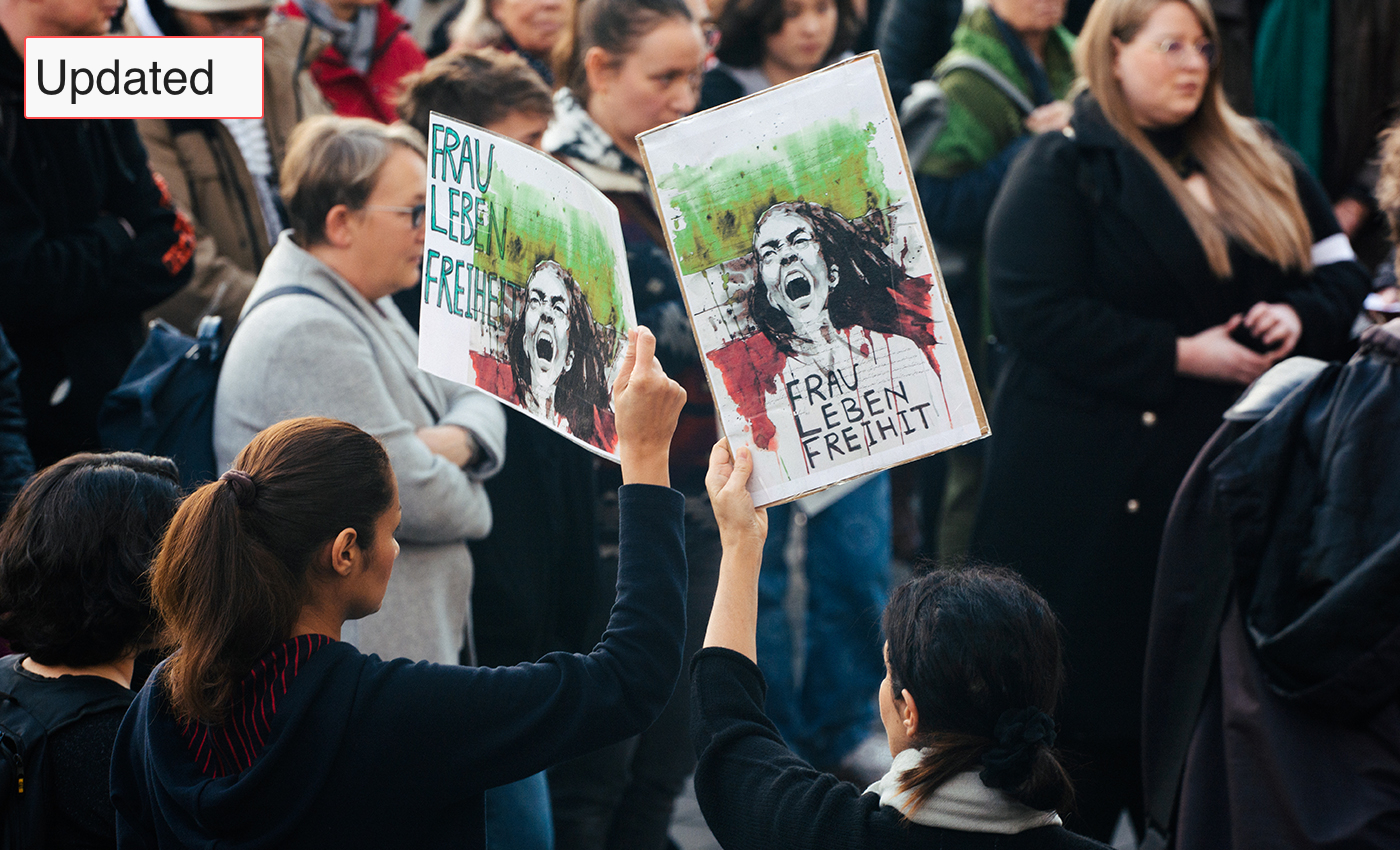 Iran lawmakers called for harshest possible penalties (including death), & courts issued one death sentence so far; human rights orgs are monitoring.
Context
Posts making rounds on social media claim that Iran has ordered mass execution of over 15,000 people detained due to their involvement in the anti-hijab protests. The claim has been shared by several social media users, media organizations, and people of influence. One such post was shared by English actor and film producer Trudie Styler. Styler posted on her Instagram that the country is sentencing so many people as a "hard lesson" for all rebels. She shared an article by Newsweek talking the Iranian parliament recently voting in favor of death penalty for protesters. Over 2,000 people have liked Styler's post.
However, the claim about executing 15,000 people is inaccurate. The number is derived from estimates by a United Nations human rights rapporteur and other human rights organizations, of how many people have been detained in Iran in connection with the protests. However, Newsweek retracted the underlying claim that led to the inference that all these people faced a death sentence.
In Fact
A CNN report dated November 14, 2022, quoted state news agency IRNA reporting that an Iranian court has issued the first death sentence linked to recent protests after convicting the unnamed person of "enmity against God" and "spreading corruption on Earth". The report added that the court issued the sentence after the protester allegedly set a government building on fire. It read that the person has been charged with "disturbing public order and peace, community, and colluding to commit a crime against national security, war and corruption on Earth, war through arson, and intentional destruction". The remaining five who participated in the protests received five to ten years in prison and were convicted of "collusion to commit a crime against national security and disturbance of public peace and order". The report added that the decisions were "preliminary" and "could be appealed."
The first execution order came a week after a majority of Iranian parliamentarians reportedly approved a letter urging the judiciary to impose the strongest possible sentences for those involved in the protests, including the death penalty (which can be imposed for certain serious crimes).
Newsweek, in an article dated November 8, 2022, originally reported that 227 out of 290 Iranian lawmakers signed a letter voting to impose the death penalty on all protesters in custody as a "hard lesson" for all rebels. However, on November 15, Newsweek issued a correction to their article, saying: "This article and headline were updated to remove the reference to the Iranian Parliament voting for death sentences. A majority of the parliament supported a letter to the judiciary calling for harsh punishments of protesters, which could include the death penalty."
According to a CNN report dated November 6, the letter from the lawmakers urged the judiciary to "show no leniency" and treat the detained protesters in a way that would serve as a "good lesson".
A statement by UN experts on November 11 termed the reported letter a "blatant violation of the separation of powers", describing it as asking the judiciary "to act decisively against people arrested during the protests and to carry out punishment carrying the death penalty".
Iran has been facing anti-regime protests since September 2022. The protests were sparked by the death of Amini, a 22-year-old Kurdish-Iranian woman who died in police custody for allegedly not wearing her hijab correctly.
Since September 2022, at least 1,000 protesters have been charged in Tehran province, and the security forces have killed at least 326 people during demonstrations, CNN quoted a Norway-based Iran Human Rights NGO as saying.
The Verdict
Though a majority of Iranian lawmakers reportedly urged the judiciary to impose the harshest possible penalties on protesters (which would be the death penalty for those charged with certain severe crimes), an official execution order has only been passed by the courts for one individual till now. Hence, claims that 15,000 people are getting executed is incorrect. Therefore, we rated this claim false.
This fact check has been amended to reflect the corrections made to Newsweek's article dated November 8, 2022, which formed the basis of the claim that 15,000 people were being sentenced to death in Iran. Additional explanations of what the reported letter from Iranian lawmakers said has also been added, from CNN's report dated November 6, 2022, and a statement by U.N. experts on November 11, 2022. The sub-heading has been amended to reflect the correction by Newsweek, while noting that the reported letter from Iranian lawmakers did call for the strongest possible penalties., and human rights organizations are monitoring the situation.