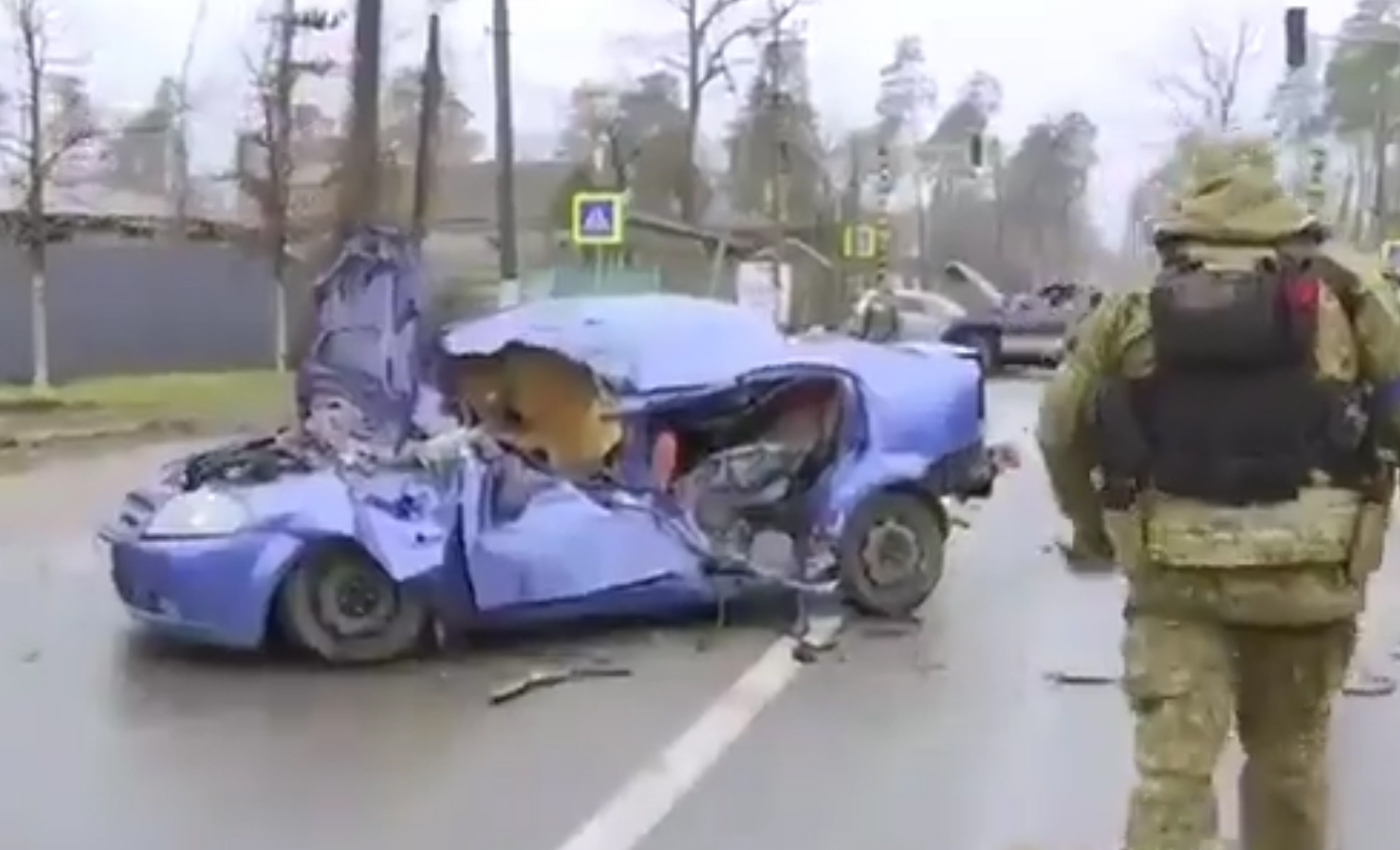 A video of police entering Bucha does not disprove the massacre. Satellite imagery and witnesses provide evidence that the killings took place.
Pro-Kremlin social media accounts have pointed to a video released by the National Police of Ukraine on April 2, 2022, which does not demonstrate evidence of a massacre. In the video, Ukrainian forces enter Bucha, comment on the devastation and speak with locals. Repeating statements made by Russian officials, social media users have implied that the massacre was staged in between the Russian army leaving Bucha and the Ukrainian forces arriving.
It is not surprising that there was a lag between the time Bucha was liberated and the discovery of the bodies. Explosive ordinance and mines had been left around Bucha, which meant that citizens were slow to re-emerge, and the Ukrainian army had to re-enter the city carefully.
Videos of areas of Bucha where mass killings occurred began to surface as early as April 1, and more evidence emerged as journalists were able to enter the city over the weekend. The National Police footage was filmed in another part of the city, which explains why there were few bodies in the video. There were multiple groups of Ukrainian soldiers and security services entering the city, not just the National Police, and footage is available from multiple different parts of the city.
Several news outlets have reported eyewitness testimony from locals about the killings. Residents have told reporters that Russian soldiers carried out the massacre.
The New York Times was able to verify satellite imagery from U.S. space technology company Maxar that showed the presence of bodies on the streets of Bucha as early as March 19, well before Russian troops withdrew, in the exact locations as later video footage showed. Maxar provided Reuters with satellite images of a mass grave near a church in Bucha, but Reuters has been unable to confirm its veracity.
There have not yet been formal investigations of the Bucha incident as of publication time (April 5). The exact causes of death of the victims have not been confirmed, and it has not yet been independently verified who is responsible for the killings. However, the claim that no mass killing occurred based on the absence of bodies in the National Police of Ukraine footage is false.
Reference links
New York Times
BBC News
Newsweek
Reuters