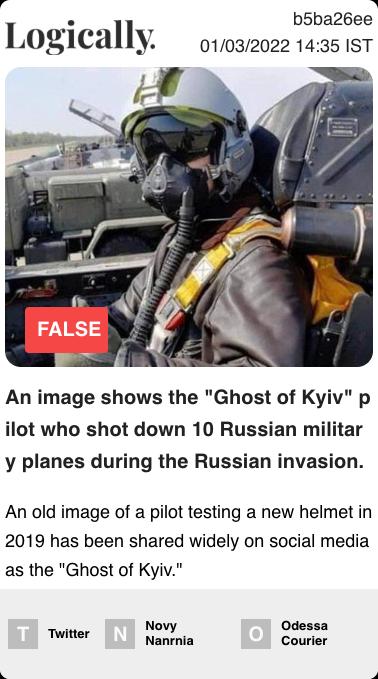 An old image of a pilot testing a new helmet in 2019 has been shared widely on social media as the "Ghost of Kyiv."
Many old and fake images circulating on social media have been linked to the current situation in Ukraine since the Russian invasion began in February 2022. One image that appears to show a pilot in action was shared widely, with the caption "Ukrainian pilot - "Ghost of Kyiv" - downed 10 Russian military planes during four days of the war." The post was shared by former President Petro Poroshenko and the Ukrainian Ambassador, but it is false news.
Through reverse image analysis, it was found that the image was posted three years ago. Ukraine's Ministry of Defence stated on April 25, 2019 that the pilot in the photo was conducting testing of a new French helmet in the Kyiv region. A Novy Narnia report also released the same image on April 24, 2019, claiming that military pilots of the tactical aviation brigade had made their first flights using the new French helmet, LA 100, in the Kyiv region.
There are no official reports on an anonymous pilot known as the "Ghost of Kyiv," and we cannot independently verify it. Likewise, there have been no reports that a single Ukrainian aircraft has shot down 10 Russian aircraft while fighting against Russia's invasion. Therefore, an old image of a pilot testing a French helmet has been falsely presented as the "Ghost of Kyiv."
Reference links
Twitter
Novy Nanrnia
Odessa Courier