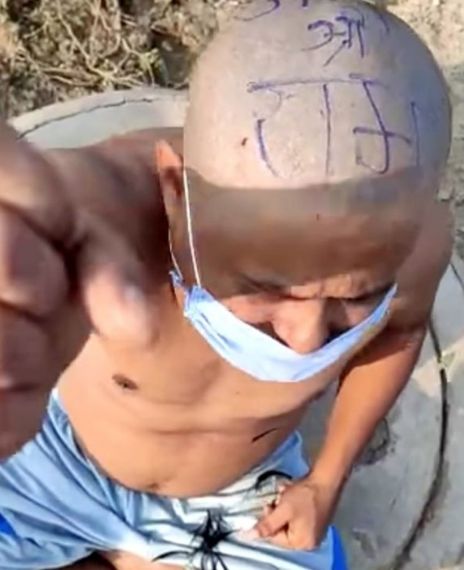 Initially, media reports said a Nepali man was tonsured and made to chant 'Jai Shri Ram.' UP police later said he was a local paid to do the stunt.
On July 17, 2020, Arun Pathak, the convenor of the Vishwa Hindu Sena, shared a video on his Facebook profile that went viral on social media. In the video, an unidentified shirtless man can be seen seated cross-legged near a river. His head is tonsured, and he is being forced to shout 'Jai Shri Ram' and slogans against the Nepal Prime Minister K.P. Oli. The man, who speaks in the Nepali language, is also made to chant praises for India- for providing livelihood opportunities to Nepali citizens, and the video showed the words 'Jai Shri Ram' written on his scalp.
This comes days after the Nepal Prime Minister's statement about 'real Ayodhya' being in Nepal and not in Uttar Pradesh stirred a controversy. In his Facebook post, Pathak justified his actions and urged his followers to write 'Jai Shri Ram' on the scalp of other Nepalis. Nepal's envoy to India Nilamber Acharya spoke about the issue with Chief Minister Yogi Adityanath, who assured him of firm action.
On July 18, the Varanasi police said the man, who was tonsured, was in-fact a local who had been paid Rs 1,000 by the Vishwa Hindu Sena to feature in the video. The police verified his identity through his Aadhar and voter ID card. He is a resident of Varanasi.
Reference links
The Economic Times
India Today
Twitter