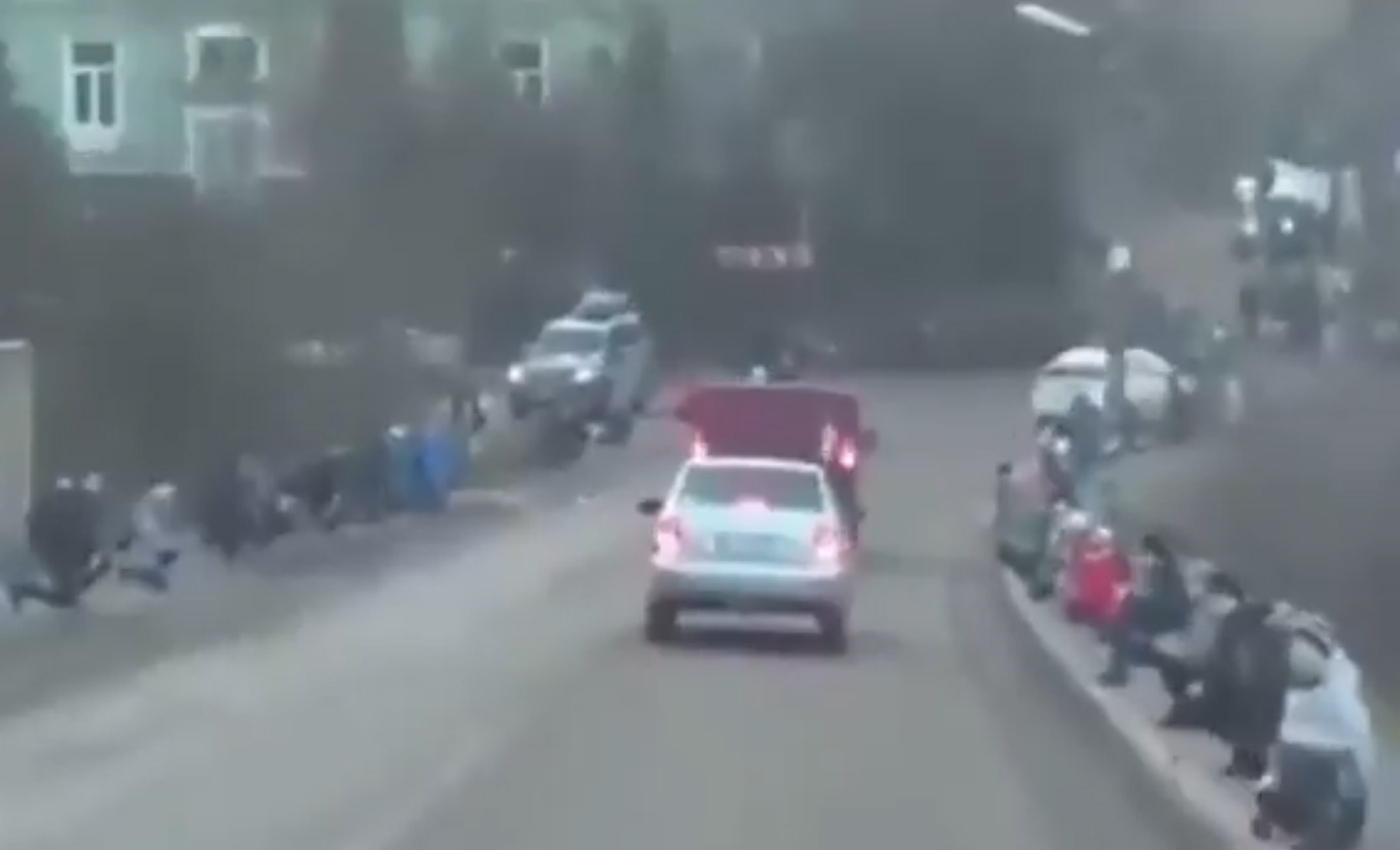 A 2015 video of a funeral procession for a Ukrainian soldier has been miscaptioned to fit the current narrative of Russia's invasion of Ukraine.
In a video posted on Facebook, a parade of vehicles passes through a town, and people kneel in the streets while folk music plays in the background. As the convoy drives through the city, many people can be seen kneeling. The caption accompanying the video says that the convoy is transferring a crucifix from the Kyiv cathedral to a safe bunker amid the Russian invasion of Ukraine. However, it is an old video of a funeral procession for a soldier.
By conducting a reverse image search on the video's keyframes, we discovered it was uploaded to YouTube in November 2015 and possibly filmed earlier than this. We were able to corroborate this because the same video was also uploaded on RuTube, a Russian video-sharing platform, in April 2015.
The Russian text displayed at the beginning of the video translates to "See ''brothers'' Russians how Ukrainians meet the cyborg hero who died at the hands of Russian invaders." The Ukrainian soldiers who defended Donetsk airport against pro-Russian separatists in 2014 were termed "cyborgs."
In the more extended version of the video, which is 8 minutes 40 seconds long, the procession is flanked by groups of people kneeling and watching as it passes. We haven't been able to verify the video's location independently, but multiple factors indicate that it was recorded in Ukraine. In the video, several individuals can be seen holding Ukrainian flags, and the flag can also be seen mounted on the silver car. Furthermore, the silver car in the video has the license plate BC4354BK at the 1:50 timestamp. The prefix "BC" is associated with the Ukrainian province of Lviv.
After the vehicle comes to a standstill, people can be seen carrying a brown casket and crossing over a bridge painted in the Ukrainian flag colors of yellow and blue at the 6:36 timestamp on the video. The translated text at the end of the video reads, in part: "Glory to the heroes of Ukraine."