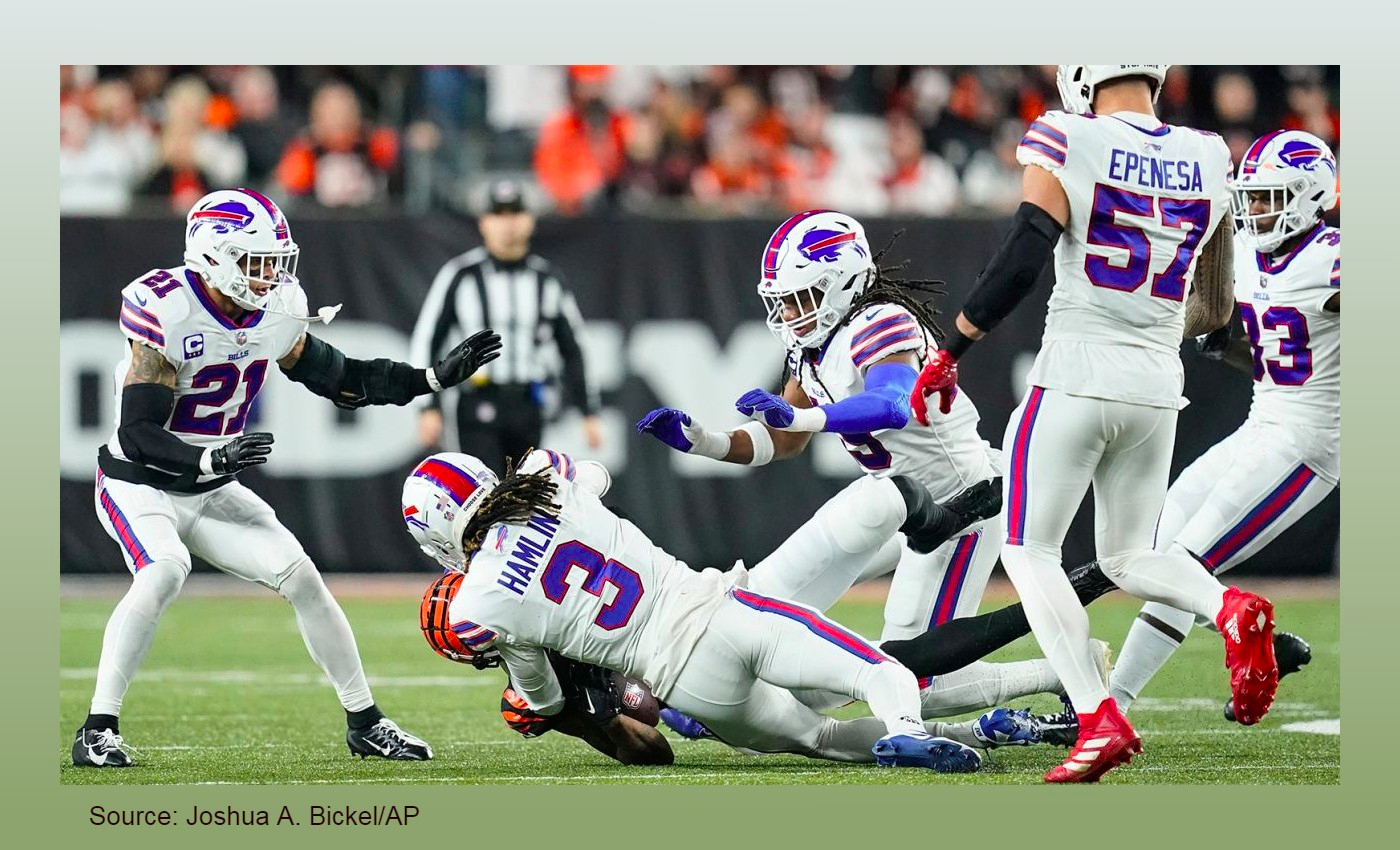 The American football player collapsed due to an apparent cardiac arrest caused by a blow on the chest during a tackle.
Context
On January 3, 2023, 24-year-old American National Football League (NFL) player Damar Hamlin collapsed on the field after tackling an opponent player during a match. Hamlin plays for the Buffalo Bills, and the game was against Cincinnati Bengals when the incident occurred.
Since then, many vaccine skeptics have claimed that he collapsed due to COVID-19 vaccine poisoning. A verified user tweeted on January 3, "Another football player Damar Hamlin, from the Buffalo Bills, falls victim to the Covid vaccine poison, when is this poisoning of our country going to stop, forced on us by these big Pharmaceutical Companies, and corrupt politicians! I hold media responsible! This is sick! (sic)." The post got nearly 8,000 views, with 48 likes and 12 retweets. American radio and TV host Grant Stinchfield also tweeted, "This is brutal. And I know what everyone with any common sense is thinking. This isn't the first time a pro athlete had this happen. (vaccine emojis) NFL Mandate. Prayers for Hamlin."
Claims about athletes collapsing or suddenly dying have been trending since the pandemic. Similar claims by anti-vaxxers have previously been debunked.
In Fact
During the match between the Buffalo Bulls and the Cincinnati Bengals, just after the midpoint of the first quarter, Tee Higgins, wide receiver of the Bengals, received a pass from his teammate and quarterback Joe Burrow. Washington Post reported that Hamlin tackled Higgins after the pass, where the latter's helmet rammed into the former's chest. Shortly after that, Hamlin collapsed on the field.
ESPN reported that emergency physicians rushed to the site and restored his heartbeat through CPR. "Hamlin received oxygen as he was placed in the ambulance and taken off the field some 16 minutes after he collapsed. He then was driven to the nearby University of Cincinnati Medical Center," ESPN reported. Hamlin was reported to have suffered a cardiac arrest.
On January 4, Dorrian Glenn, Hamlin's uncle, told ESPN that he is "improving from where he was yesterday." Hamlin's agent told ESPN that Hamlin's oxygen levels have improved. No medical reports are linking Hamiln's vaccine status to his cardiac arrest.
It is important to note that visuals of the match also show that Hamlin suffered a blow to his chest before he collapsed. On January 3, 2023, the American Heart Association (AHA) published an article explaining Hamlin's cardiac arrest and the possible causes of it. They cited commotio cordis as one possible cause, and "hypertrophic cardiomyopathy (HCM) or a thickened heart muscle – a more common cause of sudden cardiac death in young people and athletes specifically."
Dr. Mark S. Link, a cardiologist at the University of Texas Southwestern Medical Center, wrote a paper published by the AHA, about commotio cordis, a phenomenon in which a sudden blunt impact to the chest causes sudden death in the absence of cardiac damage. According to the paper, this is a common phenomenon in athletes who play baseball, softball, hockey, and other sports.
Hamlin's vaccination status is currently unknown. However, as of February 2022, the NFL stated that 95 percent of their players were vaccinated against COVID-19. In September 2022, the Centers for Disease Control and Prevention (CDC) published its safety updates for COVID-19 vaccines. Among 123 million people who received COVID-19 vaccines, there were 131 cases of myocarditis. Most cases involved adolescent and young adult males, and none died.
Cardiac arrests and other heart-related issues, like myocarditis, have been linked to the COVID-19 vaccine by anti-vaxxers. Medical organizations say that heart-related issues are a rare adverse effect of COVID-19 vaccines. AHA recommends people with heart-related issues should also be vaccinated as they are at great risk of being infected. According to the British Heart Foundation (BHF), "There is no evidence that people are at risk of cardiac arrest in the days or weeks following the vaccine." An on-field collapse or cardiac arrest can be the first sign of a heart condition, and is not necessarily associated with myocarditis, BHF stated. Medical experts advise people to get vaccinated against COVID-19 as they would reduce the risk of being infected by the virus.
Logically and other credible organizations have previously debunked false claims about athletes dying due to COVID-19 vaccines. These claims have no evidence and stem from an anti-vaccine narrative.
The Verdict
Hamlin collapsed due to a cardiac arrest after he tackled an opponent player. There is no proof that this occurred due to COVID-19 vaccines. Medical organizations state that heart-related issues are a rare adverse effect of COVID-19 vaccines.