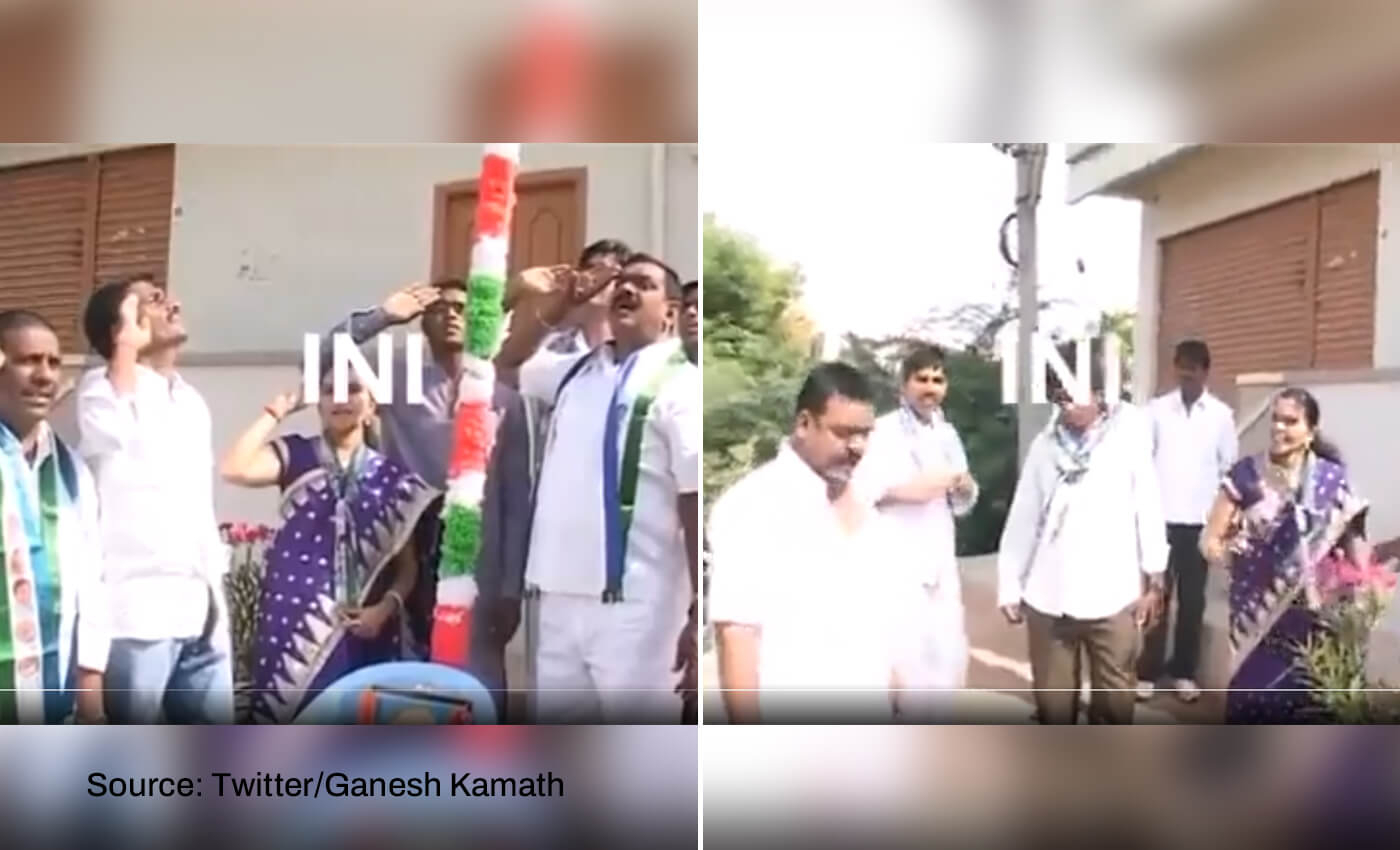 The video shows YSR Congress Party and not INC leaders engaging in a spat over the party's internal affairs. It is an old video from 2014.
Context:
A video has been going viral on social media claiming that it shows the first ever flag hoisting on the occasion of Independence Day at the Indian National Congress (INC) party office in Telangana's Karimnagar on August 15, 2022. In the video, post the flag hoisting ceremony, some people, including a man and a woman, get into a physical altercation. The woman can be seen hitting the man with her slippers. The video, which went viral after Independence Day in 2022, is being shared on Facebook and Twitter, claiming that the man is thrashed for molesting the woman who was also the "chief guest" for the event. Many of the social media users who shared the clip are supporters of the Bharatiya Janata Party (BJP).
In fact:
A screenshot of the viral video was published by news outlet NDTV on its website in August 2014. The NDTV report identified the people involved in the spat as workers and leaders of the Yuvajana Shramika Rythu Congress Party (more commonly known as YSR Congress).
Newspaper reports identified the woman as party worker Ganta Susheela and the man as party's district president Singireddy Bhaskar Reddy. According to NDTV, Susheela was miffed with Reddy for failing to inform her about party events. She alleged that Reddy had heckled her at the event and that he would often misbehave with women workers of the party, Deccan Chronicle report said. The report added that Susheela also registered a case against Reddy with Karimnagar Rural Police for abusing her.
Susheela can be heard hurling these allegations in a video of the brawl shared by ETV Andhra Pradesh. She also said that she has demanded his resignation. Reddy has denied all the allegations and claimed the woman leader was only angry at him because she failed to get any party post. The YSR Congress had called the scuffle a "minor incident".
The verdict:
The video does not show an Indian National Congress leader beating up a party leader for molesting her. An old video of an altercation that erupted between YSR Congress members in August 2014 is being shared maliciously. Hence, we have marked the claim false.
Reference links
NDTV
Deccan Chronicle
ETV Andhra Pradesh