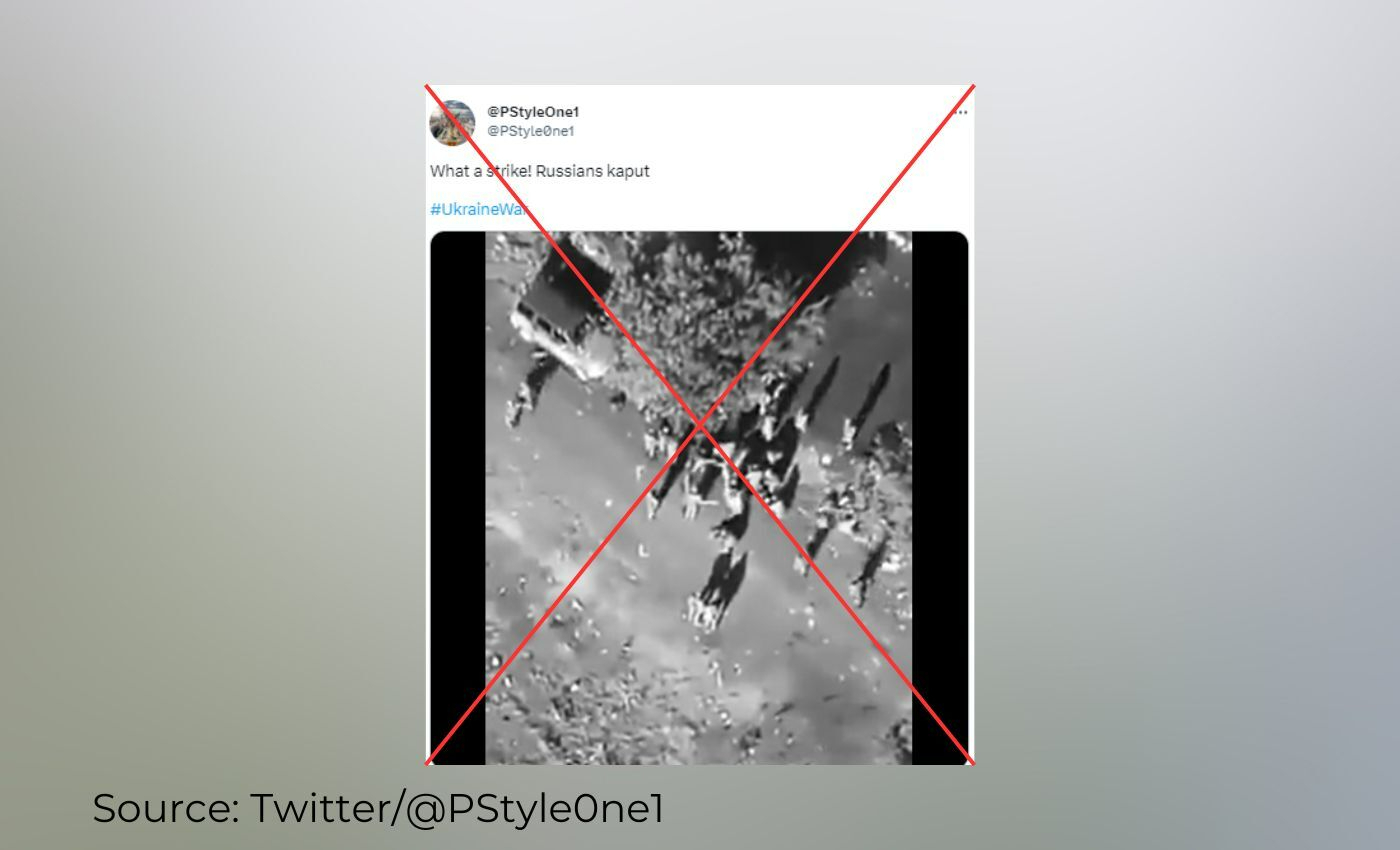 The video is not from the ongoing Russia-Ukraine war and has been available on the internet since 2020.
Context
As the Ukraine-Russia conflict nears the one-year mark, various claims and counter-claims regarding military operation videos have been flooding social media. One such video circulating claims to show a drone strike on Russian soldiers as part of the ongoing war with Ukraine. Multiple tweets with the video showing a group of soldiers being hit by an airborne weapon have gone viral with similar claims and have racked up thousands of views. "What a strike! Russians kaput," said one tweet, while another said that the video showed a group of "mobiks" (forced Russian conscripts) receiving a "warm welcome" in Ukraine.
In Fact
On reverse searching keyframes from the viral video, we found a longer version of the same video published by a Turkish news website, etikhaber.com, on October 13, 2020. The headline and the video's description, translated from Turkish, claimed that the video shows the Azerbaijan army hitting Armenian soldiers using the Bayraktar TB2 SIHA, or Tactical Armed Unmanned Aerial Vehicle.
Taking a cue from this, we found another news report with the headline, "Azerbaijani army thwarted Armenian attack attempt." This report was published by the Turkish news website ensonhaber.com on October 13, 2020. The news report included screenshots of the same video and mentioned that the attack was captured on camera. More than 10 Armenian soldiers lost their lives after the Azerbaijan army used the Bayraktar TB2 to hit posts held by the Armenian soldiers, according to the report.
According to the Turkish makers of the drone Baykar Defense, the Bayraktar TB2 S/UAV platform has been serving in the inventory of the Turkish Armed Forces, as well as Qatar, Ukraine, and Azerbaijan. An article published in The Washington Post on November 11, 2020, explained how drones like the Turkish Bayraktar TB2 helped Azerbaijan defeat Armenia during the fight over the disputed Nagorno-Karabakh region. Another report published on the BBC website on August 25, 2022, noted that the Turkey-made Bayraktar TB2 drone helped Azerbaijan defeat Armenia in the Nagorno-Karabakh war of 2020.
While we were unable to independently verify that the video in question actually shows an attack by Azerbaijan on Armenian soldiers, it is clear that the video was uploaded on the internet well before the outbreak of the Russia-Ukraine war on February 24, 2022. Therefore, it cannot be footage of the ongoing Ukraine-Russia war.
The Verdict
An old video from 2020 is being shared with the claim that it shows Ukraine army's drone strike on Russian soldiers. However, it is clear that the footage has no connection with the ongoing Russia-Ukraine conflict and predates the war. Therefore, we mark this claim false.