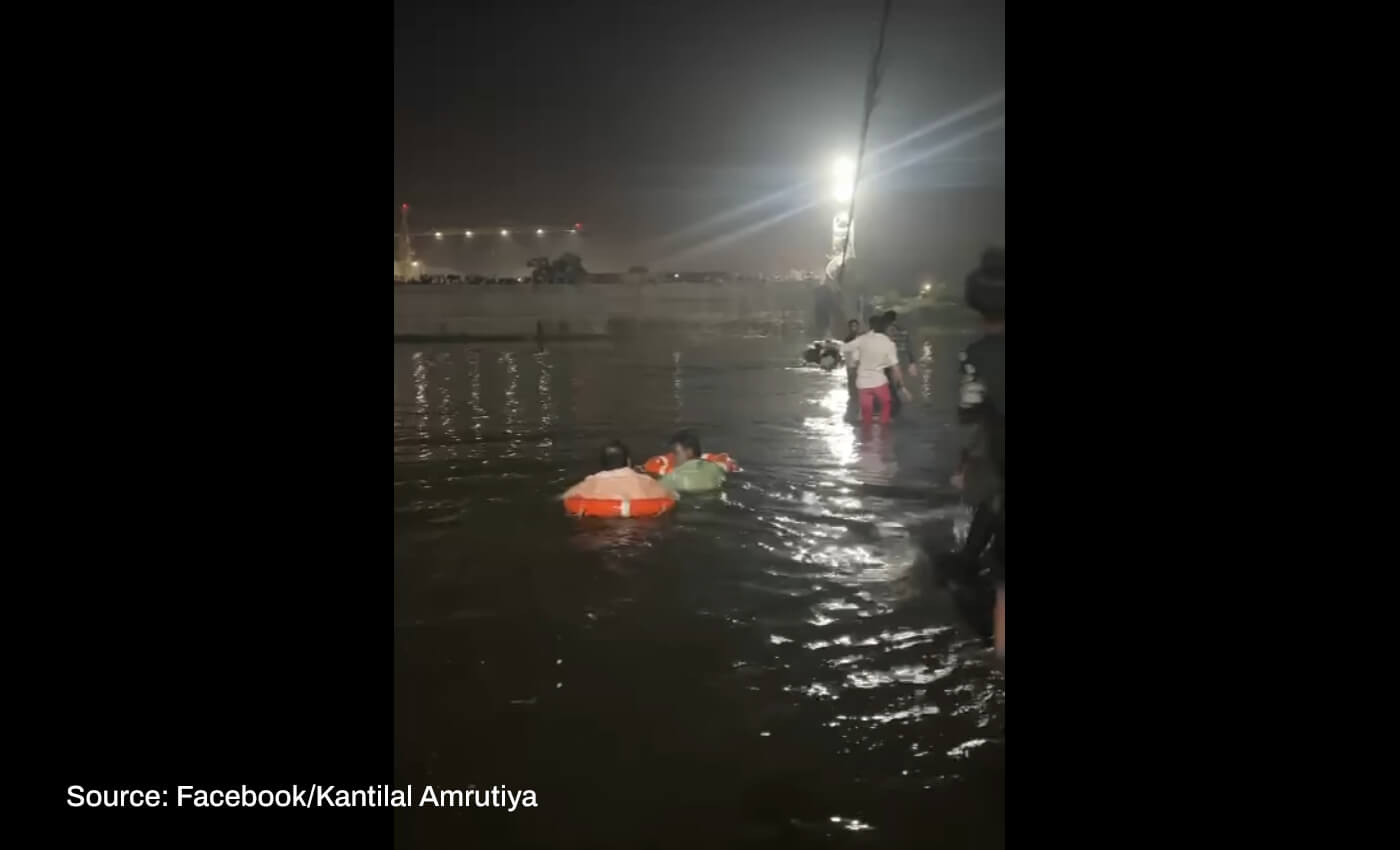 Visuals of former Morbi BJP MLA Kantilal Amrutiya participating in the rescue operation were misattributed as Brijesh Merja.
Context
On October 30, a suspension bridge in Morbi, Gujarat, collapsed, killing as many as 135 people and injuring many more. After this, a video was shared on Twitter claiming that Congress MLA Brijesh Merja was seen rescuing people from the river. Users claimed that Merja was pretending to save the victims in shallow water. The tweet read, "Morbi Congress MLA Brijesh Merja crossed all limits of a gimmick after the accident floated in knee-deep and did relief work. One owl was enough to ruin an owl sitting on every branch. What will happen to Anjaam-e-Gulistan."
In Fact
On conducting a reverse image search, we found that the video was shared from the former Morbi BJP MLA Kantilal Amrutiya's Facebook page on October 30. The short clip shows two people floating in water with swimming tubes. The video, however, doesn't provide any context.
Amrutiya shared three videos, including the viral video, in a tweet on October 30. The former MLA wrote, "The suspension bridge disaster in Morbi is very unfortunate. I am on the spot. This is a humble appeal to all that we all come together to help as many people as possible in this hour of grief. Note: Do not overcrowd the place where the rescue work is going on so that there is no hindrance in the relief work." The post suggests that Kantilal Amrutiya volunteered for the rescue work after the bridge collapsed in Morbi.
The video was also shared on the TV9 Gujarati's Instagram handle on October 30 with the caption that stated, "Former MLA Kantilal Amritiya jumps into the water to save people." Kantilal has served as an MLA from the Morbi constituency five consecutive times. Brijesh Merja is a former Congress MLA from Morbi in Gujarat who defeated the five-time BJP MLA Kantilal Amrutiya in 2012. In 2020, Merja resigned from the post of a Congress MLA and then contested the Morbi by-polls as a BJP candidate in the same year, defeating Congress. After winning the by-election, he was given the charge of the State Panchayat ministry. The viral post also incorrectly claimed that the BJP MLA Brijesh Merja was a Congress leader.
Verdict
A video of former Morbi MLA Kantilal Amrutiya participating in the rescue work was erroneously shared, claiming to show Brijesh Merja in the river. Hence, we have marked this claim as false.