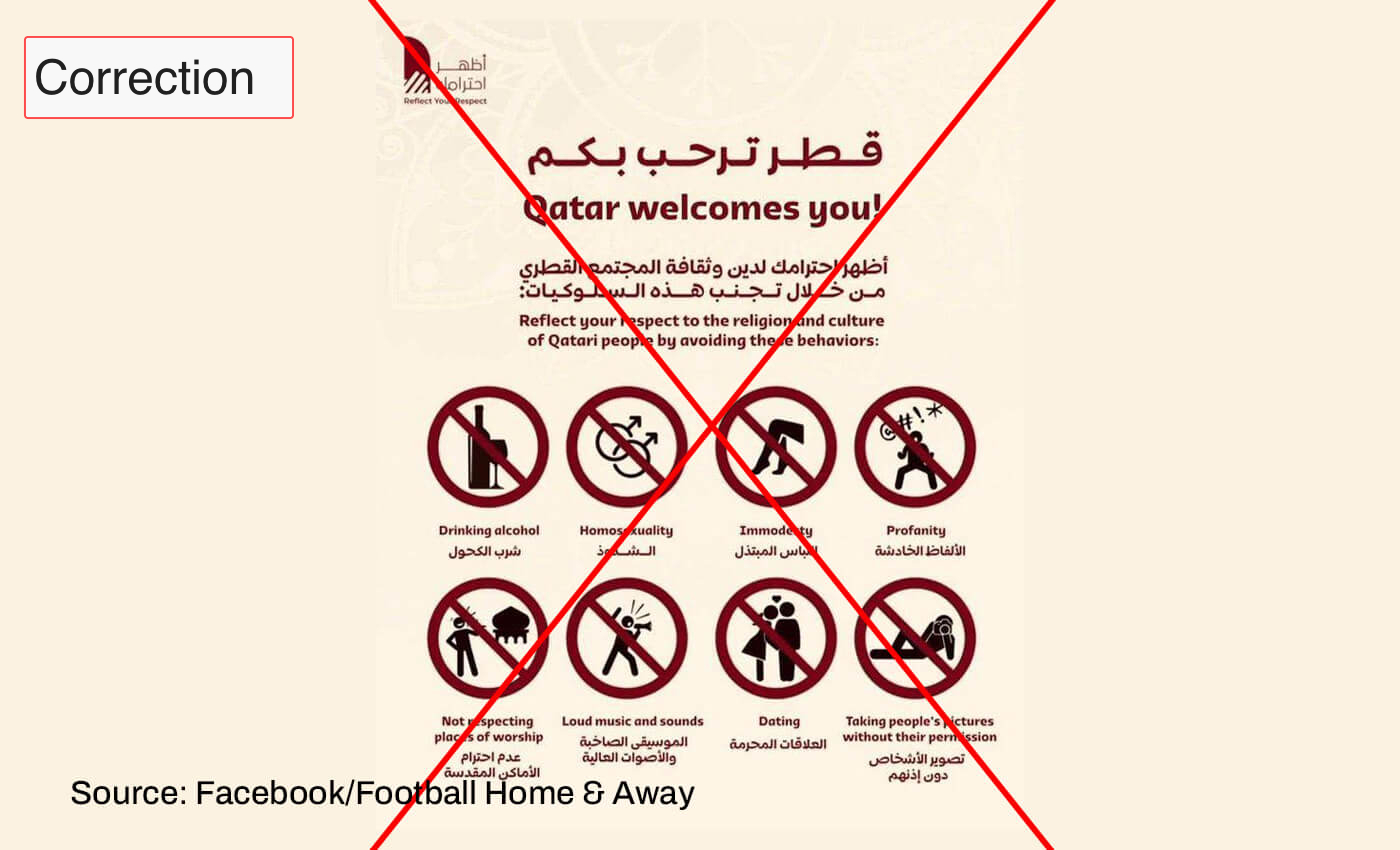 This is not an official release by FIFA organizers. A social group named 'Reflect your Respect' in Qatar shared it.
Context
FIFA 2022 is scheduled to be held in Qatar from November 21 to December 18, 2022; the first-ever World Cup held in an Arab country. Questions have been raised on the restrictions in Qatar regarding restrictive social rules and laws. An infographic poster going viral on social media listed eight restrictions. The poster reads "Qatar Welcomes You" and continues with, "reflect your respect to the religion and culture of Qatari people by avoiding these behaviours," followed by a ban symbol on eight actions. They are "alcohol, loud music and sound, profanity, homosexuality, immodesty, not respecting places of worship, dating, and taking people's pictures without their permission." However, Qatar has made no such official statement. On the contrary, Qatar has relaxed social rules for FIFA.
In fact
On October 6, "Road to 2022," the official Twitter account for Qatar's FIFA World Cup 2022, categorically denied the claims in the poster and stated, "Qatar has always been an open, tolerant, and welcoming nation." It said that shortly the Supreme Committee for Delivery & Legacy, FIFA World Cup 2022 (Q22), and FIFA shall issue an "extensive fan guide that disputes a lot of the information being circulated." They noted that "the 'Qatar Welcomes You' graphic circulating on social media is not from an official source and contains factually incorrect information." They recommended only relying on official sources from tournament organizers. "Tournament organizers have been clear since the outset that everyone is welcome to visit Qatar and enjoy the FIFA World Cup 2022."
MATCH Hospitality AG, the official FIFA Hospitality Programme, clarified in their Q&A, "Guests will be able to access both alcoholic and non-alcoholic drinks in the hospitality areas of the stadium." They also stated that "entertainment programmes will be confirmed nearer to the tournament but could include live bands, videos, games, artist performances etc. Entertainment may differ between stadiums and hospitality product levels."
According to a report published on September 7, 2022, by BBC Sport, FIFA 2022 CEO Nasser Al Khater stated that the Supreme Committee for Legacy and Delivery have publicly announced "plans to allow fans to drink within the stadium perimeter." He added they are also finalizing their alcohol strategy and that visitors would be permitted to purchase a beverage at the FIFA fan festival in Doha's Al Bidda Park after 18:30 Arabia Standard Time (AST); only licensed hotel bars and restaurants sell alcohol regularly.
On October 6, 2022, Marc Owen Jones, Associate Professor at Qatar's Hamad Bin Khalifa University (HBKU), shared a thread of tweets regarding this infographic. He noted the timeline of how the fake poster had spread, including the statistics on how it was circulated by "the most influential accounts." In his other tweet, he shared information on the "Reflect your Respect" Twitter account from which the poster was initially shared. It is a civil society group, and its Twitter account was created in 2014. Reflect your Respect's Twitter bio reads, "We contribute to the consolidation of Islamic values which supports the Qatari identity." The account "was/is a very real but unofficial campaign in Qatar to try and encourage people to dress more modestly," according to Jones. A link to a 2014 article by Qatari news website, Doha News, which provided insights about the account, was attached to the same tweet.
FIFA has also released the FIFA stadium guidelines for public reference. No such alleged restrictions are part of the guidelines. Logically has previously debunked similar claims about the Qatar FIFA World Cup 2022 stadium guidelines.
The verdict
Official authorities did not release the infographic in question. An unofficial organization shared it, and it became viral. FIFA officials have announced they will release an extensive fan guide detailing the event. Therefore, we have marked this claim as false.
Correction
October 11, 2022
This fact check has been amended to reflect the fact that people who had shared the flyer in question did not suggest it was an official FIFA release, but an official Qatari release.