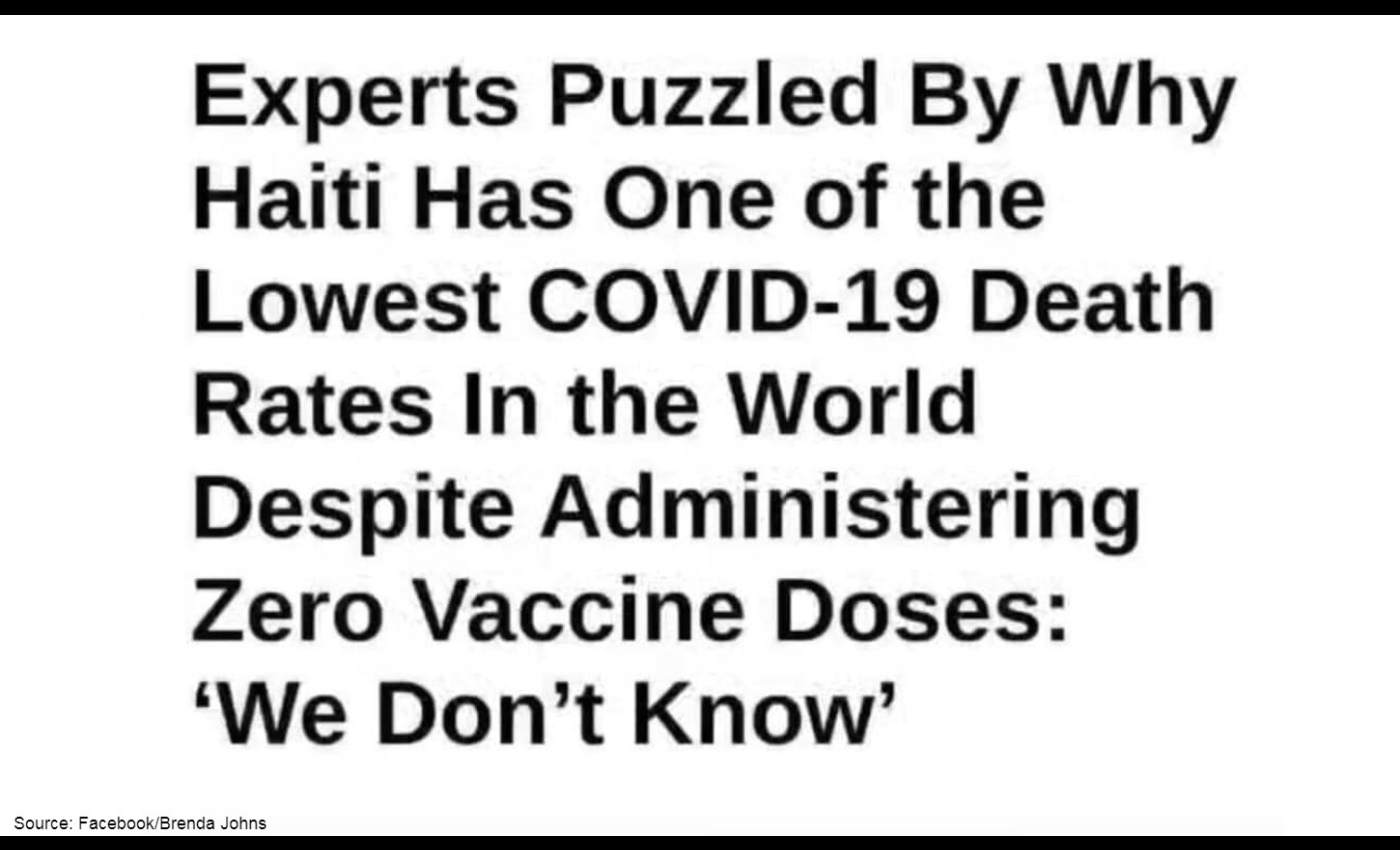 More than 500,000 vaccines have been administered in Haiti. An article from before the vaccine roll-out is being shared without context.
Context
A Facebook post claims Haiti has the lowest COVID-19 death rates despite zero vaccine doses. A user named Brenda Johns shared the post on January 9, which read, "Experts Puzzled By Why Haiti Has One of the Lowest COVID-19 Death Rates In the World Despite Administering Zero Vaccine Doses: We Don't Know." The post is participating in adding to the ongoing anti-vaccine narrative.
In Fact
The claim in the viral post originates from an old news article. On May 11, 2021, before the vaccines arrived in Haiti, Atlanta Black Star had published the report. The article detailed how Haiti's then 11 million-strong population maintained low COVID-19 death rates without a vaccine. Social media users shared this old news report recently without giving context.
According to a UNICEF press statement dated July 14, 2021, the first batch of COVID-19 vaccine arrived in Haiti's capital Port-au-Prince on July 14. The U.S. government donated 500,000 doses to Haiti through COVAX when COVID-19 cases and deaths had doubled in the country. At the time, Haiti was the only country in the Americas without a single dose of COVID-19 vaccine.
The vaccination camps began soon after the doses landed in the country. Initially, vaccine acceptance was low in the country, with a survey showing that only 22 percent of people would accept the vaccine, a UNICEF report dated July 27, 2021, stated. The camps started in the selected hospital sites in the metropolitan areas of Port-au-Prince, but nationwide vaccination site coverage increased gradually.
According to the latest WHO COVID-19 tracker, 512,556 vaccines have been administered in Haiti. The country has reported 33,696 COVID-19 infections, and 860 people have died so far. The latest data from the COVID-19 Vaccine Tracker showed that two vaccines - Moderna's Spikevax and Oxford/AstraZeneca's Vaxzevria - have been approved for use in Haiti.
Haiti does have comparatively low COVID-19 cases and death rates, according to reports by NPR and Tampa Bay Times. Experts say that the country's genetic makeup and the younger population could be the reasons.
However, the claim in the viral post is misleading in the current context since 512,556 vaccines have been administered in the country.
The Verdict
COVID-19 vaccine was deployed in Haiti in July 2021, and more than half a million vaccines have since been administered. The headline of a news report from May 2021 is being shared without context. Therefore, we have marked this claim as misleading.