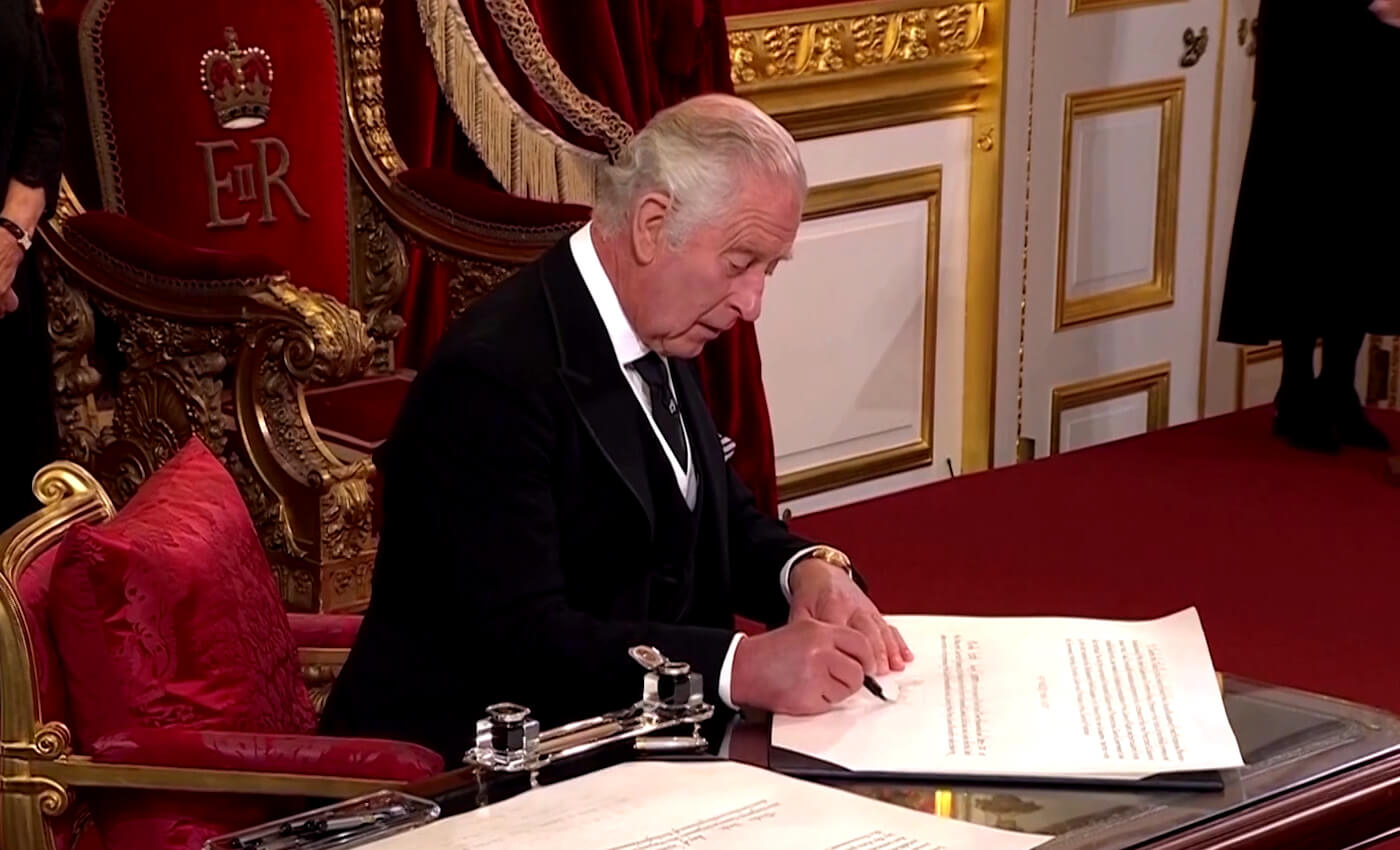 The image shared shows King Charles III signing an oath stating that he would uphold the Church of Scotland.
Context:
After Queen Elizabeth II's death, her son King Charles III ascended the throne of United Kingdom on September 10, 2022. Once he was officially proclaimed King, several rumors started circulating on social media, a lot of these rumors also have to do with former U.S. President Donald J. Trump. An image shared on September 10 via Twitter read, "King Charles III signs a proclamation stating that Donald Trump won the 2020 Presidential election and is the rightful President by Law. Warns Biden and Kamala to vacate the premises within 48 hours or a state of war will exist between America and England."
In fact:
Using reverse image search we found that the image shared online was a screenshot taken from a live video telecast on September 10. We found the video of the telecast on the Indian news channel CNN-News18. According to the video, King Charles III signed the oath to preserve the Church of Scotland during his proclamation as King of the United Kingdom.
The Royal Family's website also published a press release on September 10, along with a video. In a video of around 32 minutes, it can be seen King Charles III signing a sheet, seated at a table, and behind, we can see the chair with the letter E.R and a crown symbol similar to the image shared online. The press release notes that during the accession ceremony held at St James's Palace, London, King Charles III read and signed an oath to uphold the security of the Church in Scotland. Thus, it is clear that the King did not sign any proclamation regarding former President Donald Trump or the 2020 U.S. presidential election. The United Kingdom also has no powers to officially decide on the internal matters of the United States.
Also, contrary to the claim made by Twitter users, the monarch of the U.K. has no authority to declare war. According to the U.K. Parliament, the Prime Minister and the rest of the government would have to permit it. Even AFP has also debunked these baseless narratives.
On November 14, 2020, Reuters reported that according to Edison Research, a sole provider of the U.S. Election Exit Polls, the winner of the 2020 presidential election was Joe Biden, with 306 electoral votes to 232 for Trump. Several protests, including the riots at the U.S. Capitol, took place back in January 2021 by far-right groups alleging election fraud. However, the U.S. Supreme Court categorically dismissed these unwarranted allegations of stealing the election.
The verdict:
There's no evidence that King Charles III signed such a proclamation. He signed an oath supporting the security of the Church of Scotland. Hence, we mark this claim as false.