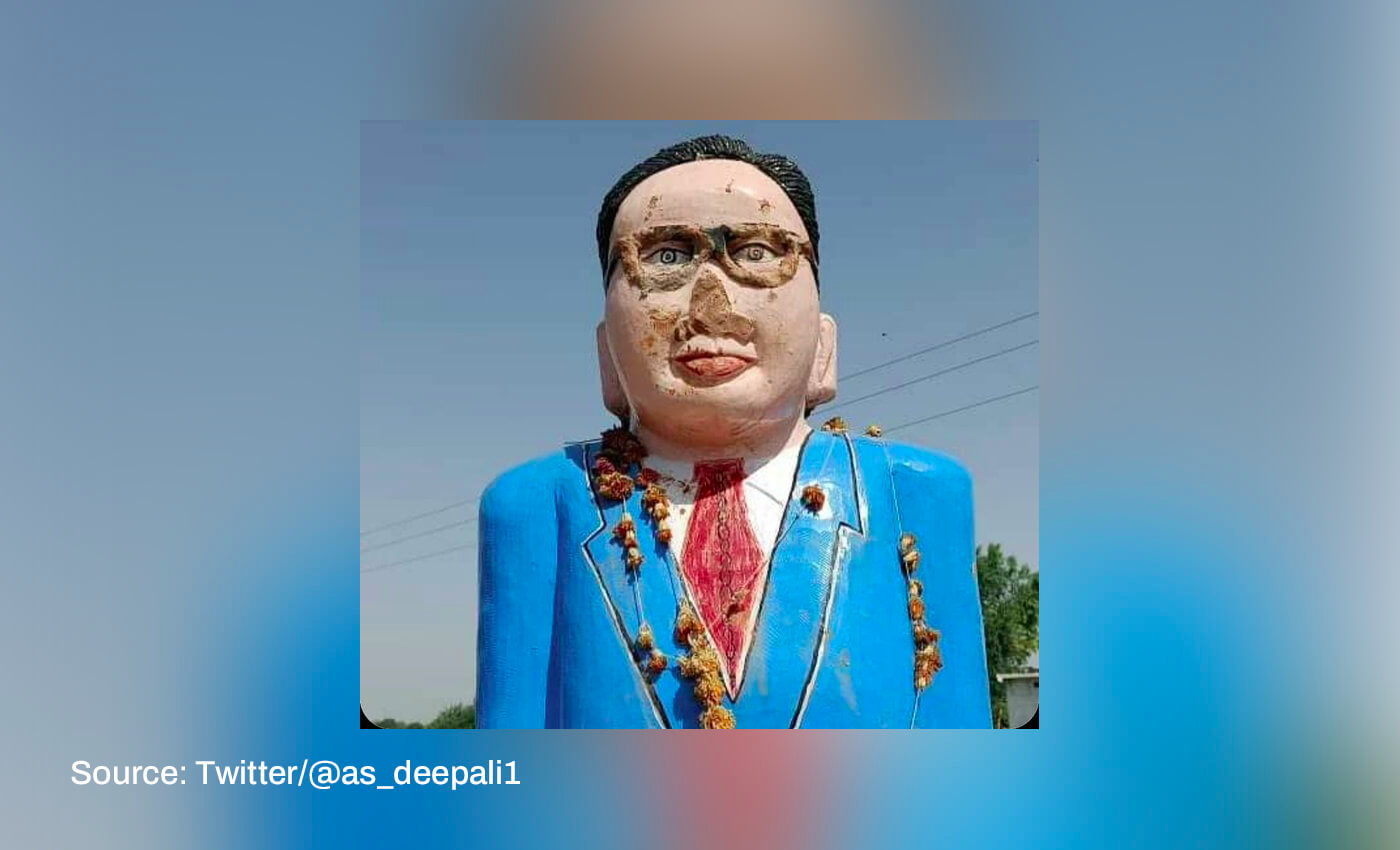 This image of a vandalized statue of Ambedkar has no connection with recent West Bengal clashes. It is from Madhya Pradesh.
Context:
The architect behind India's constitution and anti-caste leader BR Ambedkar's statue was vandalized in West Bengal during a clash between Dalits and Muslims, a post that is doing several rounds on social media is claiming. The photo in the viral post shows a demolished statue of Ambedkar. "In the Dalit/Muslim clash in West Bengal, some evil element cut the nose of Ambedkar's idol and also damaged the glasses," the post reads.
According to Hindustan Times, a clash recently broke out between two groups in the Khidderpore-Mominpur area of Kolkata. Conflicts erupted late night on October 16 as the two communities celebrated Lakshmi Puja and Eid Milad-Un-Nabi, commemorating the Prophet Mohammed's birth date. Opposition parties claimed that the incident had a communal side. Police said around 38 people had been arrested, and Section 144 was imposed to avoid further clashes. The viral post is being shared in this context.
In fact:
A reverse image search revealed that the incident is from Madhya Pradesh and has no connection with recent clashes in West Bengal. According to The Quint article dated March 15, Ambedkar's statue was vandalized in Muskra village of Sehore district in Madhya Pradesh on March 14, 2022. Some unknown person broke the statue at night, the report read. Police lodged a complaint against the unknown culprits and said an investigation is underway.
ABP news reported that the locals of Muskra village protested the vandalism. It also mentions that locals called the police to report the incident. Police reached the spot, and a complaint was lodged at Mandi police station. A total of four photos of Ambedkar's vandalized statue from different angles can be seen in the article's feature image. It confirms the vandalized image Ambedkar is from Madhya Pradesh, not from West Bengal.
Madhya Pradesh Congress President Kamal shared a tweet condemning the incident. He said, "An incident of vandalism to the statue of Babasaheb Dr. Bhimrao Ambedkar took place in Muskra village of Sehore district, the home district of the Chief Minister of Madhya Pradesh. Such incidents of Babasaheb's statue demolition have happened here earlier as well. I demand from the government that strict action should be taken against its culprits, and all necessary steps should be taken to ensure that such incidents do not recur".
The verdict:
An incident of Ambedkar's statue vandalism in Madhya Pradesh falsely linked to the recent communal clashes in West Bengal. Hence, we have marked this claim as false.