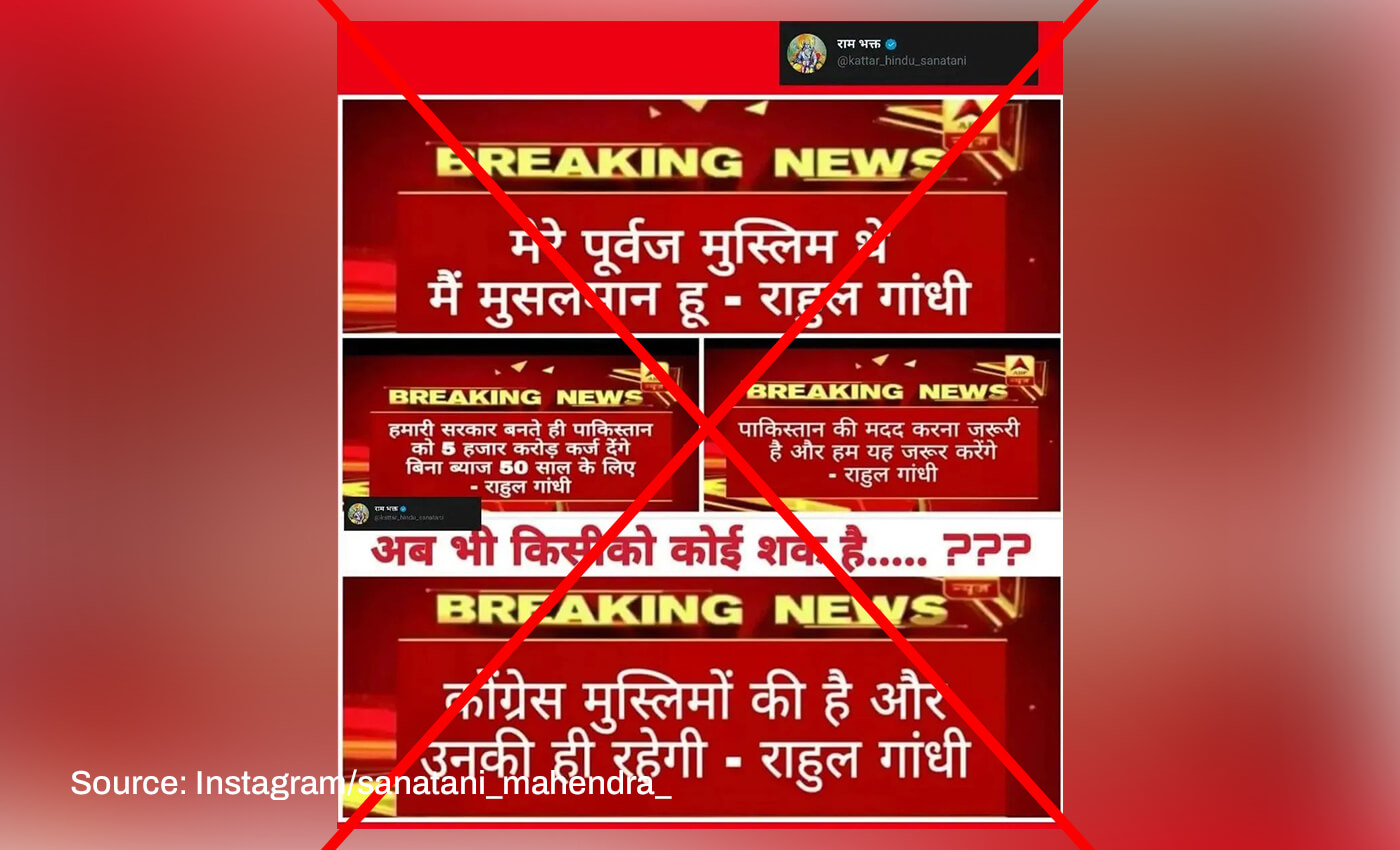 A set of digitally altered images purported to be from an ABP News bulletin have been falsely attributed to Rahul Gandhi.
Context
A team of Indian National Congress (INC) leaders, including Rahul Gandhi, is marching from Kanyakumari to Kashmir as part of the Bharat Jodo Yatra, which began on September 7, 2022. As the party pins its hopes on rallying its ranks before the upcoming elections, several narratives have surfaced across social media platforms since the yatra began. One such post on Instagram shared a set of images purportedly from an ABP News (Hindi TV channel) bulletin, which contained statements attributed to Rahul Gandhi. The text (translated from Hindi) reads, "My ancestors were Muslim, and I am a Muslim. Once our party comes to power in India, we will give 5000 crores of loans to Pakistan without interest for 50 years. Congress was always in support of Muslims and will remain so." However, the viral images have been edited and shared with false narratives.
In fact
These images have continuously gone viral since 2018. Upon researching the relevant keywords, we found a tweet shared by ABP News on November 12, 2018, that carried the same viral images, clarifying that the screenshots were digitally altered. It also added that such a story was not reported by ABP and had no relation to the ABP News Network. We also compared the images with the official ABP News' Breaking News bulletin template that was used by the organization back in 2018. We found differences in font and spelling mistakes, and the template was different from the one used in the screenshots of the alleged bulletin.
We also found a report by NDTV, published on July 16, 2018, which revealed that the alleged statement by Gandhi that "Congress as a Muslim Party" seems to have originated from a report published by Urdu Daily, Inquilab. The report alleged that Gandhi said the phrase in a meeting with Muslim intellectuals. However, NDTV quotes Historian Irfan Habib, who was present at the meeting, denying the comments attributed to Rahul Gandhi. Several other Muslim scholars present at the meeting and other Congress leaders have also categorically termed the allegations as false.
Furthermore, a report by The New Indian Express included a statement by Inquilab journalist Mumtaz Alam Rizvi, who wrote the article. Rizvi claimed that Gandhi had retracted his statements and claimed, "Rahul Gandhi said that if the BJP has made us a Muslim party, then yes, we are a Muslim party because the Muslims in this country are weak, and the Congress always stands for the weak. There is nothing wrong with what he said, the Congress should not be defensive in this matter." In response, Gandhi tweeted that he stands with every person irrespective of religion, caste, or beliefs.
Although the issue was covered by ABP News in 2018, it did not air any such statements from Gandhi, nor did the bulletin, as seen in the viral post. The images have been circulating since 2018 and shared during various issues. The images were also debunked by The Quint in 2021, which clarified that images were altered to spread misinformation.
The verdict
The images in the viral post have been edited and spread with false claims. ABP News broadcasted no such bulletin. Therefore, we have marked this claim as false.